Aerospace specialist targets medical and defence sectors with latest acquisition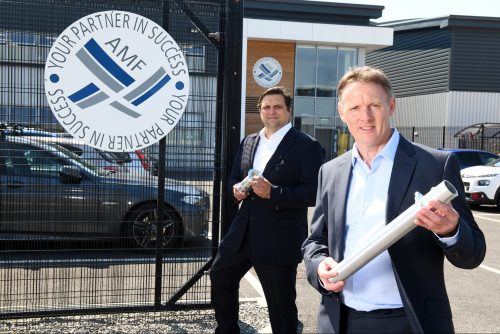 A £43m-turnover critical supplier to the aerospace sector has made its latest acquisition as it looks to target new opportunities in the defence and medical sectors.
Manchester-based Aero Services Global Group (AS.G), which manufactures and sub-assembles detail airframe structural equipment and aero engine components, has welcomed AMF Precision Engineering to its portfolio of companies, for an undisclosed sum.
The Wirral-based sub-contract technology specialist joins six other manufacturing businesses in the group, providing direct access to customers in medical, defence and a host of research centres across Europe.
It comes just a few weeks after AS.G secured a £31m funding package from Magnetar Capital and Close Brothers Invoice Finance to support ambitious three-year growth plans.
Simon Weston, who joined as AS.G Group managing director in 2017, said: "AMF Precision Engineering is a market-leader in its field and fits perfectly with our commitment to offer our global customers world class expertise, niche capabilities and outstanding customer service.
"Whilst COVID-19 has created a number of unexpected challenges, we are still confident that our agility and single source expertise in tooling and manufacturing of critical components can deliver an increase in sales.
"The management team has been working hard over the last three years to strategically enhance our customer base and identify companies that will give us access to the best talent and technologies."
He added: "Recent investment by Magnetar Capital and Close Brothers Invoice Finance gives us the funding boost we need to realise these plans."
AS.G was founded in 2015 with the aim of developing a highly-specialist group which could help a global customer base to consolidate their supply chains through innovation, efficiencies and value for money.
It started operations with the acquisition of Phoenix in December that year and now boasts seven subsidiary companies, including Queen's Award-winning Arrowsmith Engineering, B&H Precision Tooling, Datum, Ludolph, TGM and AMF Precision Engineering.
The group, which employs nearly 380 people, is split into two core divisions focusing on aerospace and tooling, providing a wide range of products.
These parts are delivered all over the world to customers, including Aeronova, Airbus, GKN, ITP, Meggitt, Rolls-Royce and Spirit Aero Systems.
Simon Kirkman, managing director of AMF Precision Engineering, said: "This is a great move for our business and brings us into a family of like-minded companies, who thrive on pushing the boundaries of innovation and world-class manufacturing expertise.
"There are a lot of complementary expertise and we bring the additional benefits of new machining capability and a dedicated clean room, ideal for supplying medical clients, research centres and for supporting the aerospace sector."
He added: "We've already identified and made initial moves towards securing new med-tech work for AS.G and our recent approval to AS9100 will allow us to pitch for aerospace contracts. It's a real win-win."
Aero Service Global Group intends to enhance its international footprint by adding to its existing operations in the EU and by formalising a joint venture agreement in India over the next six months.