People on the Move: Savera UK; Myerson Solicitors; WFEL; PwC

Liverpool-based Savera UK, a charity tackling culturally-specific abuse such as 'honour'-based abuse and violence (HBA/HBV) forced marriage and female genital mutilation (FGM) in the UK, has appointed its first chief executive.
Charity founder, Afrah Qassim, was appointed as CEO in May after 10 years as chair of the organisation's board of directors.
Savera UK's former vice chair, Aislinn O'Dwyer, a public health professional with a community nursing background, has now stepped up into the role of chair.
Afrah's appointment comes at a challenging time for the charity after the Government lockdown to combat the COVID-19 outbreak prompted a 30% increase in calls to the service from individuals and professionals requiring specialist support and guidance.
The charity also reported a significant spike in existing clients contacting the organisation for additional emotional and practical support during lockdown, increasing the number of active cases Savera UK is managing.
Afrah said: "It is an unprecedented and unpredictable time to be taking up the role of CEO. There have been many challenges in my first months as CEO and there will be more to face as the country comes out of lockdown.
"Like many organisations we are feeling the demand on our services and are anticipating a spike in new cases, yet we still remain significantly underfunded.
"However, since Savera UK's establishment almost a decade ago, we have managed to work outside of the box and address challenges creatively to ensure we can effectively support our clients and break the silence around these horrific practices."
Aislinn O'Dwyer added: "This is a really important time for Savera UK. 'Honour'-based abuse takes place within families, where controlling behaviours are used in order to protect cultural and religious beliefs and/or honour.
"The period of COVID-19 lockdown will certainly have exacerbated these controlling behaviours."
::
Myerson Solicitors has announced the promotion of three new partners as it continues its expansion.
The firm, based in the heart of Altrincham town centre, has promoted team members Laura Pile, Heather Adams and Clara Staunton to partners, bringing its total number of partners to 23.
Laura Pile has spent her whole career at Myerson having joined in 2007 at the start of her career as a trainee solicitor and now has more than 11 years of experience within the real estate litigation team. Laura is a Recommended Lawyer within The Legal 500.
She has a wide breadth of property experience in dealing with commercial and residential landlord and tenant disputes, including forfeiture, dilapidations, rent arrears, break notices and possession. Laura also has a great deal of experience in advising on developer disputes, pure chancery matters such as rights of way and property ownership disputes. She has advised on a number of high value disputes resolved at mediation.
Clara Staunton is described by The Legal 500 as a Rising Star, and "an exceptional private client lawyer, who combines a natural rapport with clients, with an ability to articulate matters in a straightforward manner".
She joined the wills, trusts and probate team at Myerson in 2013 and was promoted to senior solicitor in 2016. She is a full member of the Society of Trust and Estate Practitioners (STEP), regularly dealing with complex matters such as the administration of estates and trusts, as well as advising on wills and tax planning.
Heather Adams qualified as a solicitor in 2000 and joined Myerson as head of the residential property department. She is well-known as a highly-respected conveyancing and property solicitor and ranked in the Top Three independent directory, threebestrated.co.uk residential property solicitors in Trafford.
Heather specialises in a breadth of residential property law with particular experience of unregistered land, registration of possessory title, registration where deeds have been lost or destroyed, and prescriptive rights of way, in addition to the buying and selling of residential property and developments.
Myerson chief executive, Carl Newton, said: "We are thrilled to have these dedicated and talented lawyers joining the partnership at Myerson.
"Laura, Clara and Heather have consistently excelled in their roles delivering a high standard of quality and advice to our clients. They all strive to build their teams' knowledge and expertise, whilst living the firms core values and culture daily.
"To have these lawyers continue their career at Myerson only strengthens the firm further, and we are excited to see their teams develop and grow. I hope these promotions continue to highlight both the diverse range of talent and the various opportunities that exist within our expanding businesses."
::
The board of Stockport-based WFEL, renowned globally in the supply of rapidly deployable military bridging systems and a key partner in the UK MoD's Boxer Mechanised Infantry Vehicle programme, has appointed Tom Winney to the position of director of business development.
This new director role has been formed to address the large number of enquiries for WFEL's portfolio of world-class bridging products, which have already been supplied to more than 40 armed forces across the world.
Tom served as an Infantry officer in the British Army, with postings to Afghanistan, Kosovo and Northern Ireland.
In his new position Tom will oversee all business development activity for WFEL's range of products, including the Dry Support Bridge (DSB) and Medium Girder Bridge (MGB).
He has experience of military bridging, vehicles, ammunitions and service support with both the UK MoD and military organisations throughout the world.
Tom said: "The WFEL bridging systems are renowned as being world-class and there are a number of really exciting innovations planned. DSB and MGB lead the way for use in military and disaster relief situations and WFEL has a fantastic heritage in military bridge design and manufacture."
Prior to joining WFEL, Tom held senior project management and business development roles within BAE Systems and RBSL.
WFEL's managing director, Ian Anderton, said: "I am delighted that Tom has joined our experienced and committed team. His knowledge of the military land forces market worldwide, together with his extensive experience and knowledge of both engineering and manufacturing in a number of business sectors, coupled with his successes to date, make him the ideal person to take on this new role."
::
As part of its continued commitment to increase the capability and level of specialisms across the region, PwC has announced the appointments of five new partners across its Northern practice.
The five new partners entering the partnership are: Claire Fox, Ben Roseff, Joel Smith, Kate Finn and Tom Birch.
Claire Fox and Joel Smith will be based in Leeds, while Ben Roseff, Kate Finn and Tom Birch will be in the Manchester office.
Ben Roseff joined PwC in 2011 from a mid-tier firm having started his career at HMRC. Over the past 14 years he has specialised in advising his clients on how to manage all aspects of their relationship with the tax authority, helping them to resolve contentious disputes and proactively manage their tax risks. Ben is an expert negotiator with broad experience in direct tax compliance matters. Ben will lead PwC's tax dispute centre of excellence in the North. Hiss focus will be to continue to grow the centre of excellence's revenues by bringing the firm's service offerings to market across the new North and Central regions.
Kate Finn has worked for the firm for almost 17 years, having joined in 2003 on PwC's school leaver programme, having successfully completed her A-levels. Kate works with a wide range of external audit clients across a number of industries and sectors and has experience working with private businesses as well as those who are private equity-backed and listed. As partner, Kate will continue to provide high-quality services to North West businesses and further support the firm's internal people agenda across the North region.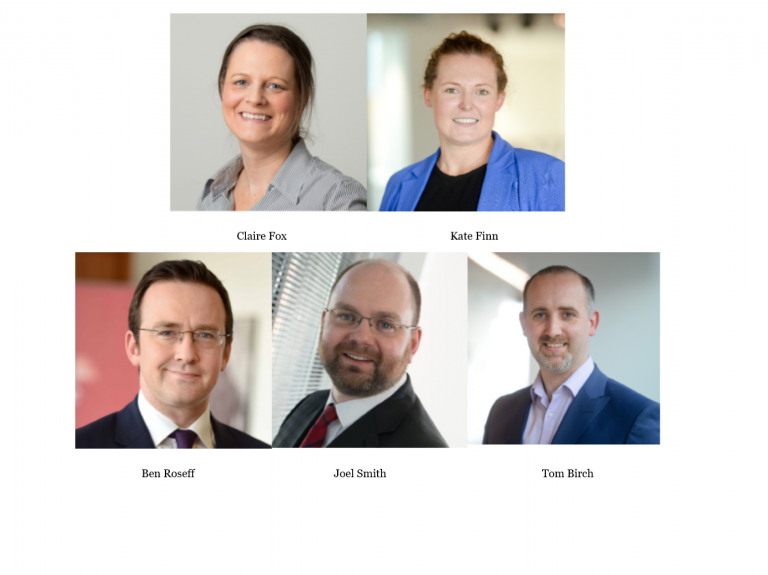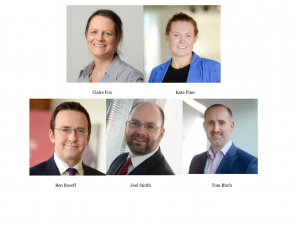 Tom Birch has worked in big four tax consultancy since 1999, having graduated from the University of Manchester. A chartered tax advisor and renowned specialist in this field, Tom uses his wealth of experience, lateral thinking mind and the talent of his team to help clients deliver tax digitally, strategically and operationally. Tom runs PwC's operational indirect taxes and making tax digital initiatives. As partner Tom will continue to lead the indirect tax reporting and strategy practice, focused on driving these services forward to solve important problems for PwC's UK and international clients.
Ian Green, PwC's regional leader for the North, said: "I'm delighted to welcome our new partners who bring with them a wide range of expertise and specialisms to the region.
"Whilst its been a challenging few months it's important we plan for the future and ensure we invest in the firm. Ensuring we continue to develop future leadership signals the confidence and commitment we have in the market and these appointments reflect the importance we place on delivering the best service possible to our clients across the region."