Fifty inquiries to buy Wigan Athletic – including RL side Wigan Warriors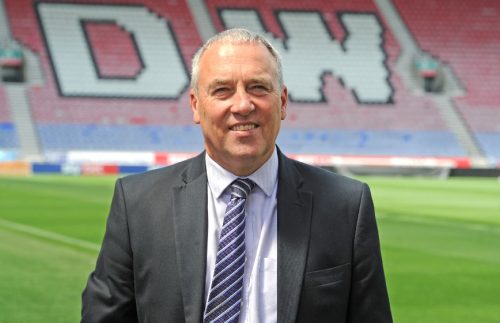 Fifty inquiries into buying Wigan Athletic FC – including the town's rugby league side Wigan Warriors – have been received by the joint administrators, who have been forced to make 75 redundancies at the stricken business.
Those redundancies include directors Darren Royle and Jonathan Jackson, who are continuing to assist the joint administrators in an unpaid capacity.
It follows the club entering administration last week after its overseas owner pulled the plug on further funding.
In an online press conference this afternoon with joint administrators, Paul Stanley, Gerald Krasner and Dean Watson of Begbies Traynor, it was revealed that alarm bells started ringing at Wigan's DW Stadium when an expected payment of between £5m-£6m, which would have taken the club through to next season, failed to arrive.
Mr Krasner said he sent out 50 non-disclosure agreements to interested parties this morning, and has already had three returned, with proof of funding of £10m each.
He said: "We are in detailed discussions with these three."
Wigan Warriors threw their hat into the ring today – via a consortium led by Warriors owner Ian Lenagan alongside finance experts Gary Speakman and Darryl Eales – saying: "Having shared a stadium together for many years and with a large number of fans supporting both clubs, we have become friends with many of the management and staff and we know that this is a very worrying time for them all.
"We strongly believe that Wigan Athletic is better being locally-owned.
"As sustainability and ownership of the stadium is equally important to both clubs, we are currently working with our longstanding advisers KPMG and talking to external parties.
"Our intention is to identify other investors quickly and start due diligence on the football club with the intention of making a bid in due course. We have made the administrators aware of our interest and hope to explore this with them further over the days ahead."
Mr Krasner said he spoke with Wigan Warriors today: "I wish them well. I suggested they get in touch with the supporters' club or local businesses. I am happy they will be one of the bidders for the club."
However, he warned that the situation is extremely volatile at the club: "The whole situation with the club is fluid and is changing, not by the day, but by the hour."
But he is confident that the club can fulfill its remaining fixtures, and, ultimately, secure a buyer: "I am optimistic we will get to the end of the season, and I am still optimistics that we will ultimately end up with a successful buyer."
He explained that the sale process will last until July 21, when the joint administrators will make a decision on a preferred bidder, although, the sale period could be extended.
A preferred bidder will be asked to lodge £100,000 in a solicitor's client account as a gesture of goodwill while legal documentation is drawn up which could take two weeks. The bid then has to be approved by the English Football League (EFL), which will take at least three weeks, so the whole process could last until the end of August.
Mr Krasner said he has lodged an appeal with the EFL over the possible deduction of 12 points for the club going into administration, and he is also appealing another possible 15 point deduction if the club is unable to pay creditors 25p in the pound linked to any CVA (Company Voluntary Arrangement).
He said: "We are working on a strategy whereby money can be found to meet that minimum commitment."
Regarding the 12 point deduction, he said he was hopeful, adding: "The Football League have been supportive in every other area that we have discussed with them."
Lawyers for the administrators have also contacted the owner's lawyers with a request for a meeting. Mr Krasner said: "There are a number of matters we want clarifying. We want the owner to come to a Zoom meeting, with his lawyer if he wants. I am hopeful that, although we have no powers to force him to come to an interview, he would want to do his best for the club."
Mr Krasner said any investigation into the circumstances of the administration would have no impact on a sale.
Asked whether the administrators have contacted the police, he added: "No comment, at this stage."
The joint administrators were able to pay club staff today, while the players have been paid 20% of their wages. Mr Krasner said: "We are looking at ways to raise the balance of the monies in the next few days."
So far Wigan fans have raised almost £130,000 to help the club, which will go towards the costs of staging games, including coach travel, hotels, medical staff, stewards and ground staff.
The joint administrators said none of the cash raised by fans will be used to pay their expenses and, if in the event of a successful sale there was money remaining from the fans' efforts, it will be returned.