Coronavirus business update: Latest news across the North West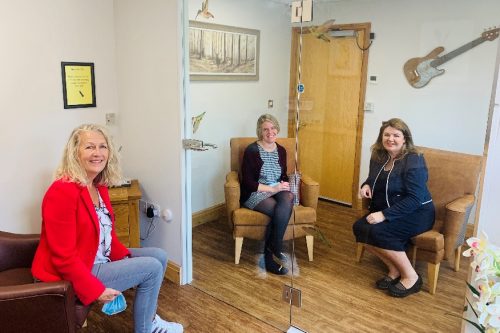 A Puddington care home has created two COVID-19-proof family rooms to allow families to safely visit their relatives.
Chapel House Care, a family business established in 1987, operates The Chapel House and Plessington Court care homes in the Cheshire village.
The homes offer residential, nursing and dementia care.
Inside each home they have built a dedicated visiting pod to allow family and relatives to safely see each other.
Cllr Louise Gittins, leader of Cheshire West and Chester Council, officially opened both rooms last Friday (July 10).
Chapel House Care owner Cathrina Moore said: "During Lockdown we have done everything we can to keep families in touch with loved ones, including setting up regular Skype and Zoom calls and sending out weekly newsletters.
"But we wanted to do something more, which is why we have turned a spare room in each of the homes into a dedicated and safe visiting pod.
"Each room has a glass panel and an intercom system so visitors can see and hear each other in a safe and enclosed environment. We're encouraging families to bring in photo albums and favourite music so they can share memories with their relative.
"It's going to be emotional for family to see their loved ones for the first time in so many months but we are proud to have created a safe environment for them to be able to do so."
Relatives are given regular weekly time slots to safely visit and already a grandson about to get married has arranged to visit his grandmother ahead of his big day, and a son is driving up from London to see his mother for the first time since lockdown.
::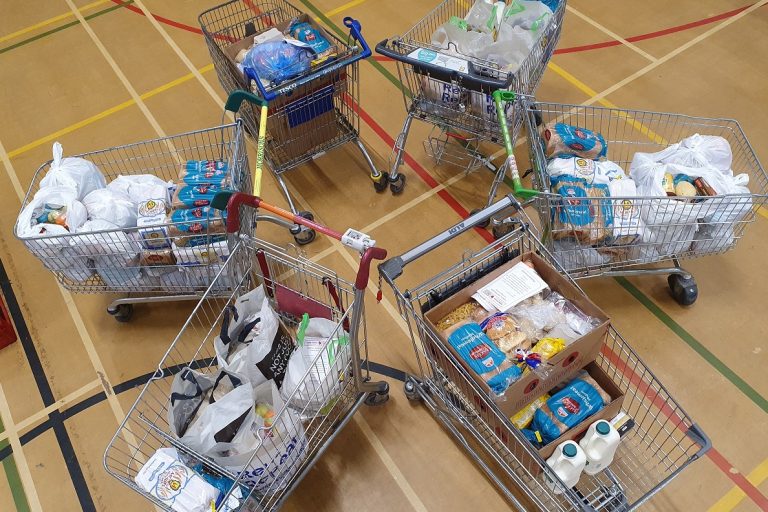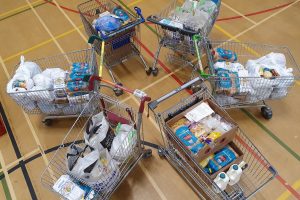 Blackpool Council's Corona Kindness initiative reached an incredible milestone last week, with the equivalent of 500,000 meals now having been distributed to those in need across the town.
The council's catering, leisure and transport teams are working alongside redeployed council staff, volunteers and kind-hearted local businesses to ensure that Blackpool residents continue to receive food parcels.
The service began operation on March 23. Initially suggested as a means of supporting the free school meals service, distribution expanded to include the supply of food parcels to families and individuals.
As of July 10, the total number of meals distributed stands at 502,400.
The ongoing support provided by each individual and organisation involved has been integral to the effort.
A number of suppliers have been on hand to offer assistance throughout, including Trevors Food Service, Ribble Farm Fruit & Vegetables, Morris Bakers, Mars UK, Burtons Biscuits and Dunsters Farm.
Derek Wright, Blackpool Council's catering services manager, said: "As a team, we are incredibly proud of the support we have been able to provide. Food plays such a vital role in the resilience of our community, health and wellbeing. The food distribution hub has been critical to the Corona Kindness response during the pandemic.
"The teams in catering, leisure and transport services are so proud that we have delivered the equivalent of 500,000 meals to our community, across our network of schools and hubs. It's been clear from the start that our community needed support, and we hope our efforts have made Blackpool stronger and more resilient."
Since its launch in March, the Corona Kindness campaign has seen the Blackpool community unite to provide for those in need. 12 Corona Kindness community hubs have each provided food parcels, shopping assistance, medication supplies, a befriending service and dog walking.
::
Business leaders and funding organisations from across Cheshire have joined forces to back a new initiative to help tackle the increase in mental ill-health in the wake of the COVID-19 pandemic.
The £350,000 Cheshire Minds Matter grants programme is targeted at smaller, local charities whose services help protect and enhance the mental health and wellbeing of disadvantaged people in communities across Cheshire and Warrington.
The focus will be on helping charities to adapt the way that they work, developing innovative new ways of delivering their services and encouraging collaboration to build organisational capacity.
A 'grant plus' approach will not only see charities receive funding, but will supply entrepreneurial know-how and expert support to help improve service delivery, and ensure they can adapt and thrive in the post-coronavirus world.
Zoe Sheppard, chief executive of Cheshire Community Foundation, said: "Even before the pandemic, people in Cheshire and Warrington affected by mental health and wellbeing issues often struggled to get the support they needed, and now COVID-19 is having a serious and life changing impact on many more people across our area.
"Poor mental health is directly linked to educational attainment, poverty and unemployment. From the very young to the elderly, we know that the additional stresses placed on families and individuals whose lives have been devastated by the pandemic has created a great wave of additional need which the charitable sector will be asked to help address.
"It is impossible to understate the importance of the voluntary sector in supplementing and complementing mainstream statutory provision, filling some of the gaps and offering continuity. It is for these, often modest community providers, that this fund has been specifically created."
The programme is backed by Cheshire Community Foundation which raises funds to support thousands of small charities and voluntary groups across the whole of Cheshire and Warrington, with the aim of connecting people and companies who would like to make a difference with those most in need of help.
Applications for grants of between £5,000 and £50,000 are being invited from registered charities, constituted community groups and other charitable organisations, including social enterprises and CICs delivering projects in Cheshire and Warrington. Single applicants can apply for up to £15,000 and partnerships up to £50,000.