Jobs to be created as development at airport enterprise zone takes off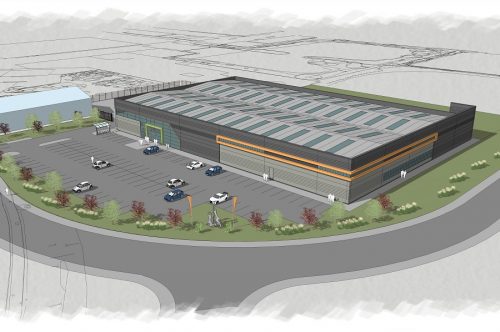 Thirty jobs are expected to be created after negotiations were completed on a 40,000 sq ft development in Blackpool Airport's enterprise zone.
Multi-Ply Components will combine its three sites in Inskip and Great Eccleston into a purpose-built headquarters.
The manufacturer will bring together its 69 staff, and initially boost its workforce to 85 people with ambitions of growing that to more than 100.
Planning was originally approved last October with Blackpool Council and Multi-Ply then working on detailed designs before agreeing a 25-year lease. The site also has land available for future expansion.
Peter Bourne, co-owner of Multi-Ply, said: "The new premises will enable us to expand and continue to grow our business which involves supplying key components to the medical imaging market worldwide.
"It was important that we remained on the Fylde Coast as we wanted to provide stability for our staff. The opportunity to build a bespoke unit at Blackpool Airport Enterprise Zone has enabled us to do that."
The Enterprise Zone is a 144-hectare site that includes the airport, retail park and business park. Businesses in the enterprise zone benefit from business rates relief or enhanced capital allowances if they design and build their own building.
Blackpool Council has committed £28.8m to providing essential infrastructure at the site to encourage development in the enterprise zone. It is able to keep all business rates revenue from the enterprise zone's 25-year lifespan.
Cllr Mark Smith, Blackpool Council's cabinet member for business, added: "This flagship development will be the first bespoke build on Phase One development land at the eastern gateway of the site, earmarking a significant move forward with the regeneration plans, bringing valuable skilled employment opportunities to the area and providing a catalyst for future private sector development and investment over the next few years."
Steve Fogg, chair of the Lancashire Enterprise Partnership, which contributed £0.8m through Growth Deal funding said: "It is great news that Blackpool Council's executive has given the go-ahead for this scheme.
"The development will contribute to the continuing transformation of Blackpool and has the potential to create a number of new jobs for the area.
"Locating to these new premises will allow Multi-ply Components to invest in research and development into new product lines which I hope will enable the company to grow from strength to strength and continue to increase its workforce. This is welcome news for both the local and wider economies."