Wigan Athletic awaits points deduction appeal decision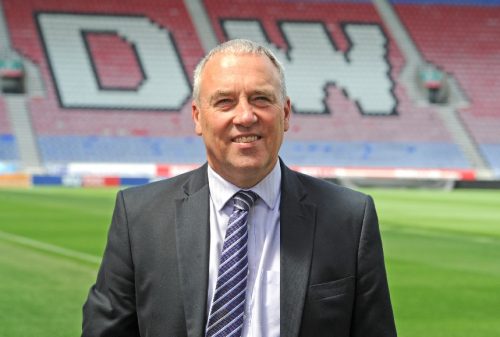 The joint administrators of Wigan Athletic FC have issued an update on the club's administration, its points appeal, and other related issues.
Wigan Athletic entered administration on July 1, after its owner pulled the plug on financial support.
The club had changed hands on June 4, when the sale of the majority shareholdings of the Wigan Athletic Group from International Entertainment Corporation (IEC) to Hong Kong-based Next Leader Fund LP was formally completed.
Paul Stanley, Gerald Krasner and Dean Watson from Begbies Traynor were appointed as joint administrators of the club on July 1
After entering administration the club was deducted 12 points by the English Football League, which led to its relegation at the end of the Championship season last week, into League One.
Administrators lodged an appeal against the deduction, which was heard this morning.
They said the appeal began at 9am before an independent tribunal and joint administrators Paul Stanley and Gerald Krasner both gave witness statements and were cross-examined.
The appeal concluded with judgement reserved and a further update will be given when the outcome of the appeal is known, they said.
The joint administrators also extended their thanks to the club's supporters who have made a further financial contribution this week to enable the payment of staff wages today (31 July).
Regarding the ongoing sale of the club, further "detailed talks" have been held with bidders which are likely to continue over the course of this weekend, and the early part of next week.
The original preferred bidder failed to provide sufficient guarantees by last week's Thursday deadline, which led to the joint administrators opening talks with other parties who expressed an interest in buying the club.
Meanwhile, the joint administrators are continuing to consider offers for players to reduce the substantial wage bill and to benefit the football creditors who are estimated to be owed in the region of £6m.
This is deemed crucial to the successful sale of the club, they said.
Also, the administration team confirmed that, at their request, Mr Au Yeung, from Next Leader Fund LP, has had a 'zoom' meeting with Mr Krasner.
This meeting lasted more than an hour and the joint administrators said that the information provided by Mr Au Yeung assisted with the arguments presented in the appeal against the 12-point deduction.
The investigation is continuing.
Paul Stanley said: "We would like to reiterate our thanks to the players, staff and supporters of the club as well as the people of Wigan, who have been resoundingly supportive of their efforts to secure the club's future.
"This is a fine club here in the heart of the North West and the Wigan Athletic supporters, in particular, have been magnificent during this difficult time."