Cushion company recruits 15 long-term unemployed as trade bounces back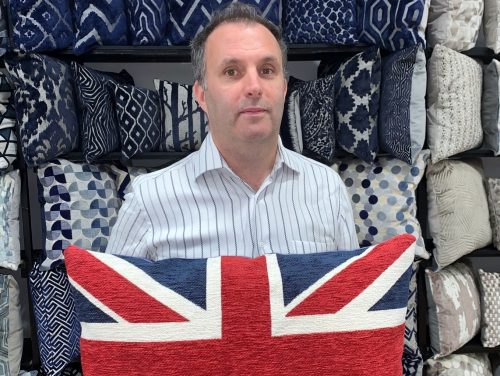 Knowsley cushion manufacturer Caldeira is taking on 15 staff following a strong recovery in demand for its home-textile products since lockdown has ended.
The new roles are all in the production team as the company's volume retail customers on both sides of the Atlantic have placed significant new orders as their stores and on-line operations have reopened.
The company has also agreed to continue manufacturing PPE (personal protective equipment) gowns until the end of 2020, as part of a consortium of UK manufacturers, to help the continuing fight against COVID-19.
This will help the UK rebuild essential stocks of PPE in case of a second wave of the coronavirus this Winter, and will give Merseyside some independent PPE gown manufacturing capacity if global supplies become scarce during future outbreaks.
Managing director, Tony Caldeira, is cautiously optimistic about expanding the business, but acknowledges that it is a risky strategy during these uncertain times. He said: "Given the current difficulties in the economy, Caldeira is very fortunate to be so busy.
"In many ways we are in the right place at the right time.
"Many consumers have been stuck inside their homes for months and have decided to change their soft furnishings, especially fast turning, low cost products such as cushions.
"In addition, Caldeira is still supporting the national effort to rebuild PPE stocks so we are busy on two fronts.
"This means that we need to expand our manufacturing capacity quickly and take on more staff."
He added: "We are cautiously optimistic, but need to tread very carefully, especially when you consider that just a few months ago we had to furlough the whole factory as all of our cushion orders evaporated when the UK and US went into lockdown.
"But at least, for now, we are seizing the commercial opportunities available, growing the business, and providing an important strategic resource for front-line workers in Merseyside should the coronavirus return.
"As things stand we've had more than a 'V-shaped' recovery, we've had a 'tick-shaped' recovery."
As part of its recruitment drive, Caldeira has been working with the team from Knowsley Works to help bring some of the area's long term unemployed back to work.
Patrick McCarten, head of employment initiatives at Knowsley Council, is pleased that Caldeira has been able to give opportunities to Knowsley residents, saying: "Many Knowsley residents have been affected by COVID-19, whether they are business owners, members of staff that have been furloughed, or worse still, made redundant.
"Caldeira has provided much-needed employment opportunities during these difficult times.
"Working in partnership with Knowsley Works, Caldeira has recruited Knowsley residents who were previously unemployed and has offered them training and full-time employment."
Caldeira operations manager, Shaun Fletcher, said: "We are grateful to Knowsley Works for their help with this wave of recruitment. They helped identify, pre-select and mentor some of the local candidates who now have full-time employment.
"Our 15 new staff will be key to helping Caldeira continue to grow its cushion production after the lockdown and will also be helping to replenish the nation's stocks of PPE at the same time."