Work completes on 'Tower of Light' energy scheme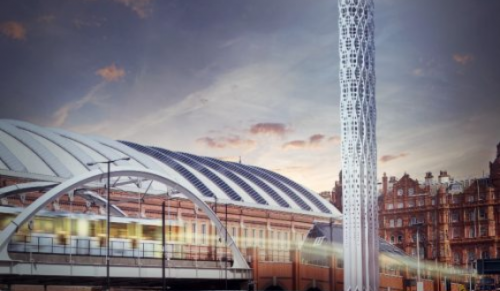 The finishing touches have been applied to a £2.5m scheme designed to help Manchester reach its carbon-neutral ambitions.
Dubbed the 'Tower of Light', it is part of Manchester City Council's £25m Civic Quarter Heat Network (CQHN) announced last Summer.
The CQHN is designed to provide low-carbon heat and electricity which will power civic buildings throughout the city centre.
Over the weekend the last sections of the 40m tower, next to Manchester Central, were installed, although doubts have already been raised about the efficiency of the scheme.
Nine 'drum' sections, measuring 4m wide, 6m long and 4m tall, were installed, capped by a 1.8m crown, covering the chimney for the low-carbon energy centre.
Projected to save more than 3,100 tonnes of carbon emissions in its first five years of operation, the scheme is helping Manchester to reach its ambitions to be carbon-neutral by 2038 at the latest.
Manchester Town Hall, Manchester Town Hall extension, Manchester Central Library, Manchester Central Convention Centre, The Bridgewater Hall and Heron House will be the first six buildings to benefit from the new facility.
It features a 3.3MWe CHP (combined heat and power) engine and two 12MW gas boilers which will generate electricity and harness the recovered heat for distribution to the various buildings through a 2km district heating network.
However, the project, which is being delivered by Manchester City Council and Blackburn-based Vital Energi, has been branded a "tower of shame" by scientists from not-for-profit consultancy quitcarbon.eu for its use of natural gas, which is the third most polluting type of fossil fuel.
A spokesman from quitcarbon.eu said: "This is a tower of shame. A brand new power station in the heart of the city.
"While natural gas is less polluting than coal or petroleum, it will be a source of significant emissions, both of greenhouse gases causing climate change, and of air pollutants, the ones that are damaging to our health."
In response, a Manchester City Council spokesman said: "The Combined Heat and Power (CHP) system installed in the energy centre is the most efficient method of converting a fuel into heat and power, with overall efficiency approaching 90%.
"However, it has always been recognised that this CHP system is an enabling, transition technology, which will need to be replaced by either a renewable or ultra-low carbon energy generation system during the project's lifetime."