People on the Move: Farleys Solicitors; Roxtec UK; Sales Geek; Ideal Modular Homes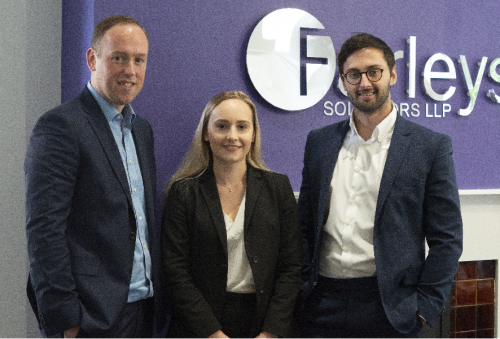 X

Register for free to receive latest news stories direct to your inbox
Register
Three consecutive years of strong growth at Farleys Solicitors' Preston office lies behind a recruitment drive to support the firm's ongoing ambitious plans.
The firm has maintained very strong financial results in the face of fierce competition and against the backdrop of COVID-19, with a 40% rise in fees for the Preston office in the past financial year prior to the pandemic, and as part of six successive years of double-digit growth for the firm overall.
Significant and continued growth in Farleys' commercial client portfolio is one of the key factors pushing the recruitment drive, it says, opening up opportunities for insolvency, dispute resolution and commercial lawyers to play a key role in the firm's continued success.
Since opening its latest office on Winckley Square in 2017, Farleys has invested in a number of key appointments and specialist practice areas, most recently adding to its insolvency and dispute resolution offering with the recruitment of associate partner Mark Hague, which has led to a steep rise in insolvency and dispute resolution work coming into the firm over the past 12 months, which is forecast to continue as businesses continue to adapt to the impact of the pandemic.
The Preston team has also welcomed three new recruits to support this growth, with Joe McCreadie, Eric Roe and Olivia Cooper joining the Preston team in June 2020.
Stephen Greenwood, partner and head of Farleys' commercial team in Preston, said: "As a business we have a long history of adapting to change and guiding our clients as they face and overcome challenges, both professionally and personally.
"Clients have never needed us more than they have over recent months and the positive feedback and the new instructions we have received from clients dissatisfied with levels of service from their former solicitors has been overwhelming.
"Our people are central to this continued success. Not only do we hire the best talent to boost the skills of our established teams, but we recruit solicitors who know how to provide the highest levels of service that our clients expect.
"We're actively seeking talented lawyers looking to develop their careers in an environment where ambition and progression are both valued and encouraged."
Mark Hague said: "We have seen a sharp increase in the number of insolvency and dispute resolution enquiries over the last 12 months and we only expect the demand to increase more.
"We have an enviable client base and compete with much bigger firms on a regular basis across the full spectrum of both contentious and non-contentious insolvency matters and on dispute resolution cases."
::
Pipe and cable seal manufacturer Roxtec UK has expanded its marine and offshore team with the appointment of a new business development manager.
Jordan McNelly joins the company as marine and offshore manager (North). His experience covers the manufacturing, distribution and contracting sectors, and in his new role he will be responsible for supporting customers in the North of England and North Wales.
Roxtec supplies the maritime industry with a wide range of pipe and cable transits that protect people and assets from multiple hazards including fire, flooding, the risk of explosion and electromagnetic disturbances.
Designed to withstand harsh ocean environments, Roxtec safety seals are used aboard carriers and cargo ships, superyachts, cruise liners, ferries and naval vessels. Its seals are also an industry standard within the offshore oil and gas sector, found on jack-up and semi-submersible rigs, and aboard FPSOs, drill ships and offshore support vessels.
Mr McNelly said: "Roxtec is the global leader in pipe and cable safety seals, with a strong reputation and a lot of extremely innovative products that have proved to be game-changers.
"This is a highly technical marketplace and I'm looking forward to working with customers, their designers and contractors to find sealing solutions that best fit project requirements – whether that be off-the-shelf products or bespoke solutions.
"I'll be working with businesses across the North, with particular focus on the Merseyside area for shipbuilding and ship upgrades, Barrow-in-Furness where there's a lot of activity linked to the submarine programme, and the North Sea in respect of oil and gas.
"My primary role will be to support customers and educate businesses within the wider marine and offshore market as to the variety of cable and pipe seal solutions Roxtec has available, as well as the value they can offer both at the point of installation and over the lifetime of a vessel."
Clive Sharp, managing director of Roxtec UK, said: "Designing and manufacturing innovative sealing solutions is our passion.
"We work closely with shipbuilders to develop reliable pipe and cable transits that speed up installation time and reduce costs, while ensuring the safety of ships and crew.
"We have a great team in place to support our customers right across the UK and Jordan will play a pivotal role as we continue to increase our presence in the maritime sector."
Roxtec was founded in Sweden in 1990, with its UK base in Bury, Greater Manchester.
::
Lancashire-based training company Sales Geek has launched a new operation dedicated to professional development training.
The move sees husband and wife team Mike and Sarah Ode joining the Sales Geek family as directors of a new business, Sales Geek Professional Development.
Mike and Sarah join Sales Geek on the back of running their own successful business Potential Unearthed for more than 12 years, providing professional development and leadership training across the country to clients including the NHS, Capita, BT, Crown Paints, Amey and The University of Salford.
Sales Geek managing director, Richard Few, said: "We are thrilled to welcome Mike and Sarah into Sales Geek family as our professional development geeks. I have first-hand experience of the energy they bring, having previously undergone their training myself, which I can honestly say was some of the very best I have ever received. So it was a real no brainer when the opportunity came up to work together.
"Up until now Sales Geek has focused on developing sales skills. This new venture takes our offering to a new level, enabling us to have a holistic approach, developing our clients as leaders and as people.
"Mike and Sarah really fit in with Geek values and culture and bring all their expertise and drive to Sales Geek in an area that is a natural fit with our existing products and services."
Sales Geek is a multi-award-winning provider of sales training with clients across the world.
Its online Sales Geek Academy and Hub provide on-demand sales training available around the clock, alongside services delivered in-person for clients that prefer face-to-face interaction.
Mike Ode, said: "The opportunity to join the Sales Geek family came at just the right time for us.
"In our previous roles we were often being asked if we provide sales training, while the guys at Sales Geek were often being asked about professional development training, so the coming together felt very natural as a way of providing clients with a holistic range of training that's highly in demand.
"We provide leadership, management and personal development courses and training, both face-to-face and virtually, aimed at everyone from senior management and directors, through middle management, down to aspiring managers, who are interested in consolidating what they already know, while finding out more about the latest management techniques aimed at getting the best from today's employees."
::
Liverpool-based Ideal Modular Homes has welcomed two new members of staff, Marie Smith, and Louis Allwright.
The business immediately showcased Marie's strengths by heading up the team running Ideal's latest project for the Royal Borough of Greenwich Council.
Joining the Ideal team as director of projects, Marie will be bringing a wealth of experience and knowledge to the team after running various large projects throughout the UK.
She has more than 14 years' experience in the offsite and modular building sector, and having previously held many senior roles in the marketplace, she also has experience operating at board level.
After starting out as a national account executive at Target Couriers, Marie moved up from area and then operations manager at Portakabin to general manager and then managing sirector Ashby & Croft Group.
With a proven track record in developing teams of project professionals, as well as delivering large projects on time and on budget, she'll be looking to develop the projects team and take it into a brand new direction, starting with the latest project, an alliance with A&E Elkins and shedkm to deliver affordable, sustainable homes for the Royal Borough of Greenwich Council.
A strategic thinker, Marie's passion to succeed blends with the business's strong ambition to deliver, not just cutting edge modular homes, but amazing projects. She aims to capture the market to make sure Ideal is leading the way in this sector, while continuing to build a positive and robust team.
Marie said: "I can see the product that Ideal Modular Homes produces being the true market leader. I'm ambitious and, hopefully, a role model to other women within the construction industry."
Louis Allwright joins the Royal Borough of Greenwich projects team, where he will be based, as the new senior project manager.
He will be providing the bond between onsite construction and the offsite manufacturing team to ensure the project runs smoothly.
After starting out working in the traditional construction sector, where he gained most of his skills, Louis cemented himself as a commercially-aware and efficient contracts manager working on multiple local authority schemes. He then worked his way up from project manager to senior project manager at Ashby & Croft Group.
Now an experienced senior project manager, he will be responsible for overseeing the client and contract management on the five-year Royal Borough of Greenwich contract.
With a vast knowledge within the offsite construction industry, the firm said he will undoubtedly add another layer of quality and efficiency to Ideal's already great team.
Louis said: "I aim to implement robust processes and structure to the business through my onsite contract and programme management methods. This, combined with my desire and hunger to deliver complex projects, will help spearhead the Royal Borough of Greenwich contract forward, as well as help to grow and define Ideal Modular Homes as the sector's go-to modular housing provider."