Digital security group profits from lockdown impact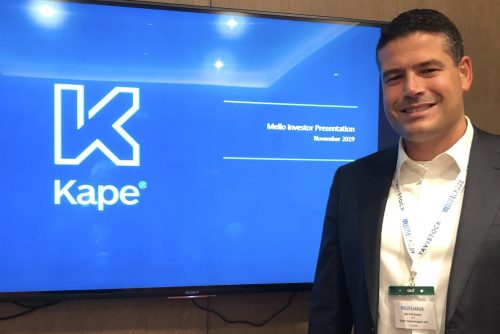 The need for more secure IT systems following the pandemic lockdown period has turbo-charged software specialist Kape's half year results.
The Isle of Man-based business saw revenues almost double, from $29.933m to $58.986m, while pre-tax profits improved from $1.305m to $1.376m in the six months to June 30.
AIM-listed digital security and privacy software business Kape reported increasing global demand for its services which continues to underpin strong financial progress and user growth.
It enjoyed strong cash generation, with an adjusted operating cashflow of $8.8m compared with $0.2m a year ago, and reported operating cash flow of $5.9m, against a $0.3 deficit last year.
The business also secured a new senior term loan and revolving credit facilities of up to $70m in March, significantly strengthening the group's balance sheet.
Integration of the PIA acquisitiokn is progressing rapidly and is expected to complete in the second half of 2020, leading to a 40% reduction in PIA's monthly operating costs in the third quarter of 2020 as part of the integration.
The enlarged group is already benefiting from increased economies of scale and is expected to deliver synergies towards the upper end of the previous $3.5-4.5m guidance.
Looking ahead, Kape said it continues to be very well-placed to benefit from the growing online privacy and security markets, despite the ongoing disruption and uncertainty caused by the COVID-19 pandemic.
Since the period end the group has experienced strong growth in PIA subscribers, driven by Kape's user-acquisition initiatives and the board remains confident of the group achieving revenues of between $120-123m and Adjusted EBITDA of between $35-38m for the full year 2020, and in the growth prospects for the group in 2021 and beyond.
Chief executive, Ido Erlichman, said: "The first six months of 2020 have been extremely productive for Kape both in terms of operational progress and our financial performance.
"With COVID-19 causing widespread uncertainty globally, the need for high-quality and secure internet software solutions has been further reinforced.
"With this growing demand from our users we feel more inspired than ever to develop, innovate and expand our product offering, with our customers' digital privacy and security our number one priority.
"As anticipated, the acquisition of PIA has accelerated our progress and our teams have seamlessly brought our two organisations together creating a truly global leader."
He added: "We remain focused on delivering against our strategic growth priorities in the second half and look to the future with confidence."