People on the Move: QED; CreationADM; Paragon Bank; Claremont; OakNorth Bank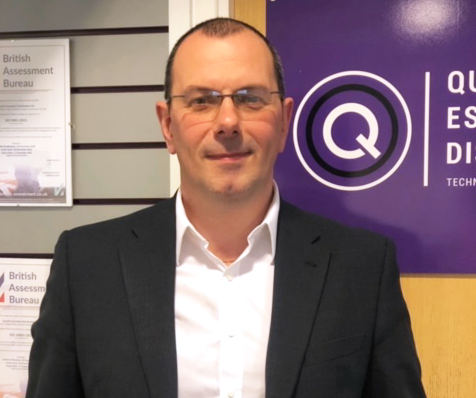 X

Register for free to receive latest news stories direct to your inbox
Register
Specialist security distributor, Quality Essential Distribution (QED), has appointed Matt Philp as managing director.
Matt previously held the role of product development director and for more than 20 years he has been at the forefront of the Bamber Bridge company's product and technology development.
Joint owners, Dave Arrowsmith and Ian Smith, said: "We are delighted to announce Matt as the new managing director of QED. This appointment reflects a newfound vision and our commitment to customer service, which is the most important part of our business."
Matt Philp said: "I am very excited at the prospect of leading QED as it continues to grow. Our secret has been to put the customer first, the quality of our before and after-sales service and an unwavering determination to satisfy our customers' demands.
"Allied to this is our dedicated team of experienced professionals, and a commitment to deliver responsive and reliable services.
"As we grow and evolve, we will continue to improve operations and our commitment to ISO which reflects our dedication to delivering high-quality products and services."
Matt will 'hit the ground running' in this position, with ambitious plans to expand the product portfolio, launch a new corporate identity and drive the business forward in these unusual times.
::
Manchester-based creative agency, CreationADM, is pleased to welcome Peter Walker to the fold as marketing manager.
An experienced marketer with 14 years' experience, Peter joins the company with a dual role.
He will support the existing marketing team in looking after its current client base, assisting them in website management, SEO, blogging, email marketing and social media management activities. On the flip side, Peter has also been tasked with winning new business for the agency.
Having worked client-side since 2006, Peter has a unique skill set that Creation's directors are keen to harness.
Peter's most recent role as a marketing manager working in the foodservice and catering sector ties in nicely with a number of Creation's current clients, and it is hoped Peter can use his connections within that sector to grow the agency's portfolio.
Creative director, Gary Young, said: "We're slowly starting to emerge from what's universally accepted as having been a devastating period for businesses of all sizes. But even through that period we were always keen to grow certain areas of our own organisation.
"With Peter on board we're better equipped than ever to do just that. It's a positive move for us on every level."
Peter said: "I have always felt working agency-side would be a good fit for my broad marketing skill set. We shall find out if this is the case in the next few months."
Peter is also keen to develop Creation's green initiative, A Better Planet, which provides branding, communications and creative services to grassroots campaigns, charities, NGOs, businesses pioneering sustainable products and practices, and everything in between.
"Having instigated, built and grown various green initiatives within the catering industry, I'm keen to expand upon that thinking and experience and help to implement it across a wide range of sectors through our A Better Planet offering," he said.
::
Paragon Bank's development finance division has strengthened its presence in the North West with the appointment of Dave Rowlinson as relationship director.
Dave, who will be based in Manchester, has an in-depth knowledge of the North West real estate and commercial property market, developed over a 30-year-plus career in banking and financial services.
Previous roles include property director at Oaknorth Bank and a senior manager at Investec, where he spent more than 11 years.
His appointment is part of Paragon Development Finance team's strategic plan to grow its presence in regional markets. Paragon's development finance division specialises in supporting small to medium-sized housebuilders.
Dave said: "Paragon has ambitious plans to grow in the North West, helping to support small-to-medium-sized developers provide much needed new homes across the region.
"What attracted me to Paragon is the experience and pedigree of the development finance team, its commitment to the sector and its financial strength, being part of a well-established, well-funded, successful FTSE-250 financial services company.
"It's a serious player in this sector, which is demonstrated by its continued support of developers throughout the coronavirus pandemic. I look forward to working with developers across the North West to help them realise their ambitions."
Paragon Bank's development finance division increased lending to residential housebuilders by nearly £200m during the first half of the company's financial year, taking its net loan book to more than £500m.
Robert Orr, Paragon Bank Development Finance managing director, said: "The North West is a market we know has great opportunity. It benefits from a strong economy, with traditional industries being complemented by high-tech sectors, world-class universities and diverse geography.
"People want to live in this region and Paragon is keen to support developers provide the housing to meet this demand.
"The demand for new housing looks like it will remain strong into the future and smaller developers want to work with a bank that is consistent, is financially strong and has the experience and expertise to support their business."
::
Warrington-based interior design and fit-out business Claremont has appointed its first Fitwel ambassador in response to the UK's growing demand for greater workplace and building wellbeing.
Fitwel is a building rating system that provides advice and guidelines on how to design and operate healthier buildings by awarding a one, two or three star rating, valid for three years.
First established in the US, Fitwel applies to commercial interiors and tenanted buildings as well as retail and residential properties and provides a useful benchmark for wellbeing-minded occupiers by scoring a building's location and facilities, as well as tenants' behaviours.
Claremont's architectural technologist, Matthew Reilly, who joined the business in 2016, takes the role of Fitwell ambassador and will now work with Claremont's workplace consultancy, account handling and project delivery teams. Claremont is one of the first businesses in the North West to appoint a Fitwell ambassador.
Managing director Tim Frankland said: "By investing in Matthew as a Fitwel ambassador we're able to offer clients additional value and guidance as they strive to prioritise their people and improve their wellbeing credentials.
"Although we began our Fitwel journey well before COVID-19, we now expect this to become a very sought-after accreditation as businesses want to ensure that when their people are in the office, they're in an environment that promotes and protects wellbeing."
Matthew Reilly said: "Fitwel is still relatively new to the UK but it's really starting to gain traction and clients are eager to explore ways to benchmark future performance, show they prioritise wellness and optimise people's health.
"I am keen to show businesses how small adjustments can make a big difference and inform how they design, choose and occupy space."
Fitwell uses a weighted points system to score buildings and occupiers and can be used to certify designs, such as new construction or renovation projects which are not yet occupied, and existing or recently completed projects that are occupied and in use.
::
OakNorth Bank has announced the expansion of its Manchester team with two new hires, as demand for loans from businesses across the North continues to grow.
Paul Atherton joins as an associate of debt finance having spent the past 10 years supporting SMEs at Ballard Evans Corporate Finance Boutique.
Gareth Bennett joins as an associate director and has almost 15 years' experience in the industry with the past eight being spent at Allied Irish Bank.
Ben Barbanel, head of debt finance at OakNorth Bank, said: "Despite the economic challenges being caused by COVID-19, OakNorth Bank has continued to lend to viable British businesses and support strong management teams through these unprecedented times.
"Since March, the bank has approved c. £800m in new loans including over £300m in CBILS and CLBILS loans.
"To date, we have lent c. £175m to businesses across the North and have a very strong pipeline.
"We have, therefore, continued to grow our team and expand our capabilities in Manchester so we can keep up with this demand. With the help of Paul Atherton and Gareth Bennett, we'll be able to further support SMEs in this region."