People on the Move: Four Recruitment; Cheshire East Council; Realm Recruit; Lancashire Enterprise; Forbes Solicitors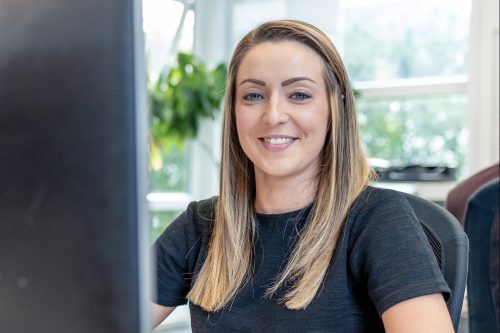 North West recruitment specialist Four Recruitment has announced the promotion of Abbie Smith to associate director.
Abbie has been with the business for just over four years, starting as a consultant in 2016.
She joins co-owners Phil and Claire Sofield to sit alongside Gemma Sofield as part of the senior management team, assisting them in driving the further growth of the Bolton-based business.
Abbie's appointment is one of Four's fastest senior progressions in the company's history.
She has been an instrumental part of the business's success over the past few years, heading up the Lancashire team as divisional manager, recruiting senior finance vacancies throughout Lancashire while also having been a major influence in the establishment of the Four Projects division – working on large scale recruitment projects for local clients utilising her experience from her previous recruitment role.
Operations director and co-founder, Phil Sofield, said: "Abbie has shown the potential for a directorship since day one. Her commercial approach and breadth of skill set has added real value to our business operations."
"It is a privilege to reward hard work and dedication like this. The talent we have in our business is ensuring that we provide a market leading service to clients and we look forward to announcing more senior appointments in the coming months."
::
Cheshire East Council is to have a new deputy cabinet member for adult social care and health, owing to the additional pressures created by the COVID-19 pandemic.
Cllr Marilyn Houston, ward member for Crewe West, is to support the present portfolio lead, Cllr Laura Jeuda.
Council leader, Cllr Sam Corcoran, said: "In the wake of the COVID-19 pandemic it has become clear that our adult social care and health portfolio requires additional support and I am pleased that Cllr Houston has agreed to take up the position of deputy portfolio holder under Cllr Jeuda.
"Following the local election in May 2019, the new Labour/Independent administration chose to combine two areas of responsibility – adult social care and health – to form one much larger portfolio, bringing about a closer working relationship between the care of older residents and our delivery of the council's health sector responsibilities.
"Naturally, there is a cross-over of needs and delivery, but the added pressures created by the pandemic, which remains an ongoing concern and demand on the council's resources, calls for the appointment of a supportive deputy cabinet member for this area of work."
Cllr Houston, who joined the council in 2019, is a former mayor of Crewe and was recently appointed the council's equality, diversity and inclusion member champion. She served on the health and adult social care and communities overview and scrutiny committee.
She said: "I am looking forward to working with Cllr Jeuda and all the council's partners at this key time, in ensuring that the people of Cheshire East are provided with health and social care services that enable them to live longer and healthier lives."
Cllr Houston's appointment by the council leader is with immediate effect. It is cost neutral to the council and council taxpayer.
Cllr Laura Jeuda, cabinet member for adult social care and health, said: "I am looking forward to working with Cllr Houston, who has a wealth of experience in local government and social policy.
"She will be a great asset to ensuring that our residents are served well, particularly in what are, and will no doubt continue to be, challenging and uncertain times."
::
Specialist legal recruitment consultancy Realm Recruit has welcomed three new consultants to its team.
Cameran Waite, Rebecca Blundell, and George Molyneux Buckley have joined directly from competitor businesses as consultants.
Their joining has enabled Altrincham-based Realm to branch into property and commercial advisory recruitment and expand its commercial insurance recruitment offering.
Both Rebecca and George are qualified lawyers who worked in legal practice before making the move into recruitment.
Rebecca will be recruiting commercial advisory and litigation lawyers while George will be recruiting commercial insurance solicitors. Cameran will be recruiting the full spectrum of property and conveyancing lawyers.
Realm's director, Duane Cormell, said: "I'm delighted to welcome Cameran, Rebecca and George to Realm.
"Despite a global pandemic, our refreshingly niche structure has enabled us to consolidate our relationships with clients and has provided a foundation upon which we have been able to grow.
"What's more, our flexible approach and ability to seamlessly adapt to home working have been crucial.
"I'm really proud of what we've been able to achieve this year, despite very difficult circumstances – our expansion would not have been possible without the team's hard work and commitment."
::
The Lancashire Enterprise board has appointed Prof Graham Baldwin, vice-chancellor of the University of Central Lancashire, as chair to the newly-formed Lancashire Innovation Board.
Steve Fogg, chair of the Lancashire Enterprise Partnership, said: "I am delighted to announce the appointment of Graham as chair of the Lancashire Innovation Board and look forward to working with both Graham and the board to deliver our innovation plans for Lancashire, which are more important now than ever.
"From the Spinning Jenny to the development of the jet engine, Lancashire has always been able to build a vibrant economy, based on the innovation of those who work here. In 2020 the challenge has never been greater to harness innovation, to retain its competitive position and imagine Lancashire's industries of the future."
The Lancashire Innovation Board will bring together a range of private and public sector partners to provide the strategic leadership and accountability for the LEP's Innovation Plan and its delivery, championing and challenging interventions to deliver greater levels of innovation for the county.
Graham said: "This is a fantastic opportunity to work with a whole host of partners to build on our existing innovation resources and drive forward Lancashire's innovation agenda.
"Lancashire has many strengths and assets to build on to move our productivity efforts forward. We are home to leading global businesses at the cutting edge of innovation in advanced manufacturing, supported by a supply chain cluster of high-tech small and medium-size enterprises.
"Our long-standing and well-known strengths in aerospace, automotive, and energy industries sit alongside exciting, emerging strengths in sectors such as digital and applied healthcare.
"And through our high-performing universities and further education providers, working closely with national centres of research excellence and knowledge transfer partnerships, our excellence in deep thinking and research provides us with crucial competitive advantage."
One of the first initiatives the board will be leading on is the Lancashire Innovation Festival running throughout October.
::
Commercial lawyer David Filmer has joined Forbes Solicitors as a partner in the North West firm's corporate team.
David joins from Harrison Drury in Preston, where he was head of the corporate and commercial team, and responsible for leading a number of significant deals for businesses throughout Lancashire and the North West.
During his career, David has acted on the sale of £60m+ turnover company Ribble Fuel Oils to AIM-listed AMF Group, advised the successful Topping family on the sale of Barton Grange Hotel to Double Dutch Hotels, and also acted on the deal which saw Global Risk Partners acquire Crewe-based insurance brokers The County Group to establish a North West regional hub.
In his new role David will draw on his experience to advise Forbes Solicitors' mix of multinational and SME clients based throughout Lancashire, the UK and internationally.
Pauline Rigby, partner and head of corporate, said: "David joins us at a time when we're seeing businesses reinvent themselves, find ways to improve resilience and seek new opportunities in this ever-changing economy. His wealth of experience will add real value to the companies we work with, now and in the long-term, as business owners look to realise their growth ambitions."
David Filmer said: "I've been fortunate enough to work with great people throughout my career and to be involved in challenging, rewarding and forward-thinking deals.
"I'm looking forward to this continuing at Forbes and working together with the firm's other teams and specialisms to provide commercial and considered advice to businesses based here and overseas."