People on the Move: Northstone; Bensons for Beds; Caresolve; Boyds; Bridging Finance Solutions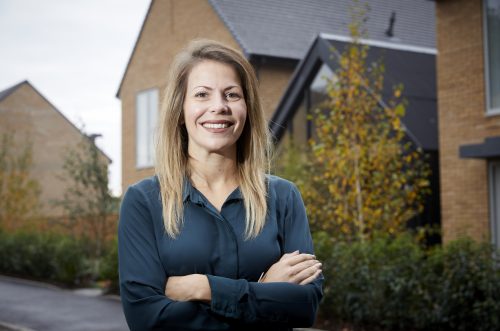 Northern homebuilder and place maker, Northstone, has appointed Joanna Allen as head of partnerships and development to bolster its development team headed by development director, Jonathan England.
With extensive experience working within the affordable housing, construction and development sector, Joanna joins from her position as head of development at Tawd Valley Developments.
Prior to this, she has fulfilled roles at Sovini Group, Barratt, David Wilson Homes and Aster Homes.
Joanna will not only be heading up the delivery of Northstone's commitment to delivering important social and affordable housing, but will also be a key part of the development team.
She said: "The momentum at Northstone has been building and I'm excited to be joining the team at such a busy period as several developments move into public consultations."
Chief executive, Phil Wilson, said: "As Northstone begins to expand with several sites now making progress either on site or at planning stages, it's important we have dynamic and people-focused individuals within our team to see these schemes through. Joanna brings a wealth of housing experience and I'm thrilled to welcome her to the team."
::
Accrington-based Bensons for Beds has strengthened its board with the appointment of Ian Shepherd as a non-executive director.
Ian has previously served as the chief operating officer of Odeon and the CEO of Game Group.
He has also held senior commercial and retail leadership roles for world-leading brands including Vodafone and Sky Interactive.
His appointment follows a restructuring deal at the end of June that injected £25m of new investment to grow the business.
Ian joins the board led by Bensons chairman Chris Howell who has been working with the business in an advisory capacity since the Autumn of 2019.
A former non-executive chairman at Maxeda DIY Group in Benelux and Oceanico Group, Chris has led and supported numerous private and publicly listed companies in an executive, non-executive and advisory capacity including managing director at KPMG.
Chris Howell said: "Ian brings a wealth of experience to the board and joins us at an exciting time as we press ahead with our ambitious plans to transform the business. We look forward to working with him."
Ian Shepherd said: "I am delighted to have joined the board of Bensons for Beds as a non-executive director. I'm looking forward to working with the leadership team and growing this newly-independent business."
::
Care sector consultancy Caresolve has promoted Maxine Parry as a new regional director from her previous position as senior consultant which she had held since joining the Warrington-based company in 2016.
Maxine is now responsible for overseeing the day-to-day management of Caresolve.
The company was established in 2011 by experienced care sector professionals Ben Challinor and James Parkin. They were subsequently joined by Richard Shore as finance director in 2016.
Caresolve has been extremely busy during the COVID-19 pandemic, providing strategic and operational support to care home operators and their investors.
The company also works closely with local authorities, the CQC, insolvency practitioners, banks, sales agents and solicitors.
Caresolve undertakes management contracts for investors and providers, as well as having extensive experience in achieving the successful turnaround of numerous care homes.
The company also has a dedicated financial arm, Caresolve Financial, headed up by Richard Shore, providing financial reviews and management services and finance director support.
Ben Challinor said: "We are delighted to have appointed Maxine as our regional director. She has a proven track record of providing leadership to care home operators, consistently helping them to achieve success beyond expectation.
"In some cases, this means putting in place a strategy to enable a home to go from 'Good' to 'Outstanding' in Care Quality Commission inspections.
"For others, particularly during the current crisis, it has been more about helping care home operators to navigate their way through extremely testing times."
Maxine Parry said: "We have been extremely busy throughout the pandemic and have plans to continue to grow Caresolve over the next couple of years in the North West and beyond.
"I am looking forward to leading the team and continuing to work in partnership with care sector operators, to drive forward standards and assist them in achieving their ultimate goals for their care homes."
::
Pharmaceutical and biotech product development consultancy Boyds has recruited Kathryn Bartley as senior clinical research associate.
The appointment follows last year's acquisition of Blue Duck Consultancy which fueled the expansion of Boyds' in-house clinical and medical affairs services offering.
Kathryn has more than 18 years' experience in the industry, primarily in study and site management and monitoring. Her work has covered a variety of therapy areas across all trial phases within both the commercial and academic sectors.
Most recently, Kathryn spent six years working for GlaxoSmithKline – subcontracted from Parexel and then PPD – as a senior clinical research associate working primarily on real world evidence respiratory studies, including the ground-breaking Salford Lung Studies (SLS).
Kathryn's experience also includes working as a remote clinical research associate on oncology trials at AstraZeneca, as well as four years as a study manager at the University of Liverpool Cancer Research UK Trials Unit setting up and managing haematological oncology studies.
Kathryn said: "Boyds is a fast-growing company with a strong reputation in the industry. I am excited to be part of their growth ambitions to expand their clinical services team. I am looking forward to working with and learning from the fantastic team of experts at Boyds, as well as building on my knowledge in advanced therapies."
Vice president of clinical operations at Boyds, Dr Karen O'Hanlon, said: "We are delighted to welcome Kathryn to the team. We have an established international network of consultant CRAs and our ambition is to build on this by creating an in-house team.
"Kathryn brings a wealth of experience and will be instrumental in supporting the growth of our clinical and medical affairs offering."
Kathryn will be based in Boyds' Crewe office and her role will involve performing all aspects of site set-up and management including pre-study, initiation, monitoring and closeout visits, stand-alone ethics submissions, feasibility studies, medical writing and training.
::
Bridging Finance Solutions has announced the appointment of Damian Davies as business development manager in the North West.
Damian joins the team with a strong and varied background in the industry having worked with RBS for almost 20 years where he was named 'Top Business Relations Manager'.
His work with SMEs during this time, notably developers and contractors, will bring existing relationships for whom bridging and development finance will undoubtedly hold strong appeal.
Damian has also worked as an independent broker and, therefore, owns a clear understanding of the needs and objectives from both a lender and borrower perspective.
He said: "I've worked within the property finance market for over 30 years under several different roles, giving me wide-ranging experience in multiple areas, all of which is relevant to this new position.
"Whilst this move presents a fresh challenge, its one I'm extremely excited and confident about.
"I'm looking forward to working with my existing contacts, whilst forging new relationships, and discussing ways in which bridging and development finance can be used for different projects."
John Hardman, head of sales, said: "We believe Damian to be the perfect fit for our team with a strong and clear understanding of the market place and bridging in particular.
"We look forward to welcoming him as we continue to grow, capturing a buoyant North West market place."