More businesses benefit from CBILS support

Presteigne Broadcast Hire (PBH) is able to get a clearer picture of his medium-term future after securing a £3m working capital and refinance package.
The company is a supplier to the TV studio and worldwide live broadcast market and has bases in Warrington and near Gatwick Airport. PBH was founded in 1991 and bought by management with backing from funds managed by NVM Private Equity in 2016.
It has received the CBILS-backed support through alternative lender ThinCats.
Presteigne Broadcast Hire's chief executive Adrian Young said the financial support "ensures that we have exactly the right backing in place to grow as we look forward to a busy 2021".
---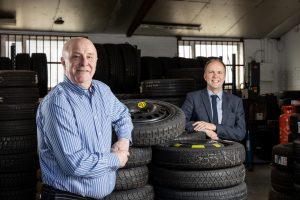 Morecambe-based Wess Tyre Traders sources and trades in the major tyre brands worldwide.
The company also represents several manufacturers from South East Asia shipping to tyre suppliers across the globe.
FW Capital provided a £225,000 Northern Powerhouse Investment Fund loan, backed by CBILS, to fund the expansion of Wess Tyre Traders' UK operation as the travel restrictions imposed at during the Covid-19 outbreak made it difficult for the company to carry out its business abroad.
The company is now back on track and has recently taken on two new staff taking the total to five. Turnover this year is expected to reach £6m and is on target hit £10m during the next three years.
Owner Andy Wess, who has 40 years' experience in the tyre trade, set up the company five years ago.
He said: "Unfortunately, the pandemic made international travel very difficult, so it was really important for us to increase our presence here as there are lots of opportunities for us to expand in the UK.
"We've just taken on another small warehouse in Morecambe and needed working capital to increase stock purchase and hire two new staff."
---
Faith Furniture Company has received £250,000 Coronavirus Business Interruption Loan Scheme (CBILS) loan.
The Bolton-based company has invested in product development and marketing literature to ensure the brand continues to grow and can capitalise on the ongoing home improvement boom.
It has already seen results, with sales in each of the last three months higher than a year ago.
The facility was arranged through Secure Trust Bank Commercial Finance, which already supports the company through an invoice financing facility. The bank was one of the first alternative lenders accredited for CBILS and the scheme for large companies, CLBILS.
Paul Jenkinson, managing director at Faith Furniture Company, said: "Early into our return to work after lockdown, we decided to carry on investing to make the most of the home improvement boom, and this working capital has allowed us to maintain our relationships, invest in product development of new ranges and create new marketing literature.
"We're now in a position to be launching four new kitchens in October and planning for others in the next year."