People on the Move: Cornerstone; Night Time Industries Association; Claritas Tax; EY; Trafford Housing Trust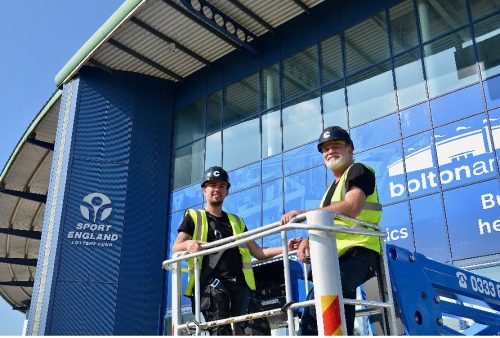 Full service agency Cornerstone Design & Marketing has expanded its wide-format printing, signage, exhibition and display services with two new appointments.
Sam Casey and Stephen Gill both have extensive experience in the signage industry and have worked for a diverse range of clients and projects across the UK.
Oldham-based Cornerstone is expanding its signage and display design, printing and installation services. It supplies interior and exterior products for locations including pools, spas, gyms, leisure centres, sports arenas, visitor attractions, exhibitions, offices, warehouses, construction sites and car parks. It supplies products including banners, hoardings, window and wall graphics and exhibition stands.
Sam Casey, from Mossley, in Greater Manchester, has wide experience of signage projects across England, Scotland and Wales and manufacturing techniques including wide-format printing, screen printing, engraving and acid-etching. He has worked on rebranding, signage and interior graphics projects for city centre retail and office environments in Manchester, Glasgow, Swansea and Cardiff and also had project management, purchasing and sales roles.
He spent the first three years of his career with GT Graphics in Ashton-Under-Lyne, then six years with PS Signs in Stockport.
Now with Cornerstone Sam has been appointed print room manager. His new role includes liaising with clients, project management, production and installation. He also has CSCS construction industry safety certification and is licensed to operate 'cherry picker' platforms.
He said: "Cornerstone's signage and print room department's expansion complements growth across the agency's other in-house services."
Cornerstone has also appointed Stephen Gill, from Stockport, who has 18 years' previous experience with PS Signs and expertise in property and vehicle signage.
When younger, he studied art and design at Manchester College's Northenden campus and then illustration and animation at Manchester Metropolitan University.
Now with Cornerstone, Sam and Stephen have recently worked on gym, leisure, sports arena and office signage projects. Environments have included Bolton Arena, the new Tameside Wellness Centre and bowling alley at Denton, Greater Manchester, run by Active Tameside, and gyms and leisure centres managed by Everybody Sport & Recreation in Cheshire. The Everybody locations include a new gym at the Alderley Park science, office and residential property development near Alderley Edge.
The Oldham agency now has a team of 19. It moved to bigger premises last year which were redeveloped with the expanded wide-format print room, bigger offices, meeting rooms, design studios and a photography/video studio.
Cornerstone's other in-house services include website development, digital media, PR and marketing strategy services.
::
The Night Time Industries Association (NTIA) is delighted to welcome Sacha Lord, co-founder of Parklife and The Warehouse Project, and Night Time Economy Advisor for Greater Manchester, to the board.
Michael Kill, NTIA chief executive, said: "We are extremely pleased that Sacha Lord has agreed to join the board.
"It is clear that Sacha's heart and soul is deeply embedded within this industry and we feel his passion and drive for change is self evident from the impact he has had on the sector within Greater Manchester in his role as Night Time Economy Adviser. His engagement will add another dimension to the NTIA board and its fight to stand up for what seems more and more like an exiled sector."
Sacha Lord said: "I am delighted to join the NTIA as a board member.
"During the last few months it has become clear that the nightlife sector needs to work together – not only to help the industry pull through these difficult times but to coordinate and shape a way forward so that we can recover, stronger than ever.
"I have known and worked alongside the NTIA and Michael for many years and I credit him as one of the most knowledgeable and expert voices in the night time economy. I have been extremely impressed by his drive to speak out against policies which have crippled our sector, and he has been instrumental in helping industry leaders and operators navigate this turbulent period.
"I look forward to working with both Michael and the NTIA as we strive to overcome the challenges faced."
::
Private client specialist Sam Hart has joined Claritas Tax as associate partner.
Based in Birmingham, Sam will also work closely with Claritas Tax's Manchester office, helping to further grow their private client proposition, serving clients in the Midlands, North West and across the UK.
With more than 20 years' experience in private client tax, specialising in capital taxes and trust, her skills and extensive experience will bring added value to Claritas's client list.
Sam currently sits on the editorial board of the STEP (The Society of Trust and Estate Practitioners) journal and is a regular contributor to the trade press. She has also been heavily involved with a number of professional bodies in previous years, namely the CIOT and as an examiner for STEP.
Sam said: "I'm looking forward to exploring the opportunities this role with Claritas will bring and growing their private client portfolio. Claritas's philosophy and the way in which they approach their work, is refreshing. I am impressed by their unique approach to client services, which has seen their business grow year-on-year."
Iain Wright, partner at Claritas Tax Birmingham, said: "I'm delighted to welcome Sam to Claritas. She has an excellent reputation in the tax profession and will be a great asset to our firm and our clients."
Matthew Hodgson, director at Claritas Tax Manchester, said: "High-calibre private client tax specialists like Sam are incredibly rare. So much of our work relates to succession and the tax-efficient management of wealth for future generations, so Sam's experience in the team will be invaluable."
::
EY has appointed one equity partner and four associate partners in the North West from within EY, reinforcing the firm's commitment to nurturing homegrown talent.
Steven Kingham is a partner in the firm's strategy and transactions team in Manchester, having joined the firm seven years ago. He focuses on providing integrated due diligence services to businesses across the North West, specialising in the technology sector. He has already advised some of the region's leading technology and fintech firms and has been involved in many high-profile deals and IPOs.
He will now be responsible for growing the firm's presence in the transactions market in the region and strengthening relationships with new and existing clients.
In addition to the new equity partner appointment, Emma Atkin, Helen Platt, Liz Jones and Onelia Angelosanto have all been promoted to associate partner.
Emma works in the Manchester tax team, specialising in business tax. She joined EY in 2002 after completing a Summer internship with the firm.
She leads EY's group compliance and reporting practice in the North West, working with a number of clients across a number of industries including pharmaceuticals, manufacturing, retail, technology, and energy. She advises clients in all facets of corporation tax – including compliance, group reporting and advisory – to help them meet their strategic and commercial objectives. Emma has worked in both advisory and industry roles throughout her career and so has a holistic view of the issues that the region's businesses are facing.
Helen joined EY in Manchester in 2003. She works in the firm's consulting practice in the city and also leads EY's technology risk practice across the whole of the North, working with and advising large corporates in the region. She has worked on large EY projects across many sectors and spent two years on secondment in the USA. Closer to home, she co-founded EY's women's network in the North West. Prior to joining EY, Helen worked for PwC for three years and also in internal audit at global investment firm, Axa Investment Managers.
Liz has been with EY for more than five years and is based in the Liverpool assurance practice. Born and raised in Liverpool, Liz is passionate about the city and working with businesses right across the Liverpool city region. Having started in practice, Liz then worked in industry before joining EY and has a diverse sector knowledge. At EY, her audit work is focused on the North West's private companies with specific experience working with PE-backed businesses across the region.
Onelia works in the tax team based in Manchester, specialising in indirect tax. She originally joined EY as a trainee then moved to BDO for nine years before re-joining EY in 2017. She has more than 20 years' experience in advising companies on global trade and customs duty matters. She has helped businesses across a range of sectors including aerospace, manufacturing, automotive, textile and chemicals, manage their international trade costs and improve the efficiency of supply chain operations. More recently, she has been helping clients plan and prepare for Brexit.
Stephen Church, office managing partner for Manchester, said: "Congratulations to Steven, Emma, Helen Liz and Onelia who have worked exceptionally hard to achieve this career milestone. I know they will bring valuable insights to our clients as they navigate the ongoing uncertainty and prepare for future growth.
"All of these appointments demonstrate EY's commitment to investing in our people and our service offering to our clients. I'm really proud that we've continued to invest in top talent, despite the more challenging economic backdrop."
Nationally, EY has appointed 65 new equity partners from July 1, 2019 – the start of its financial year – to October 3, 2020.
::
Kris Peach, the director of extra care at Housing 21, has joined the board of Trafford Housing Trust as a non-executive director (NED).
He has worked in the housing and care sector for 20 years in both an operational and development capacity, and in his current role at Housing 21 he has overseen the expansion of extra care schemes for older people across the country, including the management and operation of more than 140 schemes.
Kris said: "I am very happy to have joined the trust, particularly at this challenging time when providing social housing and a stable home life is more important than ever. With many years' experience caring for the elderly I am particularly looking forward to working with the team behind our independent living schemes.
"Having grown up myself in social housing in the North West I understand better than most the importance of the role it has to play, and how providing good quality homes alongside care and support is vital to people's health and well-being."
Larry Gold, chief executive of Trafford Housing Trust, said: "We are delighted to welcome Kris to the business. He brings a huge amount of experience of caring for the elderly, which will be enormously beneficial to our independent living schemes, along with a real passion and enthusiasm for providing homes for those who need them most. I'm confident Kris will have a considerable role to play as we continue to tackle the housing crisis."