Textiles business unveils new warehouse to accommodate business growth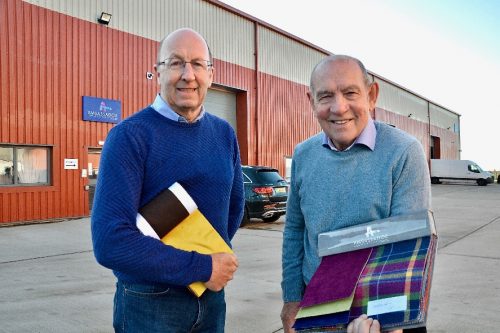 A textile merchant and importer which supplies a wide range of UK wholesale, retail and manufacturing industries has settled into larger premises in Oldham following strong business growth over recent years.
Ambassador Textiles, established in 1972, is now based in a 15,000 sq ft warehouse at Vulcan Point on Vulcan Street, near the A62 Huddersfield Road.
The premises have been custom designed to maximise efficiency of stock management and customer deliveries while also increasing products ranges due to increased demand.
Ambassador Textiles supplies products to a diverse range of business clients including online retailers, furniture upholsters, hotel chains, supermarkets, hospitals, leisurewear, babywear and pet accessory manufacturers.
It works with manufacturers and designers across the UK and overseas including Saddleworth-based Mallalieus of Delph and others in Europe, Turkey and the Far East.
The Vulcan Point development in Oldham was initiated by Beva Investment. Ambassador has signed an eight-year lease and was assisted on the move by estate agent Ryder & Dutton.
Founder and director, Barry King, said: "This is a significant commitment and illustrates our growth.
"Our previous site on Huddersfield Road in Oldham, which we owned, had become too small and prevented us from showing off our full potential. This new site is convenient for staff and ideal for our business needs.
"The Vulcan Point redevelopment first began in 2007 with steelwork erected. But the 2008-9 recession put that on hold. I first spotted the site in 2010 and contacted Beva. Construction work began again some years later and was completed around 2019."
He added: "Ambassador looked at other locations, too, including at Middleton Junction, but this was ideal. There seems to be a lack of suitable modern warehouse and office developments, I feel. Availability is very limited so we are pleased with this.
"The national lockdown in Spring 2020 was a challenging period, but trade then improved and keeps on improving.
"I'm very confident that we will flourish here. Textiles in general and furniture textiles in particular are doing very well. Consumers are spending money on refurbishing their homes rather than going away on holiday. Many of our trade customers selling textiles to customers online are doing well."
Ambassador has allocated a mezzanine floor and office above the main warehouse to its soft furnishing division, known as Katrina Hampton. Ambassador also has a consumer-facing business, named Fabric Online.
Founded by Barry King in 1972, Ambassador includes managing director Mike Donohue and Caroline King, who focuses on Katrina Hampson. The business has 13 staff.
Mike Donohue said: "Over the past few years, Ambassador Textiles has enjoyed some very strong trade with annual turnovers around £3m and £4m. We've been getting organised in our new Vulcan Point premises and have ambitious targets to strengthen our position, widen our brands' reach and increase sales across all divisions."