Three towns benefit from multimillion-pound Towns Fund support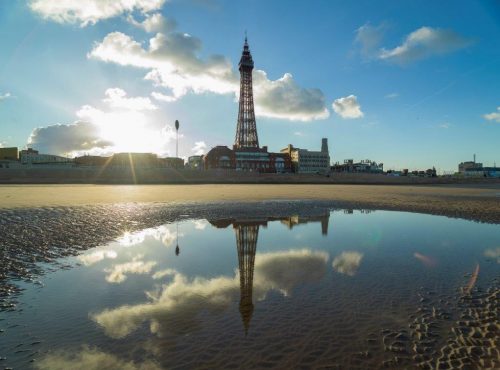 Three North West towns have been offered a total £86.5m to boost their local economy, get more homes built and support local businesses.
As part of the Government's Towns Fund, Blackpool has been offered a Town Deal of up to £39.5m, Barrow has been offered £25m, and Warrington has been offered £22m, the Communities Secretary Robert Jenrick announced today (October 27).
They are two of the first seven towns across the country to have a funding offer made as part of a landmark £3.6bn government scheme aimed at levelling up local economies and creating jobs by investing in transport, infrastructure and skills.
Blackpool has been offered funds to implement creative local plans, drawing on the area's rich cultural heritage to generate more opportunity and prosperity.
These include updating Blackpool's much-loved illuminations, which attracts four million visitors and brings in £284m a year to the local economy.
The funding could also be put towards the further development of the Blackpool Airport Enterprise Zone, creating jobs, improving local transport links and attracting businesses to the area.
Among schemes earmarked for Barrow is a housing renewal programme which would see unloved spaced refurbished to create new high-quality homes.
The area is also set to benefit from investment in projects such as Barrow Learning Quarter which will include both a University Campus and a Skills Hub, ensuring people are able to gain the skills that local businesses need.
Local plans to make Barrow cleaner and greener could also be funded, including the Local Cycling and Walking Infrastructure project, which could see cycle routes introduced at key areas around town, including at Abbey Road, the A590 and the A5087.
Plans for Warrington include helping to revitalise unloved and underused buildings, such as those that are vacant, by transforming them into new office space and community hubs.
This would include locations where residents would have the opportunity to learn new skills and meet new people.
The council and local businesses will use some of the funding to invest in more environmentally-friendly public transport, such as an all-electric bus fleet depot as well as updates to pedestrian areas and green spaces.
Taken together, these improvements would help to boost footfall to Warrington town centre, giving local businesses such as retail and hospitality the chance to grow and thrive – creating jobs for people who live locally.
Work is now under way to confirm the final funding amount and get deals in place so much-needed regeneration projects can begin.
The Towns Fund will play a fundamental role in the local recovery of areas from the pandemic.
Minister for regional growth and local government, Luke Hall said: "The Towns Fund is helping Blackpool leaders realise their clear and detailed vision for their town.
"Up to £39.5m of funding will help give a new lease of life to much-loved tourist attractions as well as supporting the local business community to grow and thrive.
"These projects will help Blackpool to be a great place to live, work and visit while also strengthening the local economy."
He added: "This Towns Fund money will directly benefit people in Barrow and those who live locally by revitalising the centre and encouraging investment in the town.
"Funding innovative projects such as the Barrow Learning Quarter and the housing renewal programme will ensure that Barrow flourishes as a place that people want to live and work, and where they are armed with the skills that local businesses need.
"We need to make sure our towns are able to adapt to our changing habits, and Warrington is no different. This funding will make the town centre a better place to live, work and play, in turn helping local business to thrive."
All 101 towns selected to work towards a Town Deal were given a funding allocation with proposals being submitted to the MCHLG (Ministry of Housing, Communities and Local Government). The first cohort of towns submitted proposals in July , before being reviewed by officials and a final decision made by ministers. Further Town Deals are due to be announced during November.
Town Deals build directly on the Government's commitment to decentralising funding and decisions away from Whitehall and investing in the growth of local economies and devolving powers through ambitious City and Growth Deals, providing more than £9bn of funding to Local Enterprise Partnerships (LEPs) and introducing eight Metro Mayors in England.