People on the Move: St John's Buildings; Cadent; Portfolio Group; Forshaw Group; Claritas Tax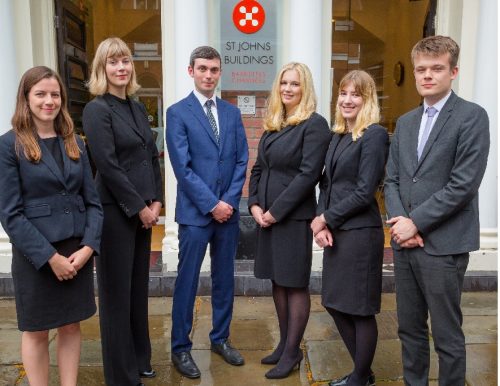 St John's Buildings has welcomed six new barristers to chambers after successful completion of their pupillage. These additions take the number of barristers joining the chambers to a total of 15 in the past 12 months.
Of the six new barristers, three will have a civil practice, two will focus on family law and one will build a common law practice.
Manchester will welcome three of the newly ratified barristers. Helen Crowell will practice family law, while Alex Platts and Urd Larsen will both have a civil practice with a focus on personal injury and clinical negligence.
Daniel Currie will boost St John's Buildings' Chester chambers with his family practice. Rebecca Carr will join the chamber's criminal team in Sheffield, and the Liverpool chambers will welcome Laura Halsall, who will have a primary focus on employment law.
The six newly ratified barristers have already completed a 12-month pupillage at St John's Buildings, under the guidance of experienced barristers from chambers who acted as pupil supervisors.
Chris Ronan, chief executive at St John's Buildings, said: "COVID-19 has proved a challenge for many in the legal sector, despite this we are proud to have adapted quickly to facilitate a new type of pupillage. Using a range of technologies we continued to offer consistent, high-quality work and experience to all six of our pupils this year.
"Pupillage is a vital route to developing high-calibre tenants who will ensure our continued success. It's great to see our investment in pupillage paying off by generating excellent barristers for the future of SJB."
::
An autistic teenager aims to become a role model for others after starting training with local gas network, Cadent.
Niall Potter, 18, is training to save lives and property, as an emergency gas engineer, after massively impressing bosses during a first-of-its-kind internship.
He is the first graduate to land an apprenticeship in an engineering role from a scheme that supports Liverpool people with special educational needs and disabilities.
Cadent is one of 20 employers to back Liverpool City Council's 'Intern to Work' supported internship programme, which helps 16- to 24-year-olds gain experience to secure a job.
Now, after completing his year-long internship, Niall, from Speke, has accepted an offer to start an apprenticeship which will see him train to be a Cadent first-call operative (FCO).
He'll join a team of engineers ready day and night, 365 days a year, to deal with reports of gas leaks. Once fully trained, Niall will deal with incidents across Cadent's Merseyside patch.
Niall, whose autism mainly manifests with communication and social anxiety issues, is elated. He hopes his achievement can be a catalyst to helping others find their dream job, as well as to encourage more local employers to have confidence to offer similar opportunities.
He said: "I would love it if this steered more companies to employ more people like me.
"The scale [of autism] is so wide. An apprenticeship like this is perfect for me but won't be right for everyone. But there will be a right fit, and the right jobs, if we're just given the chance."
Martin Wilby, supported employment officer, Intern to Work, Liverpool City Council, described Niall's story as "immense".
"Most of our supported interns go on to find work in hospitality, which are also great opportunities and well-suited to their needs. Niall is the first to land an engineering role, which is perfect for him and his skills – his attention to detail and his academic, problem-solving mindset."
Cadent manages the 21,000-mile underground gas network in North West England and the region's 24/7, 365-day gas emergency service. The North West is one of four regional networks it operates – the others being West Midlands, East of England and North London.
Elliott Nelson, head of customer operations for the Merseyside area at Cadent, said: "The reason why Niall joined us on the internship can be traced to his autism, but I can say hand-on-heart that that's had no influence on the offer of an apprenticeship. He's earned that, by proving to us and proving to himself that he's got what we're looking for."
Martin Wilby added: "To see the progress that Niall has made over his internship with Cadent is just amazing. Every one of our success stories always is.
"In the three years of the Intern to Work programme, we've supported over 30 young people into paid employment. They are all life-changing opportunities – our young people get money in their pockets, they build a new network of friends and it keeps them healthy, both physically and mentally. It gives them opportunity to contribute to society like everyone else."
Niall added: "The one thing that stands out prominently over the internship is that I have come a long way with my communication skills. I know that's my main weak point, but I have grown better at talking to customers and I know I will keep improving on that."
::
Specialist recruiter, The Portfolio Group, has made a senior promotion on the back of record-breaking results which saw the group breaking year-on-year monthly record figures during July and August as the nation came out of lockdown.
With payroll being a keyworker role and a core division of the group, the business saw recruitment only briefly slow down during the national lockdown as many clients continued to move forward with their hiring plans.
In light of this success amidst a backdrop of uncertainty, the business has promoted Gillian Owen, from manager of their Manchester office to associate director.
Gillian joined the organisation in 2018, a month after The Portfolio Group opened the Manchester office. In that time, Gillian has grown the Manchester business from a team of just two staff recruiting solely for payroll, to a team of eight consultants working across three divisions – payroll, HR & reward and credit control – which has almost doubled their sales figures within the first full financial year.
Gillian said: "I am delighted to have been promoted to associate director, particularly given the current circumstances.
"Clearly, this is indicative of a business that continues to invest in its people and provides continuous support to clients throughout what has been an unprecedented year.
"I have been so lucky to be a part of a team that's been instrumental in the development of the Manchester office, built from the market reputation. I look forward to celebrating the continued success of The Portfolio Group in the months and years to come – and also proud of the fantastic, diligent and professional service we offer to all our clients."
::
The Forshaw Group is supporting nine year 11 students from All Saints Secondary School, in Kirkby, Liverpool, with apprenticeships and opportunities to develop their careers and lives.
As part of the Knowsley Apprenticeship Partnership, the group has assisted these nine new apprentices into roles across Knowsley, providing apprenticeships in plumbing, plastering, painting, joinery and electrician work.
Three of these school leavers will be joining and conducting their training with The Forshaw Group Apprenticeship Academy. They will also be part of the INS-pire Academy throughout their chosen vocational qualification.
To date, in collaboration with more than 50 local businesses, The Forshaw Group has helped train and assist in excess of 100 apprentices through the academy, many of which have become full-time employees at the group.
In the latest cohort of apprentices, Shay Farrell-Vellosa will be apprenticing in joinery, Ryan Ronan in electrical, Dominic Glass in plumbing, Dean McBriars in plumbing and joinery, Martin Groves in plastering and tiling, and Adam Riley in plumbing, painting and decorating, while Jack Dunning, Lee Seiga and Ian Davies will be training to be multi-skilled across all disciplines.
Forshaw Group managing director, Liam Hanlon, joined the construction industry in 1984 on a Youth Training Scheme Apprenticeship with the Construction Industry Training Board. He remains passionate about supporting young people into skills training and apprenticeships.
Liam said: "I'm very proud to be supporting the apprenticeship programme with All Saints school. Recognised by the CIOB, BDMA and other leading institutes, our Apprentice Training Centre shows a commitment to young people and future generations, to provide the skills required for our business and the industry we serve."
Tony McGuinness, headteacher at All Saints school, said: "We are really fortunate to have developed such essential business links with local employers, and The Forshaw Group has helped provide our pupils with fantastic work-related experiences. I wish them every success throughout their apprenticeships and future careers."
The Forshaw Group is a property restoration specialist, working closely with insurance companies and loss adjusters to renovate commercial and residential property damaged by fire or flood.
::
Graduate recruitment in 2020 has seen a sharp downturn, largely due to the impact COVID-19 is having on businesses across the UK.
According to reports, it is estimated that 48% of students are leaving university without a role to step into.
However, Claritas Tax is helping buck that trend and welcomed two new graduates to its successful graduate programme.
The tax specialist, which is based in Manchester and Birmingham, prides itself on its approach to recruiting and training graduates. Its graduate programme boasts an impressive 95% first time pass rate on ACA (Chartered Accountancy) and CTA (Chartered Tax Adviser) exams since the scheme began in 2015.
Iain Wright, partner, said: "We understand the importance of recruiting graduates and bringing them on the journey with us. COVID may have caused us to change the way new team members are brought on board, but there is no better learning approach than being hands on from day one."
New recruits Mike Fahy and Roshan Paul are Claritas' seventh and eighth graduates to join the programme.
Before setting their sights on a career in tax, both completed Chemistry degrees at Manchester and Aston Universities.
Matthew Hodgson, partner at Claritas Tax, said: "Our graduates are part of the team from day one and we offer them a different approach to their learning, which is flexible to meet their needs. We welcome Mike and Roshan joining the team at Claritas."