Global centre of excellence backed by £15m grant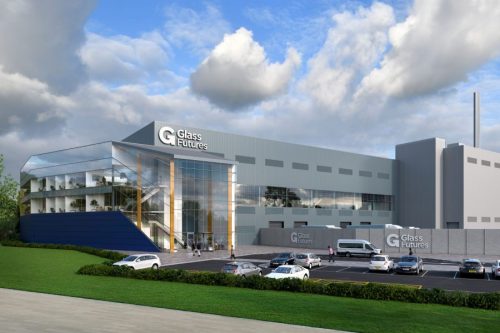 A £15m grant will "kickstart the delivery" of a Glass Futures' Global Centre of Excellence in St Helens.
UK Research and Innovation (UKRI) is investing in an experimental glass furnace facility that is expected to cost £54m and create around 50 highly-skilled jobs.
The pilot manufacturing facility will provide exportable innovation, training and research for the global glass industry with the potential to drive further economic growth across the North West.
The plant is to be built next to St Helens Rugby League Club's ground in the town centre, on the site of the former United Glass glassworks.
Glass Futures' chief executive Richard Katz said the funding is an "essential catalyst" for the facility.
"With this grant, UKRI recognises the importance glass has to play in a future to be built on sustainable, fully recyclable, low-carbon products manufactured with highly efficient processes," he said.
This funding represents the largest single item from UKRI's Transforming Foundation Industry (TFI) Wave 3 Challenge budget of £66m across four years.
The 158,000 sq ft facility will be capable of producing 30 tonnes of glass a day. Businesses and researchers will collaborate to test alternative fuels, new raw materials, Industry 4.0 concepts, demonstrate new products and develop new processes.
It is expected that the insights garnered at the facility will also benefit other industries, such as chemicals, ceramics, paper, steel and cement.
Katz added: "The world as a whole needs to move to low carbon and highly efficient processes, but this change does not come without investment, both in time and money.
"No single organisation can enable a global shift in industrial practice, but Glass Futures has begun to show a new path to collaboratively pooling knowledge, resources, and effort."
Earlier this year, Glass Futures was awarded a £7.1m contract by the Department for Business, Energy & Industrial Strategy (BEIS) to investigate alternative low carbon energy sources to replace high carbon natural gas in the production of glass.
Land owner and developer Network Space is seeking a further £9m grant from the Liverpool City Region Combined Authority and securing private sector investment to support the construction costs of the facility. The global glass industry will provide a combined £20m in resource, time and equipment to support the future operation of the R&D facility.
St Helens Council leader Cllr David Baines said: "Given our proud heritage and history in glassmaking, it's only fitting that St Helens borough is fully involved in the future of the industry.
"Glass Futures will see global innovation, training and research and development happen here in our borough, with the potential to drive further economic growth."