Liverpool to trial city-wide COVID-19 testing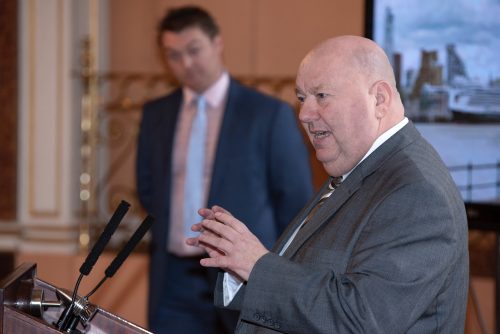 Liverpool is the first location in England to trial city-wide COVID-19 testing.
Up to 2,000 military personnel will help plan the logistics and deliver tests.
People in the city, either living there or working, will be offered tests, whether or not they have symptoms, with follow-up tests every two weeks or so.
The Government said some will get new tests which offer results within an hour.
If successful, these could be rolled out to "millions" by Christmas.
The city's hospitals have been under immense strain, with one of the highest rates of coronavirus deahts in England.
The city recorded 1,754 cases in the week up to October 30, compared with an average of 153 in England.
Liverpool City Region was the first in the country to be placed into the Government's highest restrictions of Tier Three.
By identifying as many infected people as possible the pilot aims to limit the spread of the virus by breaking chains of transmission.
The Liverpool pilot will start this week and will include a mix of existing swab tests and new lateral flow tests, which can provide a result within an hour without the need to use a lab.
New test sites will be set in care homes, schools, universities and workplaces.
The system will enable people to book online, turn up in person, or wait for an invitation from the local authority.
Prime Minister Boris Johnson said: "These tests will help identify the many thousands of people in the city who don't have symptoms but can still infect others without knowing.
"Dependent on their success in Liverpool, we will aim to distribute millions of these new rapid tests between now and Christmas and empower local communities to use them to drive down transmission in their areas.
"It is early days, but this kind of mass testing has the potential to be a powerful new weapon in our fight against COVID-19."
Liverpool's city mayor, Joe Anderson, described the plans as a "game-changer" for the city.
He said: "If this goes well, it could enable us to have some semblance of a normal Christmas here in Liverpool."
Damian Waters, CBI North West director, said: "The announcement of a mass testing pilot in Liverpool is a vital step towards enabling businesses to fight back against the impact of COVID-19.
"Widespread testing, and the reassurance it provides, can enable people to move around and businesses to operate safely and confidently, transforming the way we live and work.
"Findings from the pilot should ensure any future restrictions can be much more focused and enable self-isolation to be better targeted, so we can genuinely get on top of the virus.
"We urge the Government to move quickly with this pilot and show ambition in pursuit of a reliable, rapid mass-testing regime which can be the key to safely reopening our economy."
Paul Cherpeau, chief executive of Liverpool Chamber of Commerce, said: "Mass testing provides Liverpool with a potential exit strategy from the imposition of the coronavirus restrictions and that is a positive for businesses.
"How we learn to live with the virus is crucial to our futures and that of our members, and mass testing will enable business to return to some form of normality sooner rather than later."