Purchase of Milton Pavements paves way for major regeneration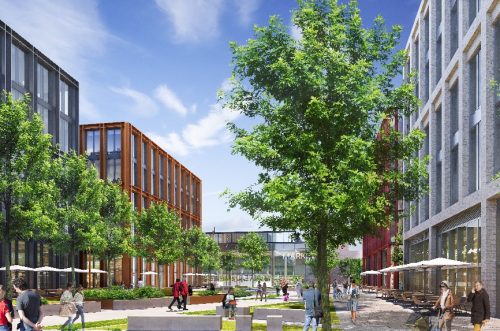 The transformation of Birkenhead town centre is poised to take a significant step forward following the purchase of Milton Pavements, for an undisclosed sum.
With the acquisition of this site from the Mars Pension Fund, the Wirral Growth Company, a strategic joint venture between Wirral Council and urban regenerator Muse Developments, now has the opportunity to press forward with the revitalisation of the town centre.
From the outset the purchase will help improve the town centre environment by removing several closed shops and unattractive vacant buildings.
It will further facilitate the development of the first phase of the new office quarter, which will bring forward 150,000 sq ft of sustainably-assessed excellent Grade A office accommodation for new businesses and Wirral Council, as it aims to rationalise its use of unsustainable and uneconomical buildings for a more environmentally-appropriate solution.
This will also drive an increase in footfall to support the regeneration of the area and will lead to repurposing of the town centre into a vibrant mixed-use destination.
As part of a much wider regeneration programme for Birkenhead, this important first stage of the redevelopment of the town centre is critical to provide the solid foundations which will drive local economic growth and social prosperity.
Proposals are being shaped which will engender an ambitious vision for Birkenhead, fostering a sense of community through the creation of new and revamped neighbourhoods, with innovative digital and built environments that will provide sustainable housing, high-quality connectivity, including active and green travel, access to employment opportunities and inclusive leisure activities.
The demolition work required at Milton Pavements and the former B+M store to make way for phase one is anticipated to begin before the end of the year and will continue into 2021.
Chair of the economy regeneration & development committee, Cllr Anita Leech, welcomed the confirmation that the sale had been agreed: "This is good news as it will allow us to move forward with our plans for the transformation of Birkenhead," she said.
"It is our responsibility within the council to make the decisions and take the actions which will lead to the long-term prosperity of our local communities and, for Birkenhead, this is tied into the development of the centre.
"The purchase of Milton Pavements has given us the opportunity to reimagine our town centre, to upgrade and enhance the built environment and to maximise the commercial possibilities that will be open to us.
"A revitalised town centre will give us a bright and thriving future and we are committed to achieving this for our local communities."
Mike Horner, director at Wirral Growth Company, said: "We are at a pivotal moment at the Growth Company as we prepare to start the first phases of the game-changing regeneration of the town centre that will bring both inward investment, growth and drive social prosperity at a time that it is needed most.
"This is the next part of our journey to bring a new purpose to Birkenhead to benefit the community and the wider borough, blending both the area's rich heritage and its clear ambitions for the future to create vibrant spaces and places to live, work and relax."