Hydrogen alliance becomes biggest in UK with influx of new members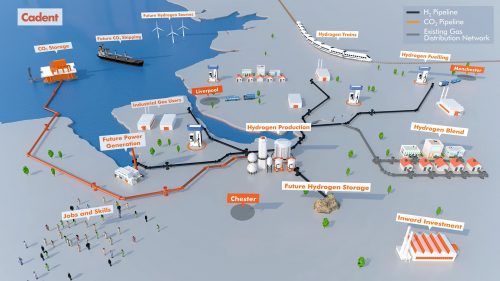 The North West Hydrogen Alliance (NWHA) has welcomed five new members, taking its total number of members to more than 20, making it the largest regional membership body dedicated to hydrogen.
The new members are ABB, Alstom, which has created the world's first hydrogen-powered train, AXIS, Bilfinger and Uniper. They will support NWHA's mission of driving the hydrogen economy in the North West region.
Prof Joe Howe, chair of the NWHA and executive director, Thornton Research Institute at the University of Chester, said: "The North West Hydrogen Alliance is going from strength to strength and shows how this region is leading on developing the UK's first hydrogen economy.
"I'm delighted to welcome our new members and look forward to them contributing to the work of the alliance. There are already multiple hydrogen projects happening right now and by working together we can make our goal a reality."
The NWHA is the hydrogen partner of Net Zero North West, an industry-led organisation driving inward investment into decarbonisation projects in the region.
The UK's leading hydrogen and CCUS (carbon capture, utilisation and storage) project HyNet is an anchor project in the region's ambitions to become the UK's first low carbon industrial cluster by 2030, saving 10 million tonnes of carbon per year, creating 33,000 jobs and seeing £4bn invested in the region.
ABB is a global technology company working towards a more sustainable future that has helped to cut 2,000 tonnes of carbon a year at Manchester Airport.
Troy Stewart, head of ABB Energy Industries, UK said: "Sustainability is at the heart of everything ABB does. Nearly 60% of ABB's global revenues are derived from technologies that directly address the causes of climate change by facilitating increased energy efficiency, the integration of renewables into the energy mix and the conservation of natural resources.
"We are working with clients already on some high-profile global hydrogen projects and, therefore, we look forward to working with the NWHA to help develop the region to grow in this area."
AXIS is a planning and environmental consultancy, providing planning support for a range of energy development projects such as HyNet.
Andrew Russell, AXIS technical director, said: "We're hugely excited to be working across transformative decarbonisation projects being planned and delivered in the North West. Each project brings us one step closer to achieving the UK's commitment to meet Net Zero by 2050.
"Joining the NWHA will enable us to help promote hydrogen-related development, which we believe is an essential component of the long-term sustainable energy mix in the UK. It also means that, alongside other members, we are in the driving seat pushing towards a greener future."
Bilfinger UK is an engineering and services partner based in Cheshire that delivers products and services allowing customers to benefit from hydrogen technology across the entire hydrogen value chain from production, storage and transportation to utilisation.
John Cauchi, strategic development director, Bilfinger UK, said: "We are a reliable partner to the process industry in the North West, with three primary approaches to meeting climate targets – switching from fossil fuels to renewable energy sources, further increasing energy efficiency, and scrubbing, or preventing, environmentally-damaging emissions.
"A significant number of our clients and partners are already members of the North West Hydrogen Alliance and we relish the opportunity to work alongside them to help lead the national hydrogen strategy whilst supporting the economic growth in the North West region."
Uniper is an international energy company supporting decarbonisation in the North West, a partner for potential future investment in hydrogen.
Mike Felgate, Uniper, Connah's Quay power station, plant manager, said: "Uniper is pleased to join the North West Hydrogen Alliance.
"We see the NWHA as the key body bringing together like-minded businesses to work on developing a hydrogen economy in the region, with our power station at Connah's Quay being ideally placed to play a part in decarbonising the North West."