People on the Move: Brock Carmichael; Falconer Chester Hall; Make Events; GHP Legal; Boda Skins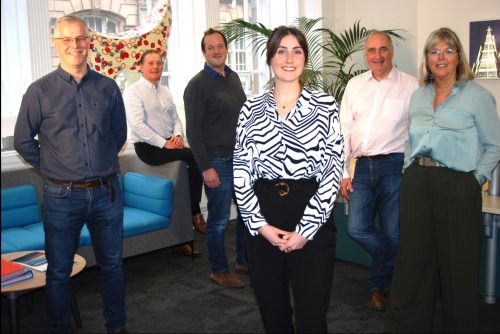 X

Register for free to receive latest news stories direct to your inbox
Register
Brock Carmichael has announced two new appointments for the Liverpool based architectural practice.
Sarah Creedon has joined in the new role of marketing and bid co-ordinator to assist with the development of the marketing strategy.
She has a first class marketing degree and has spent the past three years at London architects tp bennett, one of the 100 Best Architecture Firms in the World.
Partner, Phil Malthouse, said: "Sarah brings considerable skills and knowledge to the partnership to assist in its further growth with both new and existing clients.
"We have a great, 45-year track record and an exciting future with a growing portfolio of work in and around Liverpool, Birmingham and the South East."
Sarah said: "I'm delighted to return to Liverpool and be part of the team here at such a prestigious firm of architects.
"There is a busy path in front of us for Brock Carmichael with a huge number of new projects and a brand refresh in 2021. Exciting times and an unmissable opportunity for me to join."
Danielle Caveney also joins as senior administrator, responsible for the day-to-day smooth running of the practice.
Her previous experience includes roles in the fashion industry. She said: "The partners and staff at Brock Carmichael made me feel welcome from day one and I look forward to supporting the company's activities, including its Investors in People and other local and national awards."
::
Falconer Chester Hall has announced three senior promotions to support growth of the practice, including the appointment of a new director and two senior architects.
Chris Cox has been promoted to director,. Chris leads Falconer Chester Hall's London studio and became associate director in 2016.
Alastair Shepherd (director) said: "Chris has been central to enhancing our reputation in the South East for a number of years and most recently helped secure two high profile hotel projects in central London.
"He is a talented designer and is hugely respected, both at FCH and with his clients. We've no doubt he will further our core offer in the hospitality and residential sectors over the coming years."
Alex Harrison and Paul Gardiner have both been promoted to senior architect based at the practice head office in Liverpool. Alex joined Falconer Chester Hall in 2016 and is currently focusing her time on the regeneration of the iconic India Building in Liverpool city centre which will become the North West headquarters for HMRC.
Paul Gardiner joined Falconer Chester Hall in 2017 and he leads on the Grade II-listed Municipal Building in Liverpool city centre being renovated as a four-star Hotel.
"Staff reward and retention remain a top priority and we are thrilled to be able to offer these promotions to recognise the talent we have within our team. It is fantastic to see continued growth at Falconer Chester Hall and be able to recognise our talent, despite recent challenges." added Alastair.
::
Make Events' successful pivot strategy sees the continuation of the company opening new revenue streams to fight against the global pandemic, as well as the requirement to hire two significant new roles.
As part of their new service offerings, they have identified two permanent and significant senior hires, head of content development and head of design for Make Events, alongside a restructuring of the team to ensure continued success.
Holly Moore, founder and CEO, said: "We are continually looking to pivot to not only survive this challenging period but to thrive.
"The hire of Mark Leeming as head of content development will support our overall brand proposition as we create a stronger intuitive service offering. The recruitment of Elliot Garner as head of design further establishes our investment in the content studio, as we establish a dedicated design function for our new and existing clients."
Elliot has worked in a number of event agencies during his seven-year career.
His work ethic is accustomed to working in a fast-paced environment juggling a broad range of corporate jobs and is experienced in working with some very established client names such as Travelodge, Very, Hitachi and Superdry.
His unique ability to be flexible in his approach makes him the perfect recruit for an event company as he can design collateral that blends both digital, print and live experiences.
Elliot said: "Accepting the role of head of design at an agency like Make Events is an exciting opportunity for me. Working in an agency that is fast-paced, reactive and creative, enables me to have a diverse role where every day is different. I look forward to what the future holds."
Mark comes from a film and photography background and has developed his skill set in the arts and entertainment field. He has worked in a multitude of industries including film, TV, theatre, fashion and creative direction. He has a huge passion for eclectic art, foreign film and interiors which is often filtered throughout his work.
He said: "I am first and foremost a creative storyteller and love to combine my skillset to engage an audience. I've always wanted to work in a company that recognises the integral role of creative content in defining the proposition and service offering of the agency.
"The work we are creating here is always fresh and unique and I am excited about what we will deliver for our clients in the future as we move forward together."
Holly added: "We are still in the process of recruiting and interviewing for the position of MD for Make Events, which will be fundamental to ensure the continued growth and success of the company.
"Along the way there have been some necessary redundancies, but these have been kept to a minimum and the company continues to support these individuals in the next step of their careers.
"With the events industry landscape changing week by week, we believe it is our positive approach to the situation that has seen us succeed. We hope to be able to continue to deliver exceptional events, both live and virtual, as well as grow our new services which will require further recruitment."
::
Following a consistent upsurge in new instructions over the past few months, independent law firm, GHP Legal, has announced the appointment of Ron Carter as new head of corporate law, together with an expansion of its corporate and commercial department.
Taking over his new post this month, Ron said that the firm's increased workload contradicts the general downward trend of the COVID-19 after-shock and reflects a positive and active commercial market with many entrepreneurs taking advantage of the current climate to diversify.
Listed on the Legal 500 register of top law firms in England and Wales, GHP Legal operates from five offices in Shropshire and North Wales and employs around 100 people.
With a client base stretching from North West England to London and the South East, including some clients with global and international interests, Ron says the current market buoyancy cascades across all areas.
Carter joined GHP Legal in October 2019 after a 25-year career that began in London's West End.
Initially a general litigator, he later became a company and commercial lawyer representing corporate giants such as British Airways, Singapore Airlines, ICI, Unilever, Nat West Group, Midland Bank, Société Generale and many high net-worth individuals.
His expertise and reputation as a respected authority on transacting business in the Middle East led the DTI and regional chambers of commerce to invite him to head up a variety of seminars.
He said: "It has been an extraordinary year. Notwithstanding the pandemic, GHP Legal has seen a consistent and large influx of new instructions which is keeping the department busy and will do for some time.
"The nature of the instructions we are receiving indicate an active commercial market. As well as business diversification we are seeing a number of exciting new joint ventures and are conducting several multimillion-pound transactions.
"Whilst the pandemic has also highlighted the precarious position organisations can find themselves in if steps have not been taken to protect assets, fortunately there are organisations that have realised this should be addressed and we are advising a significant number of clients in relation to such protection.
"This is an exciting time to be part of GHP Legal and I was pleased to accept the role of head of corporate law and assist in the continued growth of the firm as well as providing assistance to the business community at large."
::
Manchester-based, global fashion brand, Boda Skins, has appointed a new senior management team to support its ambitious expansion plans, with Ashley Waring joining as managing director and Cameron Lee as finance director, to work alongside founder and CEO, Nathan Alexander.
Boda Skins has also appointed Laura Millington as head of product and creative, Rachel Davies as garment technologist and Mia Joel as global ecommerce assistant.
The company has recently raised £500,000 of funding from Barclays and Funding Circle to accelerate its growth in Asia, expand its product range and core technology.
Boda Skins says it is already a huge success in Europe, the US and Australia where its range is worn by thousands of celebrities and customers alike, and is now working with a Chinese digital marketing company to raise its profile and accelerate its growth in Asia.
Even lockdown was a success for the company, when it experienced record sales – 20% increase year-on-year in the Summer period – with many purchases coming from the UK and Germany.
Ashley Waring joins with more than 15 years' experience of working in fashion and retail. Ashley formally held a position with global online retailer Country Attire where she was an integral part of the leadership team, driving a 40% increase in business turnover and increasing profit by more than 100%.
She will take responsibility for developing and executing the business strategy, driving growth and profitability, overseeing operational efficiency, building and mentoring the company's growing team.
Cameron Lee is an entrepreneur and former investment banker who, aside from working with Boda Skins is also the current CEO of Total Processing, a 50-strong technology business, and a non-executive director at Single Muslim.
Cameron has experience in raising growth equity as well as technology mergers and acquisitions and has worked in eight countries across a number of verticals, including ecommerce and fintech. At Boda Skins he will be responsible for driving forward strategy and finance.
In 2021, a new capsule collection will drop each season, including products such as puffa jackets, shearling jackets, sunglasses, denim, boots and face masks – as well as the wide range of leather jackets that Boda Skins is renowned for.
The company is currently working towards a more sustainable future. Next year it will have zero waste packaging and an innovative buy back scheme for customers where it will turn old jackets into reusable rucksacks that it will use to send out new product.
Nathan Alexander said: "We're so lucky to have such talented new employees on board, with the experience and expertise to help us achieve our ambitions. We've had increased demand from Asia but haven't launched fully there yet, so that will be our main focus for the remainder of the year and 2021.
"The whole team has been amazing in working through the pandemic and it's testament to their hard work that sales have soared, despite the delays and challenges with global supply chains.
"We already make quality leather jackets that can last a lifetime, but by 2021 aim to ensure there's zero single use throw away packaging, which is something we're very passionate about."