People on the Move: Warrington Chamber; Broughton House Veteran Care Village; Bridge Insurance Brokers; DLA Piper; Social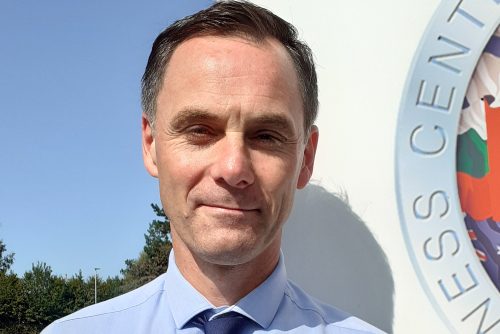 Stephen Fitzsimons has been appointed chief executive of Warrington Chamber of Commerce and Industry.
This follows the recent passing of former CEO, Colin Daniels.
Stephen joins the chamber on secondment from Warrington&Co – the growth and regeneration arm of Warrington Borough Council.
He has worked in the town for nearly two decades in a variety of different sectors, including heading up membership and external affairs in the North West for Make UK, the national trade body for manufacturing.
Stephen Fitzsimons said: "It's a huge honour to be taking over from Colin, during what will be a challenging period for businesses approaching 2021 – in the midst of the coronavirus pandemic and outside of the EU.
"There are lots of exciting initiatives we will be introducing and I look forward to supporting businesses in one of the strongest economies in the North."
Chamber president, Nigel Schofield, said: "We are excited with Stephen's appointment to chief executive as he shares the board's passion for helping local businesses to prosper.
"We're certain that Stephen will bring a lot to the role, greatly supporting Warrington and Vale Royal's businesses. We look forward to seeing the chamber continue to grow in the future."
Warrington Borough Council's chief executive, and chamber board member, Prof Steven Broomhead, said: "It's really important for the public and private sectors to be working together to drive Warrington forward, so we were delighted to enable this appointment to support local businesses.
"We wish Stephen great success in his seconded role and know he will be of great support to the chamber."
::
A former Army officer and healthcare executive has been appointed to lead Broughton House Veteran Care Village into its new era as it undergoes a £13m transformation.
Karen Miller has been appointed chief executive of the Salford care home for ex-servicemen and women. She is the first female CEO in the home's history.
Sandhurst-trained Karen was an officer in the Intelligence Corps from 1990 to 1999, and before that she served in the Territorial Army with the Royal Welsh Fusiliers.
Since then she has gained extensive operational, strategic and financial management experience in the healthcare sector, most recently as managing director of healthcare investment company United Medical Enterprises Group and its subsidiary, UME Diagnostics.
Before that she was chief executive of The Lister Hospital in London and previously held senior roles at Nuffield hospitals in Leeds and Bristol.
Karen said: "I am delighted to join the Broughton House team at this exciting time in the development of the UK's first Veteran Care Village.
"As a former Army officer, with over 20 years as a healthcare executive, I look forward to leading the Broughton House team along our journey to realising the charity's vision to deliver not only outstanding care, but also a broader, more holistic scope of service, care and support for our veterans who have served our nation so well."
The first stage of the redevelopment to create the UK's first Veteran Care Village was completed in September, when residents moved into a new three-storey building named the Stoller Wing in honour of North West businessman and philanthropist Sir Norman Stoller, whose charitable trust has provided substantial financial backing for the scheme.
The next stage of the scheme has begun and will feature 32 residential care and residential dementia care beds and six independent living apartments alongside the Armed Forces Support Hub.
Commodore Phil Waterhouse, chairman of Broughton House's board of trustees, said: "I'm delighted that we have had the vision and foresight to recruit someone of Karen's calibre to join us during our exciting journey to deliver the UK's first Veteran Care Village.
"Her military background allied to her health sector experience and change management leadership skills make for a powerful combination at a time when those attributes will be most required.
"We are very fortunate to have her and I look forward to working with her to deliver our vision."
::
Bridge Insurance Brokers has made three senior appointments at its Manchester headquarters.
Rob Morrison has joined the real estate team as an account executive following 12 years in the property team at Reich, while Laura Whitby and Joanne Pitcher have been appointed into the FlatGUARD division.
Laura takes on the role of client service executive, moving over from RSA, while Joanne joins as a claims executive following 14 years at Masons.
Michael Regan, director of real estate, said: "The construction industry has had a kick-start this year after a period of uncertainty, and we are hugely busy thanks to the Owner-Controlled Insurance Programmes, which cover a range of risks and puts the developer back in control.
"Rob's experience means we can continue to drive this industry shift with existing and new clients."
Martin Kent-Heath, FlatGUARD operations manager, said: "The residential flat insurance business has been the focus of much interest, and rightly so. Our team has been working hard to support any changes in the industry and the result of that work is that we now need to expand the team to manage the growth – which is across the UK. We're delighted to welcome Laura and Jo to the team."
Bridge is celebrating 50 years of business this year and employs more than 100 people in its London office and Manchester offices on Charlotte Street.
::
DLA Piper has appointed Andrew Smith as the new location head of its litigation & regulatory practice in the North West, replacing Stewart Plant, who has stepped down having previously held the role for the past two decades.
Stewart will remain at the firm to focus fully on the development of his strong underlying practice which is focused in three core areas, namely retail banking, asset finance and payment services, where he has long been regarded as a market leading expert.
Andrew joined the DLA Piper team in 2000 and has more than 20 years' experience in complex dispute resolution.
He joined the firm as a trainee in 1998, and was Stewart's first recruit into the litigation team on qualification.
Andrew has a broad disputes practice, is also the co-lead for the firm's international corporate disputes group, specialising in M&A and shareholder disputes.
North West managing partner, Mark Beardwood, said: "I have the highest regard for Stewart, who is an outstanding litigator and has successfully led the practice for many years.
"I am delighted that we have such an able replacement in Andrew, particularly given his expertise in international corporate litigation.
"Being able to tap into DLA Piper's extensive global footprint from the North West is a key part of our offer. Our litigation & regulatory practice has been strengthened by a number of strong hires over the last 12 months and Andrew takes over at a time when the team is in great shape."
::
Integrated agency Social has appointed Diana MacCarthy as managing director of its Manchester business.
MacCarthy has been promoted after two years as director of PR and marketing at the £2.6m, seven-year-old Northern Quarter based agency.
A former weekly and national journalist, MacCarthy is an experienced strategist whose credentials span property and the built environment, social care and social impact.
The agency's head of PR, Becki Ord, and head of marketing, Tony Whittingham, have both been promoted to associate directors, joining MacCarthy to form the leadership team of the agency's Manchester operation, which services a national and international client roster.
Property, regeneration and professional services specialist Ord joins Whittingham, a property sales and marketing lead generation strategist, to make up the senior leadership team supporting Social Manchester's growth drive.
MacCarthy said: "As a proud Mancunian, I'm well chuffed to be at the helm of Social Manchester's growth ambition and to be leading a team of talented tacticians delivering work underpinned by AMEC-recognised evaluation practices."
Agency founder, John Quinton Barber, said: "Di's promotion to managing director at Social Manchester is brilliant news. We are creating a business that really invests in colleague progression and I'm thrilled for Di, Becki and Tony who have grasped the opportunity to lead and grow our business with both hands."