Liverpool recovery a tale of two quarters as Christmas spectre emerges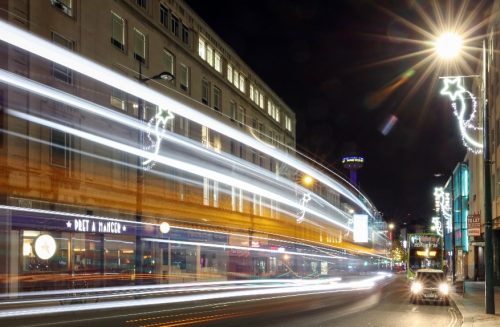 Liverpool BID Company data reveals a robust city centre, but fears remain over a potential 25% income drop if Christmas trading is cancelled
The data shows the city centre has bucked a national trend on rising vacancy rates, seeing its number of empty units in the city centre fall below the national average to 8.4% in October 2020, the lowest since the series began in 2018.
Vacancy levels in Liverpool's Retail & Leisure BID area, which includes Liverpool's high street outside the Liverpool One retail centre, have dropped in the past two years, falling from 12.1% in January 2018.
Nationally, the vacancy level has risen from 8.9% in the same month to 11.3% in October 2020. Liverpool bucks the trend of the wider North West, which has seen its vacancy rate rise to 12.5% from 11.4% two years before.
Vacancy rates tell us how many units are unoccupied within an area. The data comes from Springboard, which monitors footfall and coordinates vacancy rates collection across the UK.
Liverpool's low rate of vacancy echoes Avison Young's UK Cities Recovery Index which pointed to the city's resilience and robust activity as the city entered the final quarter of the year.
Released on October 1, the index recorded commercial activity as remaining robust, despite the renewed local social distancing measures. This was partly due to the Port of Liverpool remaining operational, which provided a boost to the city's economy.
However, a month of restrictions on the city has impacted on its economy and continued coronavirus restrictions through the fourth quarter could see a drop in revenue of around 25%.
Tier Three restrictions, imposed on Liverpool in mid October, saw Liverpool businesses lose 20% of their income mostly due to the lack of customers from beyond Liverpool City Region.
If similar strict restrictions continue until the end of 2020, businesses could face losing £100m trade, representing 25% of their Christmas revenues.
A lack of normal trading, fewer people travelling to the city centre from the wider Liverpool City Region, reluctance to use public transport, and lower footfall, has contributed to the economic impact.
Business support has enabled many firms to remain temporarily closed, but fears remain about the knock-on effect, particularly if Christmas trading is not able to happen.
A survey by Liverpool BID Company of its levy payers in retail and hospitality found they make between 30% and 50% of their income in the crucial festive period.
Bill Addy, Liverpool BID Company chief executive, said the figures reveal the importance of Christmas trading, and the need for more business support in 2021.
"Liverpool has performed strongly in what has been an intensely challenging year. The city went into Tier Three and a national lockdown in a strong position, but without the vital Christmas period the story could be very different at the start of 2021.
"The lost revenue of this quarter will be felt by many. It's going to be important for people to shop local this festive period and keep their favourite stores and businesses going."
Jennina O'Neill, chair of the Retail & Leisure BID, and centre manager at Metquarter, said: "We've seen that Liverpool has bucked the national trend, mainly due to Liverpudlians who have stayed loyal and supported independents. There's been a positive shift and refocus to shopping locally, whether it's a bike repair, local butchers or coffee shop.
"Christmas has always been special in Liverpool with the whole city going to town on everything from decorations to Christmas day outfits. This year, more than ever, we need to continue to collectively work together across the city to ensure our customers can shop and get to experience the Christmas magic and spirit.
"Businesses across Liverpool have worked hard to ensure that their premises are COVID safe and this work continues – with a view to retailers across the city being able to reopen on 3rd December – with extended opening hours to minimise queues, extended return dates and additional click and collect."