Radius takes 50% stake in European electric vehicle chargepoint group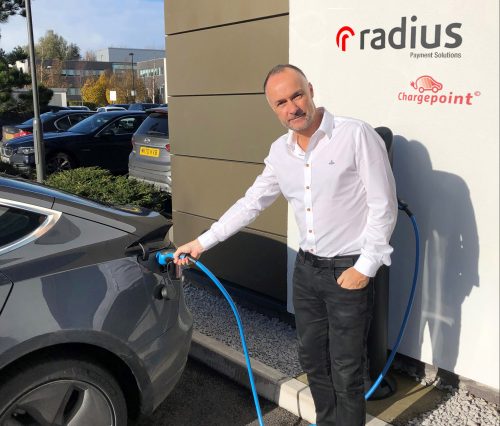 Crewe-based Radius Payment Solutions has taken a 50% stake in Chargepoint Europe BV, a leading supplier of electric vehicle charging points in Europe, for an undisclosed sum.
Based in Zevenaar, near Arnhem, Chargepoint has developed a wide range of high speed commercial units to suit the needs of the rapidly growing market for electric vehicle charging.
With more than 20 years of industry experience, the founders of the business have built a significant customer base which includes major hotel chains, commercial property companies, car sharing companies, universities and local government.
Radius is one of Europe's leading suppliers of fuel cards and telematics solutions, with a business footprint that strongly complements the presence Chargepoint has established.
By combining its sales and marketing expertise with Chargepoint's excellent range of charging units, Radius believes it will have a compelling offer for customers as they invest in this new technology.
This sector is forecast to grow extremely rapidly.
To meet the Government's target for a switch to electric vehicles by 2035, the UK will need to install 507 new electric vehicle chargers every day to meet demand, according to the Society of Motor Manufacturers and Traders. Demand is expected to be equally strong throughout Europe.
Bill Holmes, Radius chief executive, said: "This is a really exciting step for Radius into the world of E-Mobility, which is becoming an increasingly important sector.
"As the sales of electric vehicles continue to accelerate over the decade ahead there is going to be a huge demand for charging units and network access.
"This acquisition will give Radius a strong position right at the heart of Europe.
"Chargepoint has a great team and we look forward to partnering with them to accelerate growth, as well as investing in further technological developments over the forthcoming years."
Hans Loohuis, managing director of Chargepoint Europe, said: "We are invigorated by this investment of Radius and we are looking forward to jointly accelerating the European transition to sustainable electric mobility.
"Radius adds unique expertise in expanding across international business markets. As we are entering the next growth phase across different countries, this will enable us to set the pace in providing smart charging solutions to meet the needs of a broader range of clients."