Construction set to start following turnkey deal that will lead to 96 new homes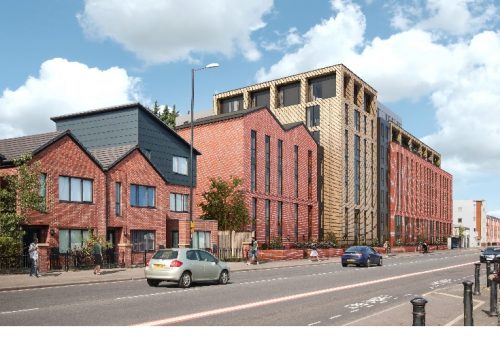 Amstone Developments has agreed a turnkey deal with One Manchester to deliver 96 new, modern residential homes comprising seven townhouses and 89 apartments.
Housing provider One Manchester currently owns and manages more than 12,000 units across Greater Manchester and will own and manage the homes which will be affordable for build to rent, affordable rent and shared ownership.
The 0.75 acres site is on Stockport Road, approximately 2.1 miles South East of Manchester city centre and construction is due to begin before the end of this month. A derelict former spice factory building stands on the site which will be demolished as part of the site preparation.
Rowlinsons has been appointed as contractor on an 18-month build programme. The scheme was designed by architects Leach Rhodes Walker.
Stockport Road is a major arterial route running north to south, connecting Manchester to Stockport (4.8 miles south-east) and forms part of the larger A6 route.
Manchester city centre lies 2.1 miles to the north west of the site and there is access to the motorway network via the M60, six miles to the east of the site. Education and employment opportunities sit within a 10 minute walk of the site comprising Manchester University and St Mary's Hospital.
The site is accessible from a number of sustainable transport modes along Stockport Road with a bus stop adjacent to the site providing a regular service for quick and easy access to the city centre, Ardwick and Longsight to the north and Levenshulme, Heaton Chapel to the south.
A designated cycleway is also located along Stockport Road permitting safe and convenient access for cyclists travelling to and from Manchester city centre.
Three railway stations are also within walking distance of the site providing regular services to the whole of Greater Manchester, Cheshire, Lancashire, Liverpool, the North East and Norwich in the East.
The site was purchased in 2019 for an undisclosed sum from Castlevale and the sale completed earlier in 2020.
Adnan Sidiqi, director and founder at Altrincham-based Amstone Developments said: "Amstone has a range of build to rent developments it is working on across Greater Manchester.
"What these sites have in common is a that they are in a great location with good transport links and incorporate high-quality design and tap into definite demand in the area.
"Signing One Manchester to own, build out and manage the homes and jointly shouldering the development and construction risk, means that we move towards completion with confidence and they are presented with a hassle-free, high-quality product upon completion.
"Whilst on a much larger scale, this deal is similar to the one we did with Grainger at Clippers Quay in Salford Quays."
Judy Noah, interim development director at One Manchester, said: "We've been working with Amstone for many months to bring forward this prominent scheme and are delighted to have now started building.
"As usual our commitment to affordable, high-quality homes is demonstrated here, as we'll be creating a mix of build to rent, shared ownership and affordable rented homes.
"The scheme will also include a roof terrace and has excellent facilities for our future residents, transforming this derelict site for the benefit of local people."
Amstone Developments' most recent completed scheme – and the largest BTR scheme outside of London when constructed – is the £100m four acre Clippers Quay which was purchased in 2014, achieved detailed planning approval in 2015 with forward funding and start on site in 2016.
Sir Robert McAlpine was the contractor and the architect was Leach Rhodes Walker. It is an exemplar in the build to rent sector and has been shortlisted for several industry awards.