Partnership will deliver 28 affordable homes in Rochdale area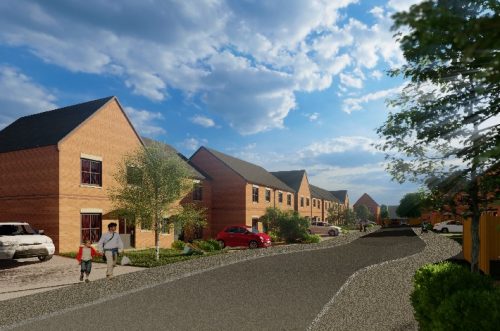 X

Register for free to receive latest news stories direct to your inbox
Register
Work is under way on the construction of 28 new affordable family homes on land off Belfield Mill Lane in Belfield, just outside Rochdale town centre.
The development, which has been designed by Leeds-based Brewster Bye Architects, is being built by the Crossfield Group for Great Places Housing Group.
Work is due for completion by Spring 2021.
Nathan Wilkinson, from Brewster Bye Architects, said: "Great Places create sustainable communities where people enjoy living, and the organisation is known for the quality of its new homes. This is the first scheme we have worked with them on and we are delighted with how the homes are starting to take shape.
"We've designed the three- and four-bedroom affordable homes to be in keeping with the site context through the use of stone heads and cills.
"This aesthetic is enhanced through the specification of two brick types, one for the main body brickwork and the other for the subtle brickwork detailing. The new streets will benefit from soft landscaping, which will complement the existing trees and shrubbery to create a welcoming feel."
All of the homes are set within spacious plots with generous gardens and there are a total of 56 parking spaces.
Located next to bus routes and within walking distance of the train station and town centre, there are a number of local amenities within the immediate surrounding area.
The new homes are bordered by open fields and include a mix of detached and semi-detached properties. A new access road is also being created into the development from Belfield Mill Lane and a significant investment is being made in the drainage system.
The 28 homes are available on a shared ownership basis – a part-buy, part-rent scheme – giving local people the chance to get on the housing ladder, and eventually increase their financial share of the home to 100%.
The development is the first shared-ownership only site developed by Great Places and will be marketed via its specialist shared ownership team, Plumlife Homes.
Helen Spencer, director of development at Great Places, said: "We're delighted to be working with Brewster Bye on this project, which will create much-needed affordable homes in Rochdale and is also our first ever shared ownership only development.
"As a group, we are actively contributing to tackling the housing crisis and providing affordable high-quality housing across the North West and Yorkshire. Bellfield Mill is no exception, with the site offering well-designed three- and four-bedroom homes in keeping with the local area."