Plans submitted for major mixed-use Northern Gateway scheme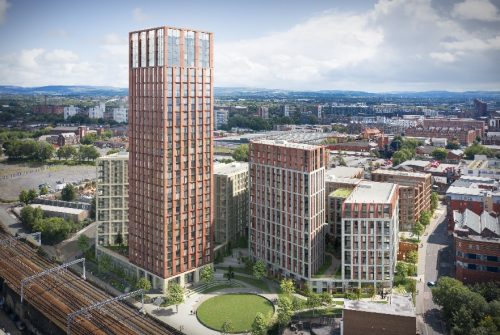 Plans have been submitted for The Gasworks – New Town, a major new urban neighbourhood of 1,202 homes and public green space that will set a benchmark for energy-efficient living in Manchester's Northern Gateway regeneration area.
Proposed by developer Southvalley Estates, part of MCR Property Group, The Gasworks will be the first residential development to form part of New Town, one of seven neighbourhoods outlined by Manchester City Council's £1bn Northern Gateway masterplan.
The vision for New Town is to transform the area into a thriving community with substantial green space, connected to the city centre and wider development projects across the Irk River Valley.
Once home to the former Gould Street gasworks, the majority of the 2.7-hectare brownfield site earmarked by Southvalley Estates for redevelopment is currently being used as surface car parking.
Working with planning consultant, WSP, the developer held a public consultation in August 2020 to gather feedback on its draft proposals from local communities, workers and stakeholders.
Energy efficiency, carbon reduction and creating a sense of place were prominent in the feedback received. The formal planning application addresses these elements ambitiously.
The Gasworks – New Town will create 1,202 highly energy-efficient homes, plus two commercial units, a pocket park and new pedestrian and cycling routes through the site, with links to Angel Meadows and surrounding residential developments.
Comprising a mix of townhouses and apartments, the homes will be situated in eight mid-rise blocks, staggered between eight and 17 storeys, built in three phases. The first homes are expected to be completed in 2023.
Phase four of the development will culminate towards the end of this decade in the construction of a 33-storey residential tower overlooking new open public realm – Viaduct Green.
All dwellings are centred around four landscaped courtyards, accessible by new pedestrianised streets, with surrounding streets benefiting from soft and hard landscaping.
The townhouses include private balconies and gardens, while ground floor apartments will be provided with front garden spaces, ideal for older residents.
In total, The Gasworks – New Town provides an area of green space larger than the football pitch at Old Trafford or the City of Manchester Stadium, with 100 trees to be planted throughout the site.
Southvalley Estates will invest in exceptional building fabric, air source heat pumps, heat recovery and combined heat and power to help residents achieve significant energy savings and ensure the development makes meaningful carbon reductions on the path to net zero.
Calculations by the developer show the scheme saves more than 300 tonnes annually compared with one that meets minimum local plan requirements.
Eliot Baker, planning manager at MCR Property Group, said: "The Gasworks – New Town has always been about creating a lively new community and a sense of place, set in thriving green space.
"Our plans for this former gasworks site go above and beyond the minimum requirements for sustainable development to set the benchmark for other schemes in New Town.
"We feel our bold proposals make the most of this core city centre location in a way that will significantly transform the New Town area and realise the ambitions of the Northern Gateway vision."
To further reduce emissions, the plans also maximise cycle parking with more than 1,200 spaces for residents and pedestrian routes to encourage more environmentally-friendly travel, with only a small amount of car parking in the basements.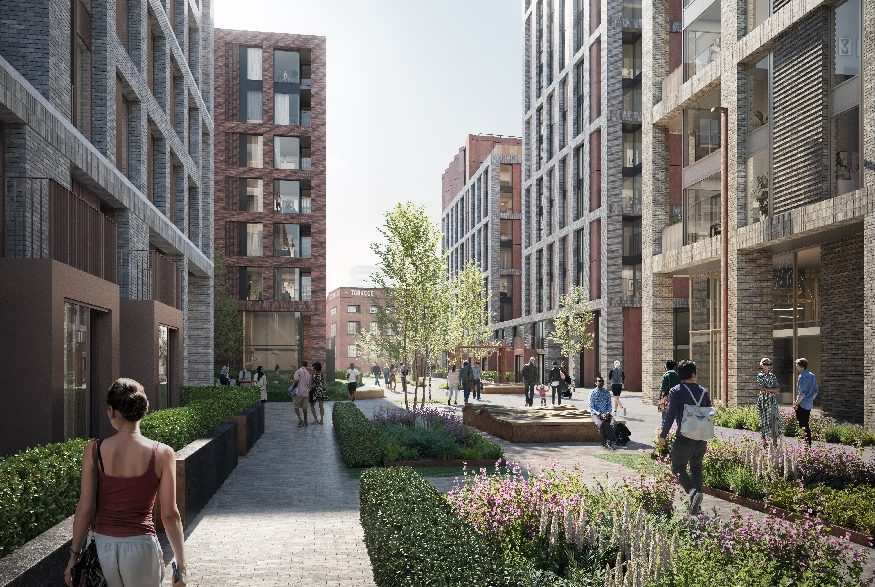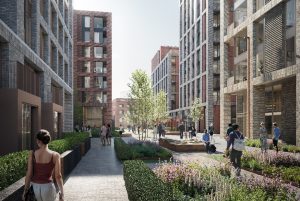 Matthew Hard, associate director of WSP, said: "The Northern Gateway is one of the region's most important areas for regeneration, and we're proud to support MCR Property Group's ambitions for this new neighbourhood.
"New green spaces, pedestrian and cycle routes will help transform this site and provide a catalyst and exemplar for the rest of the Northern Gateway."
The Gasworks – New Town will be a significant part of the 383-acre Northern Gateway project, which is a joint venture between the Far East Consortium and Manchester City Council.
A total of 15,000 homes are due to be delivered over the next 15 to 20 years across seven neighbourhoods under the proposals.
Manchester City Council secured £51.6m from the Government's Housing Infrastructure Fund to finance the first stage of the Northern Gateway, which includes Red Bank and other planned development at Collyhurst and New Cross Central.
The Gasworks – New Town is designed by architects, AHR, with landscape and public realm envisaged by Planit-IE.
If planning permission is granted, Southvalley Estates and National Grid will begin to clear the Gasworks site and remediate the land in 2021.