People on the Move: Big Brand Ideas; The Cumberland; Hampson Hughes; Ofwat; Prosperous Life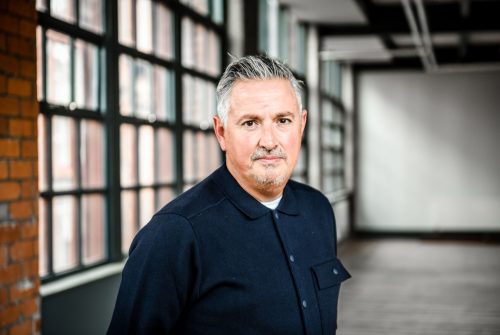 Manchester-based content-led performance agency, Big Brand Ideas, has appointed industry specialist, Dave Robinson, as creative operations director.
Robinson, who will also join the BBI board, has been appointed to ensure operational and creative excellence as the agency scales in size.
Passionate about creativity, Robinson says he was attracted to BBI by its vision, team drive and ambition and their unique approach to content-led performance.
Prior to BBI, Dave was operations director at BJL, managing the agency's creative output and working directly with clients.
Jon Butler, BBI founder and managing director, said: "Dave brings a wealth of experience from BJL and BBH to ensure the business has the operational capabilities and capacity as we accelerate our growth.
"Dave will ensure we deliver creativity and performance to our clients and his experience and values make him the perfect addition to our leadership team."
::
The Cumberland Building Society says it has hit a key diversity target with the appointment of two new non-executive directors to its board.
Vicky Bruce and Kelli Fairbrother took up their roles on November 1.
The building society is a signatory to the Women in Finance Charter and the appointments will see it exceed its target of having at least 33% of women at executive and board level, which it had hoped to hit by April 2021.
Vicky has more than 25 years' international financial services experience, most recently as a global chief operating officer with Deutsche Bank Wealth Management.
She has extensive global experience in change, risk and regulation with UK board experience in financial services and not-for-profit sectors.
Other non-executive roles she currently holds are as trustee for both the Hope and Homes for Children charity and the German-based Agitos Foundation.
Kelli joins with a wealth of experience as co-founder and CEO of early stage digital media B2C technology start-up xigxag and former chief operating Officer for global print technology company Gelato.
The Harvard Business School MBA graduate and former US Army captain previously led the €300m Germany market entry for the Premier Inn and Costa brands as business development and commercial director at Whitbread Hotels and Restaurants.
The Cumberland's chief executive, Des Moore, said: "I am delighted to welcome Vicky and Kelli to The Cumberland's board. Their respective experience will help to strengthen us, as we embrace change and innovation at every level, and strive to deliver an outstanding multi-year investment programme.
"I am also pleased to see us delivering on the commitments we made when we signed up to the Women in Finance Charter ahead of schedule. Having a more diverse board and senior team is a key part in ensuring the development of The Cumberland."
::
North West law firm Hampson Hughes has appointed a new senior solicitor as part of an ongoing expansion of its specialist medical negligence team.
Medical negligence lawyer Laura Owen has more than 15 years' experience working in leading law firms with a particular focus on helping victims of medical negligence to seek justice.
She joins Hampson Hughes from a legal 500 law firm, where she worked for more than nine years, initially in the firm's family law department before joining their medical negligence department.
Her personal case history includes supporting clients who have experienced surgical negligence, anaesthetic awareness, delayed cancer diagnosis, misdiagnosis, orthopaedic injury and delayed stroke diagnosis.
These cases have ranged in value from £1,000 to £300,000. She has also assisted on cases involving cerebral palsy and brain injury with damages being awarded in excess of £2m.
Laura considers her prior experience in family law gives her the ability to really empathise and connect with clients. This, combined with her exceptional legal knowledge, makes her adept at handling even the most sensitive of cases.
She said: "I was instantly attracted to Hampson Hughes due to its dedication to provide outstanding client care, which has always been paramount to me. As clinical negligence lawyers, we represent people going through a very difficult time and it's essential to be empathetic, but at the same time deliver robust, pragmatic advice and support to ensure the right outcome is achieved.
"From my initial conversation with the team, I knew they had a very clear direction on where they were taking the department and I am very excited to join at such a pivotal point in the journey."
Carlos Lopez, director of clinical negligence at Liverpool-based Hampson Hughes, said: "Medical negligence is one of our most rapidly developing departments and we are keen to build on our strong foundations and expertise in this area. From the moment I met Laura I knew she would be a great addition to the team.
"Laura has exceptional and wide-ranging experience which will be invaluable to the firm but, most importantly, she shares our passion for getting justice for our clients and bringing about real change and improvement in healthcare to positively impact on lives."
::
Jonathan Kini, managing director at Salford-based TalkTalk Business, has been appointed non-executive director of industry regulator Ofwat.
Kini, an experienced senior executive who has helped to shape the growth of some of the UK's largest telecoms and energy companies, joins the board in December along with three other new members.
He will continue to lead TalkTalk Business, which he joined in 2019 to spearhead the 'levelling up' of essential services, providing affordable, high quality connectivity to businesses and households across the UK.
Kini, also an advisor to the Bank of England, will use his breadth of experience, including that gained at TalkTalk to help drive up standards across the water and sewerage industry, in important areas including customer service and environmental protection, in the context of Ofwat's role as economic regulator.
Jonathan Kini said: "I'm delighted to be joining Ofwat's board, an opportunity which felt like such a natural fit for me.
"The consumer-centred approach is one that strongly resonates with me and this opportunity aligns with my key ambitions in my role at TalkTalk Business."
He added: "I'm looking forward to working alongside the rest of the board to help make improvements for consumers in a way that protects our environment to generate a positive impact that will be felt, not only in our lifetimes, but in those of future generations, too."
::
Prosperous Life, the prepaid funeral plan provider, has appointed its first financial controller to strengthen the finance department and drive growth.
John Harrison, who joins the Cheadle-based company from Ardale International where he was financial controller and operations manager, will focus on developing business growth and support its expansion plans.
In addition, he will also play a pivotal role by taking control of the day-to-day running of the finance team and implementing new processes and procedures.
Harrison said: "This is an exciting time, as Prosperous Life has experienced substantial growth over the past couple of years. I'm now looking forward to capitalising on that, plus laying down strong financial procedures to support the business in the future."
Phil Dunning, finance director, said: "By taking control of the day-to-day running of the finance team, John will help to strengthen processes as well as support myself which will allow me to focus on the strategic side of the business to ensure we execute our business growth plans."