Modular homes maker undergoes pre-pack rescue, saving jobs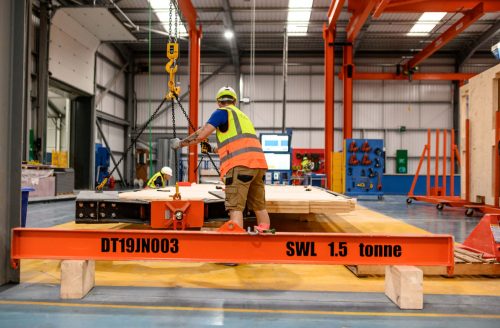 Ideal Modular Homes, the Liverpool-based modular housing constructor, has secured new investment and been restructured through a pre-pack administration process.
It said the transaction ensures continuity to the running of the business, a strong financial platform for the company's future and protects jobs.
A statement released by the company this afternoon said: "The process will create a seamless transfer of assets and employees from the legal entity Ideal Modules Limited, into a new legal entity – IDMH Limited – and facilitates a quick and smooth transfer of the business, allowing trading to continue uninterrupted."
It added: "We'd like to assure both clients and employees that there is no risk to the running of the company and all business will continue as normal.
"This is a positive step for the company's future."
A new chief executive, Tom White, has been appointed with a view to accelerate Ideal's growth.
He will succeed founder Luke Barnes, who has moved on to pursue new ventures.
The business was launched by entrepreneurs Luke Barnes and Graham Owens on Triumph Business Park in the Speke area of Liverpool in 2018.
They said their 70,000 sq ft factory would operate 24-hours a day and employ 150 staff, with the capability to produce more than 10 housing units a week.
Owens, a software engineer, ran his own company developing bespoke operating systems for large corporations.
Chief executive Barnes said at the time of the factory opening: "While looking into modular homes for my own development projects, I found there was a big gap in the market as there were no constructors that offered the quality, deliverability and competitive pricing I was searching for.
"Using our manufacturing design experience, we began designing Ideal's modular system which produces high quality living space at affordable prices – homes that people can be proud of."
"We are looking to deliver at least 450 homes in our first year and are set to agree our first contracts in the next few weeks.
"By continuing to invest heavily in both our staff and our machinery, we will increase our efficient and within the next four years, we will be able to deliver at least 1,500 homes per year."
This August the firm was part of a consortium that won a £300m contract with Greenwich Council and appointed two new staff members, Marie Smith and Louis Allwright, specifically to work on the programme.
Phil Farrelly and the insolvency team acted for Quantuma as administrators of the Ideal Modules Ltd pre-pack rescue.