Everton FC owner to increase stake in club through £250m share issue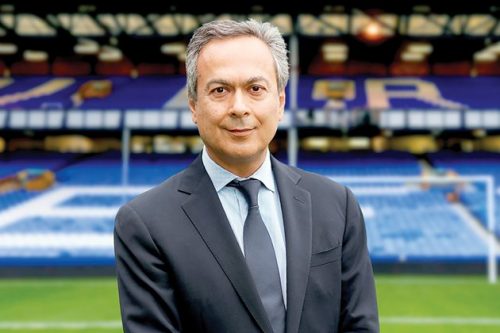 Farhad Moshiri the British-Iranian businessman who owns Premier League club Everton FC, is to inject a further £250m into the business through the issue of new shares.
Everton's board of directors is proposing to create and issue new shares to Mr Moshiri's Blue Heaven Holdings Limited.
Mr Moshiri is currently the club's majority shareholder with 77.2% and this proposal further underlines his long-term commitment to the club.
The investment will also provide a welcome injection of capital into the club as it continues to address the significant financial challenges presented by COVID-19, as revealed in the cub's latest accounts just published.
It will include the capitalisation of some previous loans made by Mr Moshiri into equity and greatly strengthens the club's balance sheet.
The latest accounts for the year ending June 30, 2020, showed a new record for commercial revenues, but also a record loss, due to the impact of the pandemic.
Within commercial income, the club's sponsorship, advertising and merchandising revenue of £64m more than doubled compared with the previous year of £29m (a 119% increase on 2018/19) and maintains the impressive growth in total commercial revenue which has increased from £26m to £76m over a five-year period between 2014/15 and 2019/20.
Everton had been on course to report record revenues – in the region of £220m – prior to the pandemic.
The loss and deferral into future financial periods of significant revenue across broadcasting, commercial and matchday revenues due to the pandemic – coupled with other unexpected costs directly attributable to its impact – amounted to £67.3m.
As a result, the accounts show a loss of £139.9m after interest and taxation, compared with £111.8m in 2018/19.
Significant investment in the playing squad continued in 2019/20 and is reflected by a spend of £113m within the financial year – with a further £70m invested in the playing squad in advance of the 2020/21 season.
The 2019/20 accounts also contain more than 50% of the total cumulative spend to-date on the proposed new £500m Bramley-Moore stadium project – and this cannot be capitalised onto the balance sheet until planning permission has been granted.
The spend of £19.9m in the year reflects the strong progress made in the year, including the submission of a full planning application in December 2019 – in line with the project plan.
Other operating costs incurred in the year decreased by £10m to £33m due to the continued tight management of operational costs across the club.
The net debt position was reduced to £2.3m – down from £9.2m in 2018/19 – because of the continued support from majority shareholder, Mr Moshiri, who contributed an additional £50m within the reporting period.
This investment brings Mr Moshiri's total support to the club to £350m as of June 30, 2020, with a further £50m cash injection made up to November 2020 which will be reported in the club's 2020/21 accounts.
Everton chief executive, Denise Barrett-Baxendale, said: "Clearly this has been a very challenging year, not least from a financial perspective with the impact of COVID-19 having a profound, wide-reaching and material impact on our figures.
"Prior to the pandemic we were forecasting record revenues in excess of £200m. Our final accounts show that a significant proportion of our losses have been directly attributable to the pandemic.
"However, in this period, it is encouraging that our commercial performance has improved markedly, and this will continue to be a priority moving forward.
"We have also continued our investment into both our new stadium project – which continues to progress in line with our project plan – and, importantly, in strengthening our management and playing staff through the arrival of Carlo Ancelotti and some key additions to our first-team squad.
"These strategically important projects have been enabled by our majority shareholder, who has further underlined his commitment with additional investment into the club, in 2019/20 and into this financial year."
She added: "While navigating through this period of crisis, it was a priority for the board of directors to do everything we can to do the right thing for our fans and our community.
"We are incredibly grateful to our supporters for their understanding and patience throughout 2020 – as well as the support and generosity they have shown my colleagues at the club and at Everton in the Community who have now directly supported more than 25,000 families across the Liverpool City Region through our Blue Family campaign."