People on the Move: Everything Tech; Reparo Finance; Bromleys; Pill Connect; Redwood Bank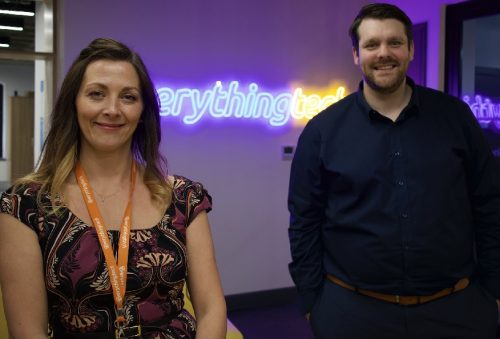 The boss of a Manchester-based tech company has described two senior promotions as the biggest in the company's 10-year history.
Ruth Hall said the appointment of Ben Turner as head of technical operational delivery and Lyndsay Fielding as head of finance, systems and people management would help the company grow turnover to £3m in 2021.
Hall, who was runner-up in the 2006 series of The Apprentice under her previous name of Ruth Badger, said: "Our biggest assets are our staff and Ben and Lyndsay will really strengthen the senior leadership team.
She said Turner would focus on the technical delivery side of the business while Fielding would concentrate on the operational side.
"Ben has been with Everything Tech for four years so the company's values are in his DNA," said Hall.
"We needed someone to take senior accountability for the day-to-day service delivery as we need to make sure we have the leadership capability to grow. Ben was the perfect person."
Fielding has been promoted from administration manager to the role of head of finance, systems and people management.
Hall said: "Having the right systems in place and the culture is business-critical. Lyndsay has worked with us for three years and is ideally suited to take the business forward on the next chapter of our story. These are the biggest promotions we've ever made in the business."
She added: "2020 has been an amazing year in that we've grown our customer base, workforce and moved into new offices in Manchester city centre and the promotions of Ben and Lyndsay mean we can continue to push for growth and improvement in 2021.
"COVID-19 saw some project work put on hold, but next year looks very positive and these changes ensure we have the leadership to deliver it."
As well as offering managed IT support, Everything Tech is a Microsoft Gold Partner and helps companies transform their business through the adoption of Microsoft Modern Workplace technology.
Based in a 2,500 sq ft office in Hanover House, Charlotte Street, Everything Tech was founded in 2010 and employs 32 people.
It's co-owned by sales and marketing director Lee Wrall, technical director Anthony Hautin and managing director Hall.
Everything Tech has 144 customers and services more than 2,500 users.
Despite the impact of COVID-19 the company's turnover grew by 28% for the 12 months to the end of September 2020 with the target of hitting £3m next year.
Everything Tech recently made eight new hires and has a customer retention rate of more than 98%.
::
SME loans company Reparo Finance has appointed a new senior business development Manager (BDM) as it targets growth across the North West.
Craig Ashton will be responsible for growing the network of introducers in key cities throughout the region.
In his new role Craig will also manage client relationships across the North, ensuring SMEs have access to flexible lending solutions that help them achieve their targets.
Previously Craig was business development manager at Seneca Bridging Finance. Before that he was regional introducer manager at Iwoca, leading the company's expansion into the North of England.
Steve Richardson, sales director, said: "We're delighted to welcome Craig to the team. He brings a wealth of experience in commercial lending and finding solutions for SMEs that require funding.
"He joins at a critical stage in our growth – the demand for alternative finance solutions is increasing, and Craig will ensure businesses in the North can access our range of products."
Craig said: "This is the perfect time to be joining Reparo Finance. The North is home to a large number of high-quality SMEs, and many excellent companies struggle to access the finance they need. By working closely with the broker community, we'll be able to help more SMEs in the North grow and prosper."
Craig's appointment follows the recent announcement that Gurinder Mandir joined as senior BDM in the Midlands and Daniel Jones joined to manage the South East and South West of England.
Steve Richardson added: "We're gearing up for a busy 2021. Recent research commissioned by Reparo indicated that many companies are still struggling to access finance. With many SMEs unable to access the financial support they need, we're making sure that our network is ready to meet demand. Our growing team is critical to making borrowing easier for SMEs that struggle with the more rigid approach used by traditional lenders."
::
Law firm Bromleys has promoted a non-solicitor to associate level for the first time in its history.
Shaun O'Carroll joined the Tameside practice 14 years ago as a graduate paralegal and works in its Court of Protection and Lasting Powers of Attorney team as a Court of Protection executive.
He is the latest staff member to be recognised under a career pathway initiative designed to nurture and promote talent from within Bromleys' ranks.
Shaun has trained as the firm's in-house expert at assessing mental capacity, which is necessary for the preparation and registration of lasting powers of attorney and minimising the risk of future challenges to their validity.
He also deals with the day-to-day management of the affairs of Bromleys' vulnerable clients who face many challenges after losing the ability to do this themselves.
Shaun also advises and helps professional and lay deputies appointed by the Court of Protection to navigate their way through the maze of paperwork and annual reports.
Bromleys' senior partner, Mark Hirst, said: "Shaun has contributed greatly to the team's growth over recent years and the high regard in which it is held by clients, their families and other professionals.
"His promotion is extremely well-deserved and is further recognition of the fact that he has met the criteria on the firm's career progression ladder. He has always been completely committed to the success of the team and the firm as a whole.
"Through his expertise and experience, he has also built up a strong network of contacts and referrers, all of whom are to the benefit of the firm."
Shaun said: "Bromleys is very much my second home and, by the very nature of my work, I form close ties with my clients. Their welfare and best interests are of paramount importance to me.
"I am elated to be promoted. It is a great honour to be recognised in this way. I look forward to continuing my career at Bromleys in the years ahead."
Bromleys' career pathway scheme was introduced in 2019 and is open to its entire team. It maps out a defined career path for all staff, setting out the different levels of progression that can be achieved and the criteria they have to fulfil to gain promotion.
::
Pill Connect – formerly known as Elucid Mhealth – a Manchester-based operator in medicine adherence monitoring and data capture on patient compliance, has expanded its team with the appointment of Richard Hall as director of quality.
This follows the recent successful funding raise involving the investment serial entrepreneur Jonathan Milner, Catapult Ventures and Shallcross Partners and is the next step as Pill Connect moves towards commercialisation.
Richard has 27 years' experience of quality management and new product development within the medical device industry.
As founder and director of QMS Consultancy, Richard has helped more than 50 companies worldwide to achieve their quality and regulatory goals, accelerating their route to market.
Richard has lectured at Imperial College London and spoken at Oxford, Manchester and Liverpool universities as well as The National Physics Laboratory and multiple accelerators throughout the UK.
As a trained lead auditor himself, Richard has helped his clients pass 72 Notified Body audits and understands what is required for a successful ISO 13485 & MDSAP assessment. Richard has also written product technical files gaining the CE mark for multiple devices.
CEO of Pill Connect, James Burnstone, said: "We are delighted that Richard has joined our team. His unique approach, vast knowledge and extensive expertise in this area has allowed us to implement a comprehensive ISO 13485 QMS in just one month, enabling us to move forward with our proven technology into the commercial phase of development.
"Throughout the whole implementation experience, Richard has been a pleasure to work with and we anticipate and look forward to a long and productive relationship with him."
Pill Connect has developed a smart pill dispensing solution which will allow both trial investigators and doctors to effectively monitor medication adherence in real time, either in clinical trials or in the community.
The business is in discussions with several top tier Pharmas, CROs, and CMOs, all of whom are keen to find effective ways to monitor and improve patient adherence through the accurate collection of patient behaviour data. According to figures from the OECD, poor medication adherence contributes to nearly 200,000 premature deaths in Europe every year.
::
A top banker, with more than 35 years' experience in the industry, 30 of them in credit roles, has joined Redwood Bank.
Stuart Burke has become the challenger bank's head of credit & underwriting, after moving across from Barclays Private Bank, where he was in charge of the UK risk sanctioning unit.
Prior to that role, he was head of credit risk management at Credit Suisse UK, where he was instrumental in setting up major regulatory projects, such as MMR and EU MCD. Stuart also had a key role in writing credit policies as chair of the Bank's credit committee.
The 55-year-old has also held positions at the Union Bank of Switzerland, the Royal Bank of Canada, Coutts and Midland Bank.
Gary Wilkinson, chief executive and co-Founder of Warrington-based Redwood Bank, said: "We were very impressed with Stuart's proven track record in delivering strong results across credit and underwriting, and in particular in respect of regulatory and strategic projects.
"We continue to invest strongly in our credit and risk teams as we develop and grow, and we will only employ the very best, top quality performers."
Stuart is one of several recruitments Redwood Bank has announced in recent months. The bank continued to employ new members of staff, despite the COVID-19 lockdown, opting to conduct interviews via virtual appointments and introducing the required technology into each new employee's home, as required.