Cheshire & Warrington Development Fund completes first loan for industrial scheme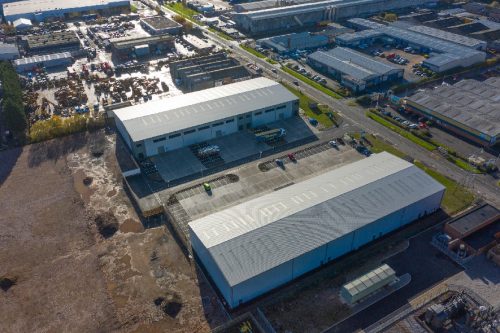 The Cheshire & Warrington Development Fund and North West Evergreen Fund have provided more than £5m of debt financing to support a £10m industrial development at Artis Park in Winsford, Cheshire.
This is the first loan the Cheshire & Warrington Development Fund has made since CBRE's investment advisory team, part of CBRE Capital Advisors, was appointed to manage the fund in early 2020, following the continued success of the North West Evergreen Fund.
The scheme will deliver more than 125,000 sq ft of employment space across 13 industrial units and is a continuation of local support for regeneration at Winsford following Cheshire & Warrington LEP's infrastructure funding of Road One.
The project is being delivered by a joint venture between the development arm of Eric Wright Group, Maple Grove, and Kier Property Developments. The second stage of development is expected to commence in 2021 after the recent completion of Phase One, which is now available to let.
Cheshire and Warrington Development Fund complements the two established North West Evergreen Funds, also managed by CBRE, which since their inception have been the catalyst for the delivery of more than £500m of regional development with wide-reaching socio-economic benefits.
Will Church, senior director, investment advisory, CBRE, said: "The North West Evergreen fund and the Cheshire & Warrington Development Fund have remained open for business during the pandemic, filling a vital funding gap. It is fantastic that we can now target our efforts specifically in the Cheshire and Warrington areas and help bring valuable projects to fruition."
Speaking on behalf of the joint venture, Karen Hirst, managing director at Maple Grove Developments, said: "We welcome the significant funding provided by Cheshire & Warrington and the North West Evergreen Fund, which will facilitate the next phase of development at Artis Park.
"The scheme forms part of the well-established Winsford Industrial Estate and this funding will enable us to provide high-quality space to attract more businesses to the area and support the expansion of others."
Philip Cox, chief executive of the Cheshire and Warrington Local Enterprise Partnership, said: "Artis Park is in the heart of Cheshire and its development will make a valuable contribution in terms of creating space for employment opportunities and business growth.
"As part of the UK's first Green Business Park, it is also aligned to our strategy of working to support clean and sustainable growth across the region.
"The investment complements other investment by the LEP at Winsford Industrial Estate through the Local Growth Fund programme, where we have granted £3.8m towards an £11m project to provide infrastructure to open up further land for commercial use."
Joint letting agents for Artis Park are Matt Pochin at Legat Owen and Jason Print at Gerald Eve.