Work on new Everton FC stadium could start by summer 2021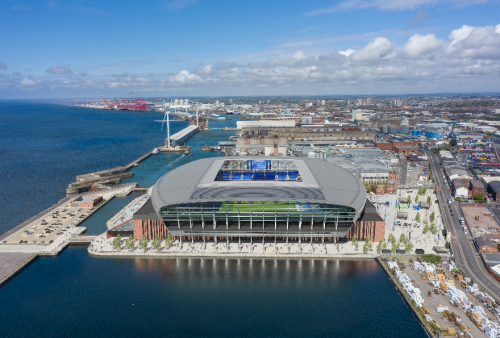 Everton Football Club said it expects to be on site, building its £500m Bramley-Moore waterfront stadium, in the first half of next year, subject to government approval.
The club also announced its first South American commercial deal in Columbia, home of Summer signing James Rodriguez.
In an update to fans today, Everton's stadium development director, Colin Chong, said he expects Liverpool City Council to determine the club's planning application for the stadium, and its legacy proposals for current ground Goodison Park, at the same time "in the coming weeks" with a special committee meeting due to be scheduled for late January or early February.
He said: "We fully expect that our planning application will be determined within the first couple of months of 2021, meaning, with government approval, we are aiming to be on site at Bramley-Moore Dock within the first half of the year."
He added: "Achieving a positive planning determination is the next key milestone in this project and unlocks the next phase of work streams we need to complete, with a key focus on confirming the land acquisition, finalising our preferred routes and access to funding, and formalising our relationship with our preferred contractor, Laing O'Rourke."
Mr Chong said that, despite the pandemic, the club's own timetable for the stadium development is still on track: "While there is no need to adjust our overall project timeline, I am sure you can appreciate that not everything is directly under our control, we remain on track with our own internal plans and the most important thing for us is that we continue to move forward and plan accordingly.
"There is a strong sense of urgency from within the club to make this development happen as soon as we possibly can.
"Whilst the impact of a global pandemic has seen many other developments stall, be postponed or mothballed indefinitely, we have continued to make steady progress while our planning application goes through the required process."
But he added: "This is one of the largest applications Liverpool City Council will have ever received at a time when their resources are stretched to capacity due to a global pandemic.
"We, therefore fully appreciate the local authority needs to carry out the due process required to legally satisfy all the criteria it needs to deliver its verdict."
He also said that research shows the social and economic benefits of a new stadium at Bramley-Moore Dock, coupled with a legacy project at Goodison Park, are even greater than those outlined in the club's initial submission a year ago.
"Working alongside our consultants, CBRE and Simetrica, we estimate The People's Project could deliver at least a £1.3bn boost to the economy, create more than the initially estimated 15,000 jobs and still attract 1.4 million visitors to the city.
"Estimates show a ripple effect that will be felt across the city region's economy.
"Local families who have members of their households working on the development will benefit from £32m of income. Liverpool City Council could see an annual return of £2.1m in council tax, while business rates income could yield a further £1.7m per year."
He added: "The club's contribution to Liverpool's social, cultural and heritage offering is also expected to increase."
Meanwhile, Everton today unveiled a new commercial deal with Colombia's Rushbet.co.
The multi-year agreement will see the gaming brand become Everton's 'Official Betting Partner in Colombia'.
Everton's players will feature in a new Rushbet.co TV advertising campaign, set to run across all of Colombia's major broadcast channels in the first quarter of 2021.
The partnership sees Everton continue to build on the club's growing profile in South America, most notably in Colombia, with national heroes James Rodriguez and Yerry Mina key players in the Toffees' squad.
Founded in 2018, Rushbet.co offices are in Bogota – where Everton famously lit up the Colpatria Tower, the tallest building in Colombia, in blue with the number 19 to celebrate James Rodriguez's arrival at the club.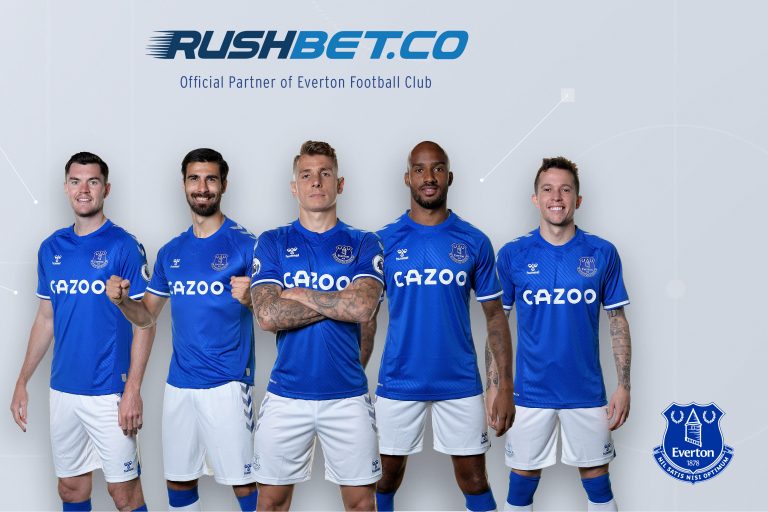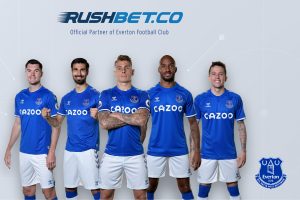 Everton fever has since gripped Colombia with an upsurge in sales of merchandise, significant media interest in the club, record audiences for Premier League fixtures, an exponential increase in website traffic on a weekly basis and a rush to follow the club's recently launched Spanish language social media channel.
Alan McTavish, Everton commercial director, said: "Our new deal with Rush Street Interactive Colombia and its brand, which includes the club featuring in a national television advertising campaign, shows the significant inroads we have made in South America and is part of our wider international growth strategy.
"Rushbet.co is a new, but dynamic and ambitious, brand with lots of potential for growth. This new partnership will offer even more visibility to Everton in Colombia and allow us to work together to deliver maximum exposure, while offering an official betting service to our growing fanbase in South America."
The Rushbet.co gaming platform covers all European and South American football leagues, cycling – which is extremely popular in Colombia – basketball, volleyball, tennis, NFL as well as a wide array of online casino games.
Omar Calvo, Rushbet.co general manager, said: "We are thrilled to announce this partnership with Everton Football Club, capitalising on their huge growth in Colombia.
"We are proud that our first partnership in the Premier League is with Everton Football Club, and that we have become the club's first Colombian partner, as they seek to expand in the South American market.
"The English Premier League and the Everton brands are extremely powerful, and we believe that having two of our most beloved Colombians on their main team makes it stronger."