North West Business Briefs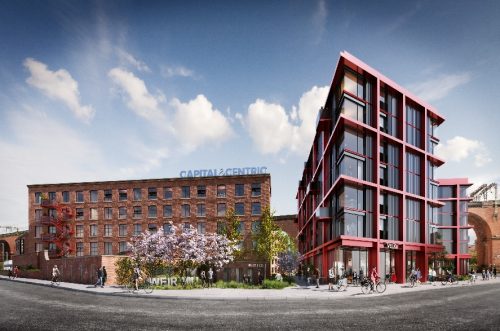 Social impact developer, Capital&Centric has submitted plans to deliver a new £60m community at Weir Mill in Stockport town centre.
The firm is proposing 253 one-, two- and three-bed apartments across the existing Weir Mill buildings and two new design-led buildings alongside 4,000 sq ft of commercial space that will create a new leisure and culture destination in the heart of Stockport.
The submission of the plans follows a two-stage public consultation, which saw overwhelming support for the plans to regenerate the derelict site and restore Weir Mill.
The plans will provide a new riverside location for residents and visitors to enjoy, with spaces for independent businesses such as shops, café-bars or delis. There will be a new public space looking out across the River Mersey with dramatic views of the town's iconic viaduct and the King Street West bridge.
Adam Higgins, co-founder of Capital&Centric, said: "This is the future of our town centres. Dynamic and progressive towns like Stockport will be full of residents. We're creating a mini-city eco system of café bars, delis, coworking spaces, gyms and everything else in between. "We were made up by how many people took part in the consultation and following the feedback, and the impact of the pandemic, we're proposing even more outdoor space with balconies on some of the apartments and a roof terrace for residents, in addition to the public open spaces."
A decision on the planning application is expected from Stockport Council in the Spring.
::
More than 400 staff from across 220 small and medium-sized enterprises (SMEs) in Lancashire have signed up to participate in one of the county's major leadership skills programmes, delivered by Edge Hill's Business School in Ormskirk.
The Leading Lancashire project, part-funded by the European Social Fund, aims to develop the skills of employees and embed new leadership and management capabilities in the region's SMEs, through the delivery of professional Chartered Management Institute (CMI) qualifications.
The effects of COVID-19 have prompted businesses and employees of SMEs across the region to seek support to help build resilience among their management teams and for individuals to strengthen their personal portfolio with a nationally-recognised qualification.
John Mercer, associate director of Edge Hill's Business School and director of the university's Leading Lancashire programme, said: "We are delighted that the project has supported so many local employees and SMEs across Lancashire so far. By offering the CMI professional courses online with access to supporting learning resources this has been of great benefit to student practitioners."
Sarah Ormsby is the operations manager for Raised Floor Solutions, based in Skelmersdale, and has recently completed the CMI Leadership and Management Level 4 qualification. She said: "The CMI course is a fantastic opportunity for anyone wanting to expand their theoretical knowledge through an accessible and practical medium. I have formalised my management experience and gained new skills and knowledge which I can apply to my professional career. The tutors at the Business School have offered their support, experience and knowledge to help me apply my learning in my working environment with confidence."
::
Unify by Bruntwood, a facilities management (FM) venture launched by the Manchester-based Bruntwood Group, has been awarded a contract providing cleaning services at Liverpool Science Park.
The contract, which begins this month, will see the firm deliver facilities services to common spaces, office and laboratory spaces across all three of the science park's purpose-built innovation centres.
Based in the city's Knowledge Quarter, Liverpool Science Park spans 120,000 sq ft and is home to more than 60 innovative STEM (science, technology, engineering and maths) organisations. With the Park helping to drive economic growth for the region with a community of innovators, creators and pioneers, Unify has been selected as a partner to maintain spaces and ensure a safe hygienic environment to help their customers to continue with their ground-breaking work.
Having secured 30 new contracts worth more than £8m in revenue in its first six months of trading, Unify's 350-strong in-house team now delivers cleaning services to in excess of 1,000,000 sq ft of property.
Simon Durbin, director for soft services at Unify, said: "As a new market entrant, to be awarded a contract of this calibre demonstrates that businesses are increasingly placing greater emphasis on service quality, which we're able to demonstrate through the experience and specialisms of those within our team. Over 70% of our workforce have transferred to us from existing FM suppliers, so we have a wealth of the industry's best talent under our roof."
::
YourZooki, a specialist in premium liquid supplements, is targeting new product launches and US growth after more than trebling revenues over the past 12 months.
With supplements already sold in 26 countries, YourZooki is now targeting expansion into North America, with the opportunity to secure a piece of a projected $53bn dietary supplement market by 2023. The firm has also seen significant expansion into UK high street retailers over the past year, with products now stocked nationwide in Holland and Barrett, Boots, Planet Organic, Wholefoods, Selfridges and Harrods, as well as being the top seller of vitamin product at the pharmacists to Her Majesty The Queen, John Bell & Croydon.
The independent business, co-founded by Marcus Mollinga and Jack Morrison, is based in Lancashire and offers a wide range of premium, specialist health products targeted towards immunity, beauty and wellbeing. During the pandemic the firm has seen considerable growth in its ecommerce platform and direct to consumer subscription model. In 2020, online sales increased 750%, largely driven by a 25% month-on-month increase in the number of recurring monthly subscribers – a 10-fold increase compared to 2019.
This rapid growth has been supported by £1.25m in funding secured over the past 12 months. In August, YourZooki secured a £950,000 funding package from Investec, and has been through two funding rounds with the Rosebud Fund, managed by GC Business Finance on behalf of Lancashire County Council.
Marcus Mollinga said: "People are becoming more educated and are looking for more innovative and effective ways of taking supplements that do more than commodity-style pills, capsules and powder – a gap that YourZooki fits perfectly. We have already seen huge appetite both in store and online and are well positioned to scale quickly in the USA – we're projected to quadruple turnover again next year."
::
DLA Architecture, which operates a Manchester office, has completed a restructure of the business with a rebrand and succession plan.
The UK top AJ100-listed architectural practice has evolved its brand from DLA Design to DLA Architecture. It has also identified key people within the business to carry forward the succession strategy for the future.
DLA Architecture has been established for more than 40 years with offices in Manchester, Leeds and London, employing more than 75 architects, landscape architects, architectural technologists and graphic designers and during the past year the leadership team – Mark Corbridge, Andrew Hargreaves, Jonathan Knowles and Chris Levett, along with financial director Michael Wood – has formulated a succession plan following the retirement of the last founding directors and identified key growth areas, concentrating on core architectural services to enable organic growth through the next chapter.
Jonathan Knowles who heads up the Manchester office, said: "Across our three UK offices we have identified our rising stars and appointed sector leadership roles to deliver architectural excellence in core areas such as education, residential, workplace, industrial, retail, re-use and best practice. These team members will start to take more prominent roles within the business.
"We believe that we have some of the most passionate people in the industry who will undoubtedly carry forward our legacy for high quality design and client service."