Liverpool bids to exploit future high profile sporting events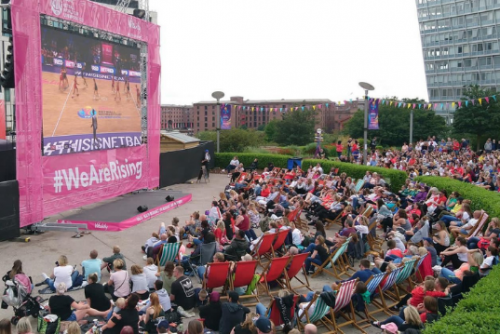 Liverpool is aiming to attract a raft of major sporting events over the next decade to boost the take up of sport and the region's economy.
An independent board of senior executives has been created to plan and oversee high profile international sports events.
The Sport Liverpool Board is a UK first and includes people from the world of international sport, business and events.
It is chaired by Brian Barwick, the former controller of ITV Sport, chair of the Rugby Football League and former chief executive of the English Football Association.
The city has created the board with the aim of developing a 10-year vision and ensuring Liverpool is best placed to make successful bids for events.
They will also agree long-term plans on legacy, post-COVID strategy and advise on major events that Liverpool should bid for.
The group will maximise opportunities from the upcoming Rugby League World Cup in 2021, and the 2022 World Gymnastics Championships.
The Rugby League World Cup is the pinnacle major event of rugby league, globally contested every four years. England 2021 will see Liverpool and St Helens welcome the Italy and Tonga teams and will be the only host city to host men's, women's and wheelchair matches.
The 2022 World Artistic Gymnastics Championships will see the world's best gymnasts from 90 countries taking part in eight days of competition at ACC Liverpool, generating a local economic impact of £5.1m. It will also be a qualifying event for the 2024 Paris Olympic Games.
Liverpool's Acting Mayor, Cllr Wendy Simon, said: "In recent years we have hosted the best-ever Netball World Cup which sold 110,000 tickets, and the British Gymnastics Championships which also attracted huge audiences and boosted the city's global profile.
"We have been able to attract a top team of people at the top of their game who can maximise the opportunities that major sporting events bring to our city.
"This is about bringing a wealth of expertise around the table, all pulling in one direction to ensure we have a continuity of purpose and direction. It's never been more vital for us to work together to show what Liverpool is capable of."
She added: "This will deliver on so many levels for Liverpool and the UK, not just in terms of giving athletes the best possible experience and putting on a show the city and the nation can be proud of – but also encouraging sport participation to increase activity levels in the city, as well as inspiring the next generation of athletes."
Brian Barwick, chair of the Sport Events Delivery Group, said: "I am delighted at the calibre of the people that we have been able to put together on the board – it speaks volumes for Liverpool's track record in putting on world-class spectacles."
Esther Britten, Acting Deputy Director of Major Events from UK Sport said: "This is an exciting time for Liverpool as they look to turn their 10-year vision into a reality. We look forward to continuing to work alongside the City Council as a trusted event hosting partner for major sporting events."
The independent members are: Clare Briegal, CEO, International Netball Federation; Eamonn McManus, chairman, St Helens Rugby Football Club; Prof Philip Wilson, group chief executive (academic), Global University Systems; Charlotte O'Neill, head of operations and development (academy), Manchester City FC; Steve Stuart, S Stuart & Co; Tim Banfield, director, TAB Live Consulting.
They are joined by several observers: Cllr Wendy Simon, acting Mayor of Liverpool; Jen Falding, strategic lead for major sports events at Liverpool City Council; Chris Brown, director of Marketing Liverpool; Mike Kearney, head of sport and recreation at Liverpool City Council; Ben Williams, commercial director, ACC Liverpool.
Board members do not receive remuneration.