People: Sixteen Real Estate; B-North; BTP Architects; National Football Museum; Numagoo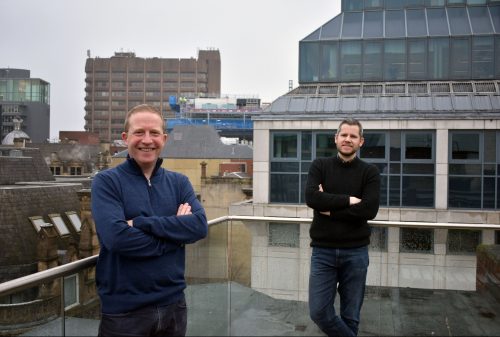 Sixteen Real Estate has continued on the expansion trail, with the appointment of John Scully from Knight Frank and Graham Aitkenhead from Avison Young.
They will head up the newly-formed professional team with a clear focus on rating and specialist landlord and tenant work.
The announcement follows the recent appointment of Dan Whitney who is heading up the planning department.
Manchester-based Sixteen Real Estate now has a headcount of nine with a focus on offices, retail, industrial, building consultancy, planning and professional.
Founding partner, Nick Nelson, said: "The strategy for Sixteen has always been about enhancing the offering we have to clients with best-in-class director level appointments.
"We believe Graham and John will complement the existing teams with their wealth of knowledge and strong track record of delivering exceptional results for clients."
John Scully said: "This is an exciting time to be joining the team at Sixteen and was the ideal opportunity for Graham and I to establish a niche rating and lease advisory team.
"Now, more than ever, we believe clients will truly benefit from strategic professional advice and we are looking forward to working with the team to maximise the opportunities which no doubt still exist."
Graham said: "The team at Sixteen have established a great business and I am really excited to be joining with John to help our clients at such a critical time."
::
B-North, the Manchester-based firm building a regional SME lending bank for the UK, has announced four major appointments, including a new HR director and treasurer. The hires mark a continuation of the firm's growth as it accelerates towards launch.
Sue Murdoch, B-North's new HR director comes with huge knowledge of organisation development, culture and HR leadership, with previous roles at National Australia Bank, International Personal Finance (IPF), professional services company WYG, telecoms company KCOM, and veterinary services provider Eville & Jones.
Matt Dobson, a highly-experienced commercial banker, will join as the firm's new treasurer. He was previously finance director at the Furness Building Society, before which he was head of debt capital markets at RBS spinout Williams and Glyn. Before this, Matt spent 15 years at Barclays, culminating in his role as managing director (treasury). Matt is a graduate of the University of Cambridge.
To continue work building B-North's state-of-the-art core banking system, Chris Pendlebury and Matthew Kenny join the firm's IT team bringing a wealth of experience.
Chris Pendlebury has a long track record of managing the deployment of IT systems and will join as development and integration manager. Chris has extensive experience delivering high quality service and technical leadership in SaaS and managed service organisations. He has experience across public cloud platforms ranging from large scale cloud adoption projects to small scale application/infrastructure deployments as well as extensive knowledge of retail fuels pricing platforms through his time at Kalibrate Technologies.
Matthew Kenny will join as senior QA and test manager and will oversee the implementation of B-North's QA testing capability. Matthew brings with him a wealth of experience in financial services as a testing analyst and manager, having overseen testing at leading payments company and Mastercard subsidiary Vocalink.
The new hires will play a key part in B-North's mission to shake up the UK's £150bn business lending market. The firm will establish a UK-wide network of 'lending Pods' to deliver loans up to 10x faster than the industry average. The first of B-North's Pods are expected to open in Manchester in 2021.
Jonathan Thompson, co-founder and CEO, said: "We are delighted to welcome four more talented people to our growing team as we move to the most exciting stage of our journey so far. Sue, Chris, Matt, and Matthew all bring significant experience in their respective fields.
"It bodes well for the future and I look forward to working with the new team members as we move towards securing our banking licence and ultimately towards delivering the best possible experience for our customers."
::
Stockport-based BTP Architects is celebrating the appointment of five new employees as the firm goes from strength to strength.
Despite the pandemic impacting many businesses the firm has made new hires including Adrian Pearson joining the team as senior conservation architect.
The former director at architects Lloyds Evans Prichard, who was awarded the prestigious King of Prussia gold medal in 2016 for his exemplary conservation work at St James Church in New Brighton, has more than 35 years' experience in the sector.
Adrian plays a key role in building BTP's conservation portfolio and pioneering technological innovation in the conservation field to include the use of BIM and 3D modelling.
Arina Cernysiova is another to join BTP as an architect. Her career began in 2011 working as an architectural assistant developing extra care, assisted living and retirement housing. Arina completed her Master's degree in 2014 and qualified as an architect in 2017.
Josh Pearson and Martin Parsons have been appointed as architectural assistants.
Martin completed his Master's degree at Newcastle University in 2017 following graduation from De Montfort University in Leicester in 2014. He previously worked for a practice in Plymouth focusing on extra-care, residential and conservation schemes.
Josh joined the team as a part II Architectural Assistant in late 2020 and is looking forward to working to achieve his Part III qualification. He graduated from Manchester School of Architecture in 2018.
To complete the round of new appointments, Isabel Roberts takes on the role of office manager. Isabel has a wealth of experience in office administration spanning 15 years and an interest in art and architecture.
Vicky Saunders, managing director of BTP which was established in 1947, said: "We are delighted to have welcomed on board Adrian, Arina, Martin, Josh and Isabel in recent months.
"Their combined skills and experience have strengthened our team as we head into the New Year, enabling us to continue the development and growth of our practice."
::
The National Football Museum has appointed Jane Bateman to its board of trustees.
Jane's appointment comes as a new partnership is formed between the Manchester-based museum and The Football Association.
As curator of The FA collection, the museum will work with The FA to conserve its historic collection at Wembley Stadium.
The partnership will celebrate and bring to life football's history and heritage while engaging the public through joint initiatives.
Jane has led the international relations team at The FA for more than 20 years.
She has built networks across European and global football, supporting major tournament bids and delivering programmes which explore the power of football as a vehicle for social change.
Outside The FA, she is a trustee of the Sir Bobby Charlton Foundation, and was a non-executive director of the board of the Sport and Recreation Alliance from 2012-2018.
Jane Bateman said: "I am really pleased to have this opportunity to play a role in celebrating football history and telling its story.
"During my time at The FA I've developed a keen interest in our heritage and bringing it to life for today's and future generations. The National Football Museum does exactly that, and I look forward to supporting their team in delivering on their exciting strategic goals."
Ian Penrose, chairman of the board of trustees at the National Football Museum said: "I am delighted that Jane has agreed to become a trustee. We have ambitious plans for the National Football Museum, and Jane will significantly strengthen the board with her extensive football experience and international networks."
::
Integrated digital marketing agency Numagoo has recently appointed two senior hires into leadership roles to help the agency grow at scale in 2021.
David Boal joins as head of client partnerships and Ben Jamieson joins as ecommerce and technical lead. The pair strengthen the Manchester agency's small but experienced team who all have client-side experience enabling the agency to truly understand the client's ecosystems and pain points.
Managing director, Phil Dunster, said: "Numagoo has ambitious growth plans for 2021. We recently secured international investment which will power our growth strategy for the year ahead.
"Ben and David's appointments are a key part of this strategy. We now have the right talent in place to attract in a broader mix of clients and take on more challenging projects. Ben and David have been in post for a few months now and we've already seen a huge step change in the pace and quality of work delivered.
"We're feeling confident about the year ahead."
Ben Jamieson joins from StowAg, WildCare and Rhino Interiors – a family-owned group of businesses with a shared marketing and ecommerce team. He brings with him impressive expertise in conversion rate optimisation, online merchandising, UX and a crucial understanding of the marketing challenges within SMEs.
As ecommerce and technical lead he will manage the more technical projects and ensure Numagoo's clients maximise the potential of their website and marketing activities.
Ben said: "I am delighted to join Numagoo. I've been really impressed by the small but talented team who have achieved some excellent results driving growth through smarter digital and integrated marketing. There are some exciting projects already in the pipeline for 2021 and I can't wait to drive further impact for our clients."
David Boal joins as head of client partnerships. He brings a wealth of experience from more than a decade spent in recruitment consultancy, operating successfully at senior level within multiple sectors. David has built a strong network and holds a depth of experience managing and growing client accounts, with a particular focus on developing high levels of service, trust and understanding.
He will develop new and existing relationships, showcase Numagoo's work and expand the client base to help Numagoo stand apart as the agency of choice. He said: I have developed my career and skills by successfully gaining a deep understanding of my clients' business to create true partnerships across multiple sectors and areas of operation.
"Having previously worked with Numagoo as one of my valued clients, I recognised the talent, huge potential and mission of the business, so I'm delighted to have been asked to join the senior team at what is a great time for the business."
Numagoo works with Burrow Seven, Racing4Business, Special Piping Materials, North Wales Caravans and a host of other clients, with particular expertise in UK manufacturing and engineering and the sports and leisure sectors.