£250k improvement works helps tempt three new trading estate tenants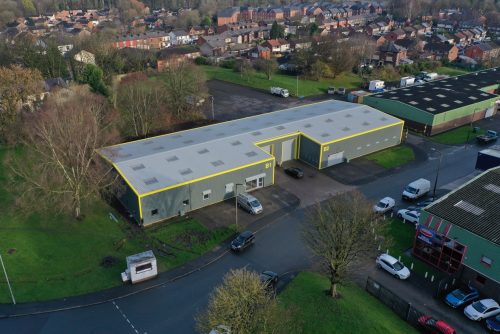 Property and asset management company, FI Real Estate Management (FIREM), has welcomed a number of new tenants to Europa Trading Estate in Kearsley, Bolton, as the demand for industrial space across the region continues to grow apace.
The Cowap Group has taken occupation of two units with both Cowap Rail Services and Cowap Mobile Welding Services agreeing 10-year lease deals for units G1 and G2, amounting to 8,900 sq ft in total.
Due to the pressing expansion needs of the welding and infrastructure specialists, both deals were agreed ahead of FIREM completing its £50,000 refurb project for the two units.
FIREM's modern industrial spaces on Europa Trading Estate all feature an open warehouse as well as a ground floor office. All units are also equipped with roller shutter doors, as well as loading and staff parking spaces.
Astra Windows has simultaneously moved to the Kearsley site, having agreed a similar 10-year lease deal with FIREM for units B1 & B2.
The specialist aluminium window, door and curtain walling manufacturers will benefit from the extensive works undertaken to bring this 12,818 sq ft unit up to date. The value of the refurbishment totalled £200,000.
Dave Jackson, from Astra Windows, said: "We've been looking for new premises for a number of years but were holding out for the right place.
"Having built up a reputation in the area over a 30-year period, we not only needed to stay fairly local but step up into a facility that would allow for our growth."
Kevin Cowap said: "The last year has been a challenging time for many businesses, but we're feeling positive for 2021, and having the right base is key to that. As well as excellent facilities, our industry requires great connectivity which Europa Trading Estate provides in bucketfuls.
"We're looking forward to seeing where this site, and our partnership with FIREM, can take our business growth."
A FIREM spokesperson said: "Demand for high quality, well located space is on the increase and we're pleased we're in the position to offer that to those businesses keeping the wheels of industry moving. Through 2021, we'll be continuing to invest heavily in this sector to meet demand and support our industrial tenants."
The well established industrial estate, strategically located on the A667 within half a mile of the M61, comprises a mixture of semi-detached and terraced units.
Located approximately four miles south east of Bolton town centre and eight miles north west of Manchester city centre, the site likewise benefits from excellent rail links with Kearsley train station located opposite the site entrance.
Europa Trading Estate is within FIREM's extensive UK industrial portfolio, which currently totals four million sq ft with a further two million sq ft of new-build in the pipeline. Available spaces start from 500 sq ft to more imposing units of 80,000 sq ft.