Contractor appointed for public realm works at Wirral Waters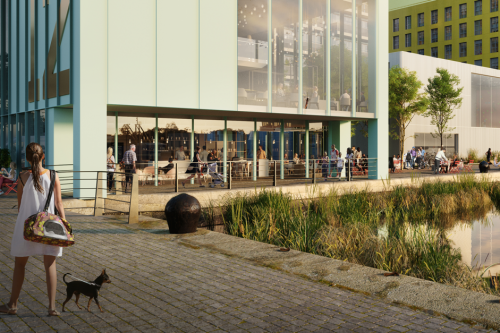 Preston firm Eric Wright Civil Engineering has been appointed main contractor for public realm works at Wirral Waters.
It signals the next stage of development of the Northbank neighbourhood at Peel L&P's riverside scheme.
The appointment will support the delivery of the first stages of residential development at the Northbank Quarter at East Float, improving connectivity to local bus and rail services and making Northbank 'investment ready'.
The works will see the construction of an 'upper boardwalk' pedestrian and cycleway link along the Northern dock edge of East Float, creating an attractive waterside thoroughfare and providing the public with access to the dock edge for the first time in more than a century.
A series of four contemporary squares are also planned, connecting the Dock Road pedestrian and cycleway public realm works to the dock edge, improving connectivity and enhancing the health and wellbeing of local people.
As part of the public realm works, students at the nearby Wirral Met Construction Campus will be given the opportunity to gain first hand construction knowledge with visits to the site and workshops with the project contractors.
This is part of Peel L&P's ambition to develop local construction skills and create the workforce of the future at Wirral Waters.
Local construction companies will also be given the opportunity to contribute to, and deliver parts of, the public realm works via the Wirral Construction Forum.
Richard Mawdsley, director of development at Wirral Waters, said: "Northbank Quarter will be the first residential development at Wirral Waters and these public realm works are the first stage in creating a green, walkable, pleasant neighbourhood at the heart of Wirral's traditional dockland area.
"It's also great news that local construction students at Wirral Met will have the opportunity to see the works first hand and speak to the contractors, giving them crucial experience and insight to prepare them for their careers in construction."
Eric Wright Civil Engineering managing director, Diane Bourne said: "We are delighted to be involved in this transformational regeneration project."
Work will begin on site this month.