New homes to replace former school site in Blackpool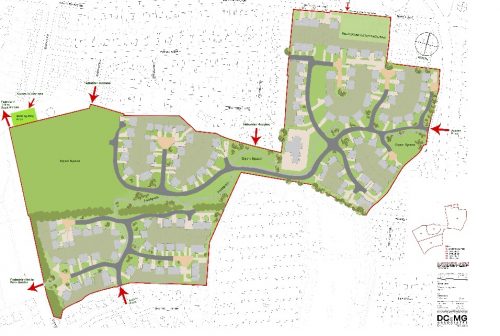 Preston planning consultancy De Pol Associates has secured permission for 176 new homes on a 22-acre site which includes the former Bispham High School off Bispham Road in Blackpool.
The proposal was recommended for approval when it went before Blackpool Borough Council's planning committee on January 20.
The development site is owned by Blackpool Council and comprises the former school grounds and playing field, a neighbouring public open space and a large area of undesignated scrubland behind the Department for Work and Pensions' Warbreck offices.
The permission allows for the construction of homes on the land previously occupied by the school and its playing field, to be accessed from Bispham Road, and on the scrubland to the south west accessed via Regency Gardens.
An existing four-acre area of open space will be retained next to the locally-listed public park – the Devonshire Road Rock Gardens – and a children's play area.
There will also be new areas of open space around the edges and through the centre of the new development, retaining existing trees and enhancing natural habitats, along with new pedestrian routes linking both areas of housing with Bispham Road, the Rock Gardens and Regency Gardens.
Bispham High closed in 2015 when the school merged with Collegiate High School to form the new Aspire Academy, now located on the former Collegiate site.
The Bispham site has since been cleared and redevelopment of the land is a council priority to allow for the provision of new homes in the borough.
Blackpool Council leader, Cllr Lynn Williams, said: "We are very pleased that the planning application has been approved and we can now progress the plans to build new homes for local people. The site will provide an excellent and critical boost to Blackpool's housing supply."
"Blackpool Council will make a contribution of £200,000 towards new 3G pitches on a currently disused pitch at Stanley Park, to ensure there is a quality provision of public playing fields for the local community.
De Pol Associates managing director, Alexis De Pol, said: "The permission allows for the redevelopment of a derelict brownfield site to create new homes for local people, helping the council address its housing shortfall and making the most of a previously developed land as is preferred by planning policy."
This is the second of three projects for which Blackpool Council has appointed De Pol to secure planning permission, for sites within its ownership.
Permission was granted for 47 properties at Ryscar Way in Bispham late last year, while an application for 330 homes at Woodhouse Farm in the neighbouring borough of Wyre is currently awaiting determination.
Consultants and advisors for the Bispham scheme include DC&MG Associates, Curtins, Cameron S Crook and Associates, Ironside Farrar, WSP and historic building consultant Chris O'Flaherty.