Energy from waste plant wants to increase previously agreed input levels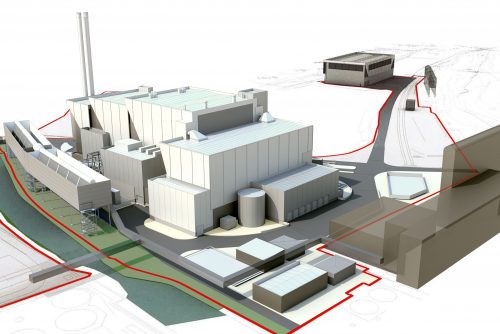 The company behind the £480m Lostock Sustainable Energy Plant (LSEP) wants to process more waste, thereby reducing the amount heading to landfill or export.
But this could lead to more lorry movements and an extension of operating hours at the site.
LSEP Ltd said it wants to make best use of the plant currently being built at Lostock Works near Northwich in Cheshire.
The company – a joint venture between Copenhagen Infrastructure Partners (CIP) and FCC Environment – is looking to vary the existing planning consent to allow the facility to better cater for treating locally generated waste and to enable it to deal with more waste while remaining within the currently approved power generation capacity.
The facility will export 69.9MW of sustainable energy from the residual waste remaining once recycling has taken place – enough to power 148,000 homes or a town three times the size of Northwich and Winsford.
LSEP is looking to increase the amount of residual waste that the facility can take, diverting an additional 128,000 tonnes of waste a year from landfill or export overseas.
This nationally significant project is currently under construction following consent being granted in 2012.
LSEP Ltd acquired the project in 2017 and is proposing to apply to the Department for Business, Energy & Industrial Strategy (BEIS) to vary certain terms.
In the event that approval is secured, a community fund will be set up which will provide £100,000 a year for 10 years to support environmental and low carbon projects in the local area.
An LSEP Ltd spokesperson said: "The LSEP will address two major challenges – how to manage our waste more sustainably, moving it up the waste hierarchy, and how to generate sustainable energy from non-fossil fuel energy.
"We plan to treat up to 728,000 tonnes of waste remaining after recycling which will result in 69.9MW of sustainable electricity being exported to the grid.
"The LSEP is currently under construction, the increase in treatment capacity will not alter the currently approved buildings or structures, nor will it change the limits on our environmental emissions, but it will enable us to maximise the efficiency of the facility.
"We're also looking at how heat from the facility could be supplied to local homes and industry through the development of a district heating network, plus, we are investigating the potential for electricity to be supplied directly to local businesses through private wire connections."
The energy from waste process is regulated by the Environment Agency through the environmental permit and will need to meet strict emissions limits during commissioning and operational phases.
The increased throughput will result in a higher number of vehicle movements with more flexible hours for waste deliveries.
As part of the application to vary the consent, an environmental impact assessment will be undertaken which will look at the potential impact of the proposals on the environment, including updated transport and air quality assessments.