Rail revival on track as multimillion-pound plans go out to consultation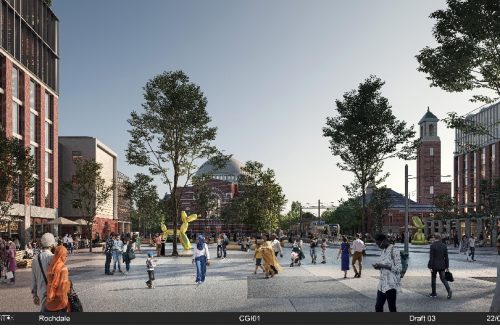 Plans which could totally transform the area around Rochdale railway station are set to go out to public consultation this month, as the borough's multimillion-pound rail strategy takes another step forward.
The ambitious proposals include the removal of traffic immediately in front of the station to make way for a brand new 'Station Square', the creation of a 500-space park and ride facility and bus interchange on Miall Street and the provision of brand new housing and employment space.
The council is also looking to improve the station's entrance and facilities and provide more space for pick up and drop off immediately around it.
It is hoped the changes will better connect the station to shops and businesses in the wider Milkstone and Deeplish area, as well as the town centre, with improved wayfinding and public realm design, better pedestrian crossings on Drake Street and enhancements of the Rochdale Canal towpath.
The document which outlines many of these proposals (The Supplementary Planning Document) is set to go to Rochdale South Township this week ahead of a public consultation which will be launched later this month.
Feedback will then be considered, before the document is taken to the planning committee for final approval before being adopted as the planning blueprint for the area.
The proposals form part of wider plans to exploit Rochdale's abundant transport links to regenerate the areas around the borough's five railways stations, as part of the new rail strategy.
The plans involve the creation of up to 7,000 new homes and more than 100,000 sq m of employment space along the rail corridor to create up to 11,000 jobs.
The council is also working with the Greater Manchester Combined Authority on plans for a sixth station to be created at Slattocks, close to Stakehill Distribution Park, as well as the extension of the Metrolink into Heywood and Middleton.
Cllr John Blundell, cabinet member for a thriving economy at Rochdale Borough Council, said: "The area around Rochdale station is at the heart of a thriving community and also serves as a vital gateway into our borough for both residents, commuters and visitors, so its redevelopment is an important part of the next phase of regeneration for the borough.
"With six trains an hour into Manchester and a Metrolink stop from which people can access the wider city region, as well as key local employment sites like Kingsway, there's huge potential for this area to get even better."
He added: "The creation of the supplementary planning document (SPD) is another important milestone, as it will help us attract funding and investment to drive these regeneration plans forward and it will be taken into consideration when planning applications are submitted for this area in the future.
"With the multimillion-pound restoration of the Greater Manchester Fire Service Museum well under way and a planning application for over 200 brand new homes, delivered in partnership with Capital and Centric, set to be submitted to the council this Spring, this is yet another step forward for the regeneration of this area."