Brand new modular product to be unveiled at Wirral Waters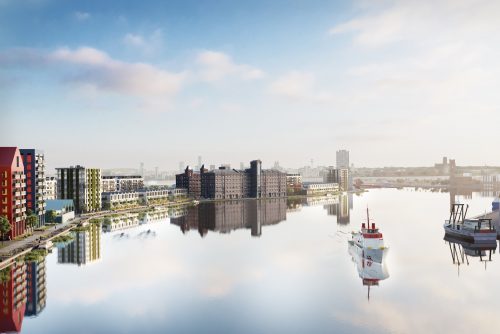 As it embarks on the development of East Float at Wirral Waters, modern housebuilder House by Urban Splash has introduced a new typology to its portfolio of modular housing – and it's coming first to Merseyside.
Known as Row House, it has been designed by Liverpool-based architects shedkm.
The red-clad homes are a colourful and bold type of house, with buyers at Wirral Waters able to choose from a range of options to make their home their own – including the option of a rooftop terrace.
House by Urban Splash is creating the East Float neighbourhood at Wirral Waters in joint venture partnership with Peel L&P, creating around 350 homes using modern methods of construction including these first ever Row House homes.
Guy Ackernley, residential sales director at House by Urban Splash, explained: "We are delighted to release another bold and innovative new housing typology – and are proud to be bringing it first to Merseyside.
"Urban Splash was founded in Merseyside, creating hundreds of thousands of sq ft of workspace as well as city centre apartments in Liverpool, 28 years on we're immensely proud to be back in the region, introducing a totally new concept – just as we did back in the 1990s."
Row House represents a modern mews house, or 'Urban Cottage', bringing a more compact terrace form to the portfolio at an affordable price range, says the company, meaning more people can get on the housing ladder with a home customised to meet their individual lifestyle needs.
Each home is characterised by a central, oversized, floor-to-ceiling window, which firmly delivers on the House by Urban Splash promise, to deliver design-led, bright open spaces for living.
Guy added: "This product challenges design convention and something we believe will redefine the concept of new-build living – we're creating a series of homes which combine state-of-the-art materials and construction with a lifestyle enhancing design."
Row House comes in a choice of three sizes with the same footprint – two-storey, two-and-a-half-storey with a roof terrace, and three-storey, with a fantastic master suite.
As with all House by Urban Splash homes, layouts can all be customised by the buyer to suit their lifestyle and taste.
The Row House for Wirral Waters features a characterful industrial red metal cladding, designed in keeping with the neighbourhood's distinctive docklands architecture.
Each home will also come with a private terrace, as well as access to a shared residents' garden – giving buyers the best of both worlds.
Row House is designed around the principles of space, light, economical and sustainable living, with the architect's design maximising the available internal space and offering a buyer flexibility as to how to use this space, whether to create multiple generous double bedrooms, a rooftop terrace for entertaining, a light and spacious home study, or hobby room.
By combining the benefits of precision building techniques with high quality insulation, Row House keeps the heat in during the winter months and makes full use of every ray of sunshine during the summer.
Ian Killick, director at shedkm, said: "Row House incorporates the most up to date modular thinking and sustainability features.
"We have made a few big design moves to make the very most efficient use of internal space and open up options for outdoor living space. As buyers pick and choose their options, Row House will deliver an eclectic streetscape, with a distinct aesthetic running through it."
The two-storey Row House, a 79 sq m property, offers two full-width spacious bedrooms with high ceilings and large windows and a full-width dining room and lounge with customisable kitchen and cloakroom.
The-two-and-half-storey Row House is 103 sq m in size, and offers a stunning rooftop terrace on the third floor which is accessed via a full height door, opening out onto a generous deck. These three-bedroom homes also offer full-width sleeping and living areas, with an additional bathroom, plus a spacious dressing and storage area.
The largest three-storey home is 116 sq m in space. It can be configured as a four-bedroom home or a three-bed with a top floor master suite, once again featuring full width bedrooms and living areas, high ceilings, huge windows, and a choice of bathrooms and kitchen finishes.
The first Row Houses will launch for sale at Wirral Waters in Merseyside this spring.