Business finance specialist acquired by management team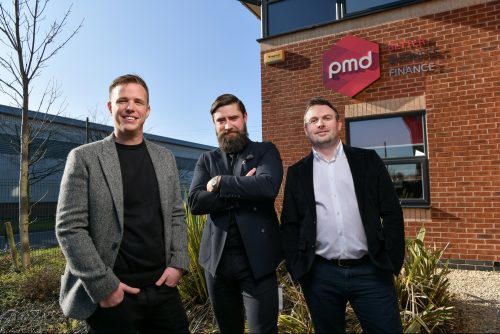 A business finance firm which brokers over £150m of lending a year has been acquired by its management team.
Oldham-based PMD Business Finance has been bought by three members of its executive team – Tom Brown, Lee Schofield, and Rob Dermody.
The deal allows its two shareholders and founders – Peter Dobson and Mike Rodgers – to hand over day-to-day running of the firm, though both will retain a minority stake and continue to hold board positions.
PMD  facilitates business loans, asset finance, property and acquisition finance, invoice finance and supplier finance.
Throughout the COVID-19 pandemic it has arranged over £65m of CBILS facilities.
The corporate finance and transaction tax team at MHA Moore and Smalley advised on the deal, providing valuation, taxation and deal structuring advice.
Tom Brown, director of PMD, said: "This deal marks a new chapter in our history that will cement our position as one of the UK's largest true independents.
"The PMD ethos is centred around nurturing and developing talent and providing exceptional levels of customer service. I'm looking forward to continuing these values with our new management team."
Fellow director Lee Schofield added: "As a team that understands the business' DNA, Tom, Rob and I are delighted to have secured PMD's long term future.
"We'll build on the foundations laid by Peter and Mike and have ambitious plans to grow the business and become the UK's leading independent asset and commercial finance intermediary."
Founder Peter Dobson said: "This is an exciting development for our people, customers and lending partners. We've always encouraged our people to push their boundaries to reach their potential.
"Tom, Lee and Rob are a testament to that and Mike and I are proud to be passing the baton over to them. I'm confident they will take the business to new heights."
The deal team at MHA Moore and Smalley was led by head of corporate finance Andrew Feeke and corporate finance assistant manager Rob Holgate. Colin Abrahams provided tax advice.
Andrew Feeke, head of corporate finance at MHA Moore and Smalley, added: "Businesses like PMD are essential to the health of our economy and business community because they provide valued funding advice to business owners and broker vital lending to support sustainable growth."
Chris Ross and Nina Latham at Mills & Reeve provided legal advice to Peter Dobson and Mike Rodgers on the sale of the business. Benjamin Dredge at CG Professional advised the management team on their purchase.