Vita Group continues investment with new Lancashire Technical Innovation Centre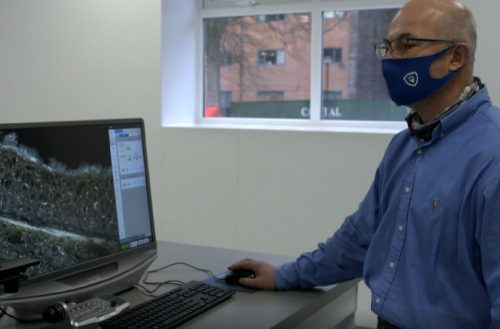 Foam products manufacturer, The Vita Group, has unveiled its fourth innovation hub with the launch of its new Innovation Centre in Accrington, Lancashire, for its Technical Division.
The four state-of-the-art innovation centres in Lithuania, Corby, Middleton and Accrington collectively represent a £1.3m investment for the Middleton-based group, 80% of which has been allocated to its sites in the North West.
The Accrington Technical Innovation Centre will work in partnership with staff and customers across Vita's European footprint to lead research, development and collaboration on highly engineered and customised polyurethane foam, including driving forward sustainable solutions through the use of biopolyols.
The centre was officially opened by Sara Britcliffe, MP for Hyndburn & Haslingden, at a virtual launch event hosted from the site in Accrington.
It offered guests a virtual tour of the new facility, as well as an overview of the site from group chief executive Ian Robb and technical MD Stuart Roby.
With more than 170 staff based at Vita's Technical sites in the North West – 900 across Europe – the centre will be staffed by chemists, quality engineers and experienced technicians and will develop and test ideas for new innovative and sustainable technology for specialty PU foams used across a range of industries including mobility – automotive, aviation and rail – industrial, building and construction, medical and hygiene and consumer.
The site will be a centre of excellence for the company, combining Vita's technical expertise in foam chemistry with the latest state-of-the-art testing equipment and systems.
An advanced new pilot plant will allow the group to accumulate all central technologies and take anything made elsewhere across its operation and replicate it on a smaller scale.
This enables new products to be tested and bought to market rapidly. Bringing all these technologies together also allows the team to mix and match technologies and chemicals to develop cutting edge new products, including a new generation of sustainable biopolyols.
These facilities are specifically designed to provide customers with the ability to work in collaboration with Vita's expert engineers to develop and test new ideas, formulations and materials to tackle a range of functional needs, such as noise reduction, anti-vibration or flame retardancy.
The site's ability to trial and test new concepts has already enabled it to develop a variety of new sustainable solutions. These latest innovations allow the group to open up a world of possibilities for foam to replace less sustainable products. Innovation around sustainability and investing in the circular economy are core focuses for the group.
Rowland Murphy, innovation manager, said: "Investment in a new Innovation Centre in the Technical Division at Accrington demonstrates the commitment of the group to its customers providing the ability to rapidly develop polyurethane foams to meet exacting customer requirements.
"The flexibility of the new pilot plant, together with the enhanced testing facilities, enables Vita to bring new innovative products and sustainable alternatives to the market at an accelerated pace."
At the height of the COVID-19 pandemic, Vita's technical innovations team in Accrington worked with colleagues across Europe to create high quality, washable, and reusable face coverings (community face masks). The Vita Shield was initially produced to help protect employees, but Vita has since supported local communities by distributing hundreds free of charge to local authorities, as well as selling it commercially.
Sara Britcliffe MP for Hyndburn & Haslingden, said: "The Innovation Centre is a fantastic example of the type of investment needed in our area to help make the vision of a levelling up agenda a reality.
"As we start to ease restrictions, I am eager to put Hyndburn & Haslingden firmly back on the map, and work with local businesses like The Vita Group to make our area an innovation hub for the entire region, bringing forward more exciting projects like this, driving jobs and growing the next generation of innovative businesses and facilities."
Group CEO, Ian Robb, said: "The new innovation centre will be the hub for product innovation tailored to our technical markets and will be developing world leading products, all from concepts originally tested and produced in Lancashire. We are very proud of what the team has already achieved and are excited to see the next ground-breaking innovations to come out of Accrington."