Ambitious plans agreed for Wirral landmark as part of £23m development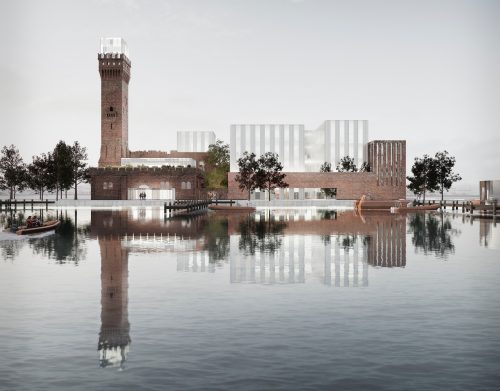 A Wirral landmark is a step closer to being restored to its former glory and transformed into a specialist maritime centre under plans agreed by councillors.
The iconic 19th century Grade II-listed Hydraulic Tower building, a copy of the Palazzo Vecchio in Florence, had been left unused for decades at the Four Bridges but is set to be brought back to life as part of the £23m Maritime Knowledge Hub (MKH).
First announced at London Shipping Week seven years ago, the MKH project will provide a national base for marine engineering research and development as well as skills training and business accelerator space. It will create 4,000 jobs in its first five years.
The council's Economy, Regeneration and Development Committee agreed to recommend the Wirral Waters Investment Fund be approved for investment into the Maritime Knowledge Hub and another key Wirral Waters scheme, Egerton Village, which will include retail to support the emerging residential developments nearby, plus a new square with an events programme as well as managed workspace and studios and potentially a restaurant.
The council is moving forward with agreeing a 250-year lease on the building and investing in its redevelopment to help maintain the momentum of regeneration in the area, including creating hundreds of jobs, and working closely with Wirral Waters developer Peel L&P.
The project, which is within the Wirral Waters Enterprise Zone, involves the reclamation of around 2.3 acres of brownfield land.
The space will be designed to create an environment for maritime businesses and for university provision to locate and for a range of skills to come together from these organisations to help drive new products intended to significantly advance the growth of the sector, focusing on decarbonisation and digitalisation which are the prominent technology challenges for the sector and closely linked to the council's own net carbon targets.
The scheme has an outline design that has been prepared by two award-winning, internationally acclaimed architectural firms, Schmidt Hammer Lassen Architects in Denmark, and Ellis Williams Architects in Liverpool.
The architects are committed to breathing new life back into the Hydraulic Tower building, which was bombed during World War II, with an emphasis on designing in sustainability. Visually, this project is expected to be one of the most spectacular parts of the entire Wirral Waters regeneration project.
Councillors on the Economy, Regeneration and Development Committee voted to approve the ambitious project at their meeting on March 4. Chair of the committee, Cllr Anita Leech, said: "The Maritime Knowledge Hub is an incredibly exciting element of the renaissance of the dockland areas. This is a landmark building which has sadly been left to fall into disrepair and the only way to make this scheme viable is if the council steps in and uses grants and other funding available for a major capital project such as this.
"These plans will see a remarkable building brought back into use, creating a world class facility and hundreds of new jobs."
Richard Mawdsley, director of development at Peel L&P's Wirral Waters, said: "Securing this funding agreement is a significant milestone in the development of the £23m Maritime Knowledge Hub at Wirral Waters.
"This transformational project will protect and celebrate the area's maritime heritage, restore the iconic Grade II-listed Hydraulic Tower and Engine House and promote decarbonisation within the maritime industry.
"The Maritime Knowledge Hub will be a national base for marine engineering research and development and survival training as well as providing business accelerator space for the maritime sector. It presents a fantastic opportunity for job creation and economic growth across the Liverpool City Region and beyond. There is still lots of work do for all the partners involved in this project, but we hope to be on site later this year."
He added: "We're also delighted this week to see further funding approved for Egerton Village, which will be a mixed-use development providing local amenities, retail and arts space to nearby residential communities along Northbank. If all goes to plan, we expect to begin construction work on Egerton Village later in 2021."
Chris Shirling-Rooke, chief executive of trade body Mersey Maritime, said: "Mersey Maritime and its members have backed the Maritime Knowledge Hub project from the outset. We know that delivery of it is absolutely integral to the future of both our industry and the regeneration of this important site at Wirral Waters.
"Securing the funding agreement is a significant point as we drive the project forward which very much feels like it is gathering the momentum and further strategic backing that it requires.
"Innovation, new technology and decarbonisation are big themes in the maritime industry at the moment and they have the potential to deliver highly skilled jobs, economic growth and prosperity for our area in the years ahead. The Maritime Knowledge Hub will be central to our delivery of that agenda and this news moves us even further on to realising that exciting vision."
The agreement by the Economy, Regeneration and Development Committee to recommend the council's Policy and Resources Committee back the project moves the scheme closer to the next stage which is to secure detailed planning permission and Listed Building consent before work can start on the site.