Property round-up: Quinta Group; Denholm Logistics; Northern Trust Company; Cityheart; Regional Property Solutions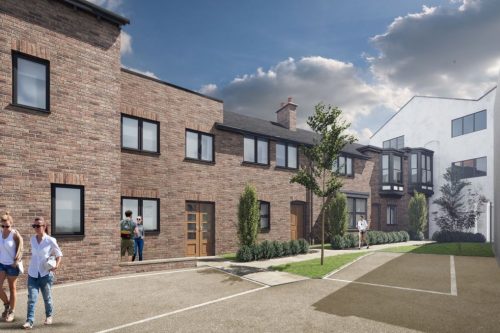 X

Register for free to receive latest news stories direct to your inbox
Register
Cheshire- based property company, Quinta Group, is starting work to bring back to life a Grade II-listed former office building which has been vacant for more than three years in the heart of Altrincham town centre.
The £1.5m development of 16 Old Market Place, built in the early 19th century and situated within the Old Market Place Conservation Area, will see this historical building transformed to offices, mews houses and apartments.
Planning was granted in March 2020, for the refurbishment of 2,500 sq ft of office space accessed through the building's original entrance fronting Old Market Place, along with the conversion to create three town houses and two apartments designed around a gated and landscaped courtyard.
Alexander Clarke, managing director at Smallwood-based Quinta Group, said: "This is a very historic and characterful building just a short walk from the town's popular Market Quarter and with funding now in place and the contractor appointed we are excited to get on-site with the project allowing us to deliver much needed good quality housing in the heart of the town centre, along with hi-specification office accommodation aimed at SME's and start-ups."
Specialist property finance company PMJ Capital has provided a development loan of £800,000 over a period of 15 months to fund the conversion with a loan to value of 55%. Lee Barton, relationship director, PMJ Capital, said: "We have been working with Quinta for some time now and have been impressed with their approach to development, always designing schemes with the purchaser and end user in mind."
GJ Home Improvements, Quinta's main contractor, is starting on site next week with completion expected by the end of the year. Altrincham-based View Associates are the architects for the project.
16 Old Market Place was built as a domestic dwelling and appears on the Altrincham Tithe Map (1835). It has undergone various incarnations and extensions until the last occupiers, William H Lill & Co Solicitors, converted it into offices during the second half of the 20th century. In the 1850s the building was owned by a property developer and occupied by a merchant and his family as well being recorded in the 1891 and 1901 Census' as the home of a surgical physician.
::
Liverpool-based Denholm UK Logistics has acquired The Rack, a 79,263 sq ft self-contained warehouse facility in Knowsley, from PCT Healthcare, for an undisclosed sum.
Situated in Deacon Park, part of Knowsley Industrial and Business Park, the single-storey detached facility provides 74,178 sq ft of warehousing space, with 5,085 sq ft of offices and ancillary accommodation.
"The facility at Deacon Park provides the ideal setting for Denholm UK Logistics to service customers across a range of markets including timber, steel and FMCGs, nationwide," said John Sullivan, director at Colliers, who advised Denholm on the acquisition.
"This latest acquisition expands Denholm's capacity in the region to over one million sq ft of warehousing space and is in line with their growth strategy to meet the ongoing demand for warehouse solutions in the UK."
Martin Hall, Denholm UK Logistics managing director, said: "Purchase of the Knowsley warehouse forms part of Denholm UK Logistics' recent programme of strategic investments. Combined with enhanced recruitment and upgraded e-commerce infrastructure, our expanded warehouse capacity will help us continue to provide uninterrupted service and support to our customers as their requirements rapidly evolve."
B8 Real Estate and WT Gunson are joint agents for The Rack. Colliers advised Denholm UK Logistics. Denholm UK Logistics is the warehousing, distribution and UK haulage business of Denholm Logistics Group, one of the four divisions of family-owned diversified company The Denholm Group.
::
Whittle Jones, agents acting on behalf of Chorley-based Northern Trust Company, said NIS Limited has completed the letting of the 4,500 sq ft Wilton House on the Ackhurst Business Park in Chorley.
NIS was established in 1983, and offers customer-focused engineering services with a track record of delivering high quality, often bespoke, products and services across the nuclear, defence and aerospace markets.
Howard Entwistle, group finance director at NIS, said: "Following a significant increase in the demand for our services we took the decision to take additional space at Ackhurst Business Park. Wilton House will provide us with further capacity to allow for a safer working environment, under the Government's current guidelines and facilitate further expansion."
Nick Hemmings, regional property manager for Whittle Jones North West, said: "Despite market ambiguity, Ackhurst Business Park has continued to attract a variety of businesses seeking to upscale, relocate or downsize their operations. The business park's excellent location, coupled with continual reinvestment by Northern Trust, has resulted in over 12,500 sq ft being let in under 12 months. With a further 4,500 sq ft currently under offer it has been a very promising start to the year."
Ackhurst Business Park incorporates a range of modern detached office buildings set in fully maintained landscaped grounds. Located approximately one mile from Chorley town centre and in the middle of the North West's motorway network, the site offers quick and easy access throughout the region and nationally. Covering 84,329 sq ft, accommodation is available from individual flexible office suites, to 'own front door' pavilion buildings.
::
Halton Borough Council has announced that development partner, Cityheart, has been appointed to work with the council on the Foundry Lane residential regeneration project in Halebank, Widnes.
Following the granting of outline planning permission on February 1,   in relation to the first phase of the project of 86 new homes on the former Stobart offices and Tarmac site, progress will now be made to transform the under-used industrial area in Foundry Lane into a new, vibrant, modern affordable housing estate. A second phase of the project will then result in a further 250+ homes.
Council executive board member for the physical environment, Cllr Ron Hignett, said: "This important regeneration project will breathe new life into the area, and build on the existing strong local sense of community and neighbourhood. The project will be challenging – for example there are real issues such as contaminated land and flood risk to be dealt with – but this represents an exciting opportunity to improve an area that has been in need of regeneration for many years now."
Mark McNamee, managing director at Chester-based Cityheart, said: "It is fantastic to have been chosen by the council as its partner and to be working in Halton and the Liverpool City Region again. Cityheart has a successful 15-year track record of working with the public sector on placemaking and re-purposing schemes all over the country.
"This is a significant project for the region, providing a much needed and affordable new residential district which can act as a catalyst for further investment in the area. Cityheart will now work with the council and architect, Corstorphine + Wright, to draw up plans for the second phase, which has a project value of up to £50m and will see a further 274 homes being built."
::
Daniel Lee, director of Altrincham-based Regional Property Solutions, has acquired the business from its founder Charles Murray, for an undisclosed sum.
Daniel Lee joined the business in August 2010 with primary responsibility for the commercial agency department and became a director in June 2014.
The firm was started by Charles Murray in March 1999. The practice has an active commercial agency department. The management department grew organically and has established a reputation for its proactive and overall approach to the buildings and estates under its umbrella.
Managing director, Daniel Lee, said: "The opportunity to buy the business, when Charles decided to take a more leisurely and well-earned approach to life, was too good to miss. I know the business and I have thoroughly enjoyed working alongside Charles to expand it over the last 10 years and I am now ready for the challenge to build on that legacy.
"The agency side, not surprisingly, has been slow during the pandemic, but the management department has, inevitably, been very busy and we have attracted an impressive amount of new management instructions in the last 12 months. Rebecca McPartland our new management surveyor, has taken up the reins of looking after the 250 tenants occupying the 500,000 sq ft-plus within the management portfolio. Charles is still with us a few days a week to ensure a seamless transition as well as offering sage advice as we negotiate a more normal return to business activity."
Charles Murray, said: "I founded the business when my son was just two months old. He's now a 6' 8" tall 22-year-old man. RPS has similarly grown and matured over the same intervening 22 years. My brother and mother both died recently and that made me realise there's more to life than your career, albeit a career I've immensely enjoyed and been proud of. It's now time to hand the reins to the next generation who still have the hunger and drive, to take RPS to the next chapter in its development."