North West Business Briefs: Lakes Brew Co; Dough & Go; AJ Bell Easter Eats; MC Construction; Northwich BID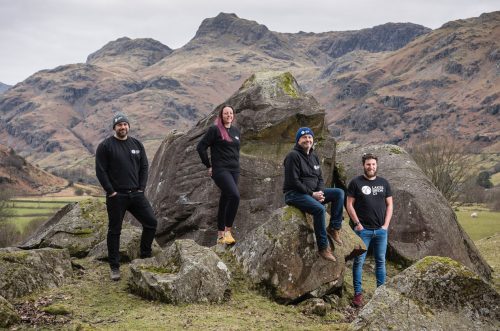 X

Register for free to receive latest news stories direct to your inbox
Register
After being made redundant at the beginning of lockdown restrictions 12 months ago, an award-winning team of four brewery staff has reunited as Lakes Brew Co.
Co-founders Matt Clarke, Michelle Gay, Steve Ricketts and Paul Sheldon, formerly employed by Hawkshead Brewery at Staveley, will be focusing on the local and thriving independent beer scene.
Michelle said they are looking forward to developing a progressive and sociably innovative brewery in line with their own ethos and attitudes: "This opportunity has come out of adversity. What most people would regard as a disaster – when we lost our jobs – means we can now build something fresh and new."
The new brewery, which was advised by law firm Napthens, will be in the heart of Kendal on Mintsfeet Industrial Estate, housing a bespoke designed brew kit, canning line and a proposed pop up tap room, providing fresh off the line beer to the craft beer scene in the Lake District. They hope to have the first beers ready in June, available in can, keg and cask.
Brewer Matt will be creating a range of modern beer styles, focusing on freshness and quality, keen to use innovative ingredients including new hop varieties and yeast strains.
Matt, who, as head brewer at Hawkshead was responsible for its most popular and award-winning beers, said: "We really look forward to working alongside likeminded artisanal businesses in the Lake District's food and drink scene and collaborating with other Cumbrian businesses."
::
Two Cheshire entrepreneurs, Mark Gibbons and Danny Mead, have launched a mobile pizzeria business, Dough & Go, aimed at rural communities that lack restaurants or takeaways close by and based on their own experience of living in rural areas.
Dough & Go serves traditional stone baked pizzas which are hand stretched and made to order using fresh, locally sourced ingredients and take only a couple of minutes to cook. Despite the strict lockdown restrictions, the business is still able to operate as a takeaway and has all the required COVID-19 safety measures in place to help protect customers and employees.
It currently runs weekly takeaway sessions at various Cheshire locations – Saughall, Burton, Vicars Cross and Hooton, and also in Saltney and Penyffordd, Wales. There are plans to expand the business and add on a number of new locations.
Mark Gibbons said: "We'd firstly like to thank everyone that has been involved in the business over the last 18 months. It's not been plain sailing, but Danny and I believe that this time was well spent to get the concept right, giving us solid foundations to launch, progress and grow the business. We are currently working on exciting new locations for 2021 and will be helping to support more communities, local businesses and charities in the near future."
The duo were assisted in setting up by Chester accountancy firm Mitchell Charlesworth, and partner Alex Makinson said: "Mark and Danny had a strong idea of what they would like to do and we were able to support them in setting up their business as well as be a sounding board for ideas."
::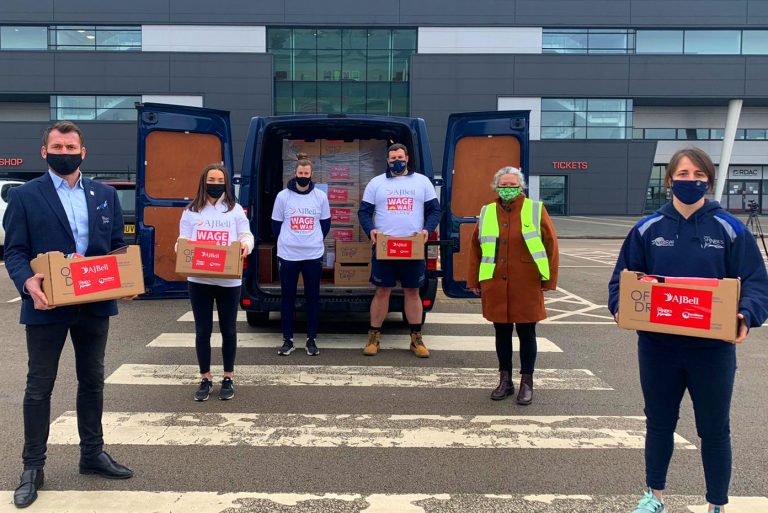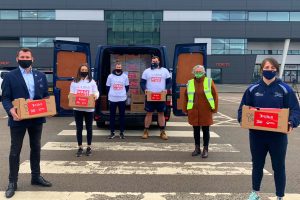 Salford investment platform AJ Bell and the Sharks Community Trust have joined forces to launch the 'AJ Bell Easter Eats' initiative which will see them distributing 3,000 food hampers to local families with school age children in the build up to the Easter holiday.
The food hampers will each contain a mixture of fresh and long-life produce and a holiday activity pack from mental health charity Place2Be. The hampers are designed to give families a helping hand over the Easter period, as well as providing something to engage children over the Easter holiday.
AJ Bell and the Sharks Community Trust, the charitable arm of Sale Sharks, will be working with local schools in and around Salford to identify families that could benefit from an AJ Bell Easter Eats hamper and staff will then deliver the hamper to their school or home. As part of the initiative, AJ Bell staff will be donating Easter eggs that will also be distributed via the local schools it is working with.
AJ Bell chief executive, Andy Bell, said: "Families with school age children have been amongst the hardest hit by the COVID pandemic. They have had to get to grips with home schooling whilst many of them have seen their incomes reduce or disappear completely. The AJ Bell Easter Eats initiative is designed to give these families a helping hand in the run up to the Easter holidays, after which they can hopefully look forward to further easing of lockdown restrictions and life returning to some level of normality."
Alison Warwood, executive director of the Sharks Community Trust, said: "The club, and the Trust, are committed to supporting the communities that we live and work in, and this project with AJ Bell is a perfect way to do that, at a time when many families need extra help. It has been such a challenging time for so many people and this year, more than ever, it's so important that we do our bit to help."
::
Salford-based MC Construction has won a place on a new three-year framework for improvement works at the internationally-renowned Daresbury Laboratory in Cheshire. It has been appointed by the Science & Technology Facilities Council (STFC).
MC Construction achieved the highest overall score in the tendering process for refurbishment, replacement and maintenance projects worth up to £500,000 in value.
Its first-place ranking means it will be awarded all works up to £15,000 in value under the terms of the framework. The estimated total spend under the agreement will be up to £2m a year. Projects will range from minor construction works to extensions and lab and office fit-outs.
Russ Forshaw, group operations director at MC Construction, said: "STFC's Daresbury Laboratory is internationally recognised for its world leading scientific research.
"We are thrilled by our appointment to improve and maintain this inspiring campus via the new framework, and coming first in the tender process highlights that our experience, processes and personnel are of the highest standard to deliver a wide range of projects."
::
The Northwich Business Improvement District (BID) has outlined a series of projects that it plans to deliver in 2021 alongside key partners to boost the town and its businesses.
Many initiatives were put on hold last year and, by collaborating with a number of town centre organisations, the BID wants to inject some positivity and hope into Northwich as restrictions ease over spring.
Once again they will team up with Cheshire West and Chester Council (CWAC), Northwich Town Council (NTC), Barons Quay (BQ) and Rotary in Northwich (RIN) to give the town a springboard for recovery through a series of planned campaigns and projects.
The BID team is working with businesses on a 'Northwich Sunflower Scheme' to raise awareness of hidden disabilities as part of a town centre-wide approach to make Northwich even more welcoming and accessible to all visitors. On top of this, the BID has announced a number of campaigns to improve the aesthetics of parts of the town centre and to welcome back shoppers safely when restrictions ease.
Northwich BID project manager, Adam Gerrard, said: "We want to help create an environment for businesses in Northwich to hopefully bounce back strongly and also encourage people to return to the town to shop and spend local. 2020 was difficult for everyone, especially our businesses, but thanks to their positivity and the community's ongoing support we'll have an opportunity to get the town on the road to recovery in 2021 and we'll be doing all we can to try and make that happen."