People: Haines Watts; Everything Genetic; Adept; BOOST&Co; DTM Legal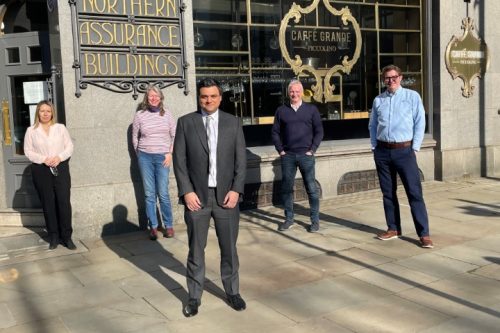 Haines Watts Manchester has strengthened its regional presence having appointed Riaz Kala as an associate director.
This comes as the firm look to support business owners in their bid to recover from the pandemic.
Riaz brings a wealth of knowledge to the firm, having worked in the industry for more than 10 years. His expertise lies in cloud accounting and is a specialist in the market leading software Xero.
He said: "I have had a busy first week getting to know the team and how Haines Watts works.
"The company's vision for cloud accounting closely aligns with my own passion for integrating tech into businesses and their finance functions to make processes more efficient, effective and customer friendly.
"It's an exciting time for Haines Watts and I am very proud to play a part in this technology-driven chapter."
Managing partner, David Fort, said: "I am delighted to welcome Riaz to our growing team. During these uncertain times, remote working is often unavoidable and challenging. Riaz's expertise in cloud accounting tech will be invaluable when it comes to connecting with our clients and helping them keep the wheels of business turning."
::
Healthcare business, Everything Genetic, has made an important appointment to its board of directors following a year of significant growth for the business.
Deborah Jones has become the company's first chief financial officer and has been tasked with driving its growth strategy and supporting all strategic and operational initiatives across the business.
Everything Genetic, based in Nantwich, Cheshire, partners with some of the UK's market leading laboratories to supply revolutionary genetic tests to healthcare providers and patients for the detection, diagnosis and treatment planning of cancer, heart disease and other illnesses.
Prior to joining Everything Genetic, Deborah spent 15 years as chief financial officer for a private equity-backed technology businesses, taking it through the full investment cycle from initial management buyout, secondary buyout, to successful exit.
Deborah has significant experience in raising finance, strategic development and growing and managing successful finance teams.
She qualified as a Chartered Accountant with PwC in 1995 and, two years later, moved into industry working initially as the finance director and later company secretary at the listed company, European Colour.
James Price, Everything Genetic chief executive, said: "This is a pivotal and exciting appointment for our company as we welcome Deborah to our board of directors. She brings a wealth of experience to Everything Genetic that's particularly relevant to our business now and in the future.
"After years of being a disruptive player in the genetic testing market, coupled with our launch last year of COVID-19 testing services, Everything Genetic is poised for unprecedented growth. Deborah's business acumen, coupled with her enthusiasm, will prove instrumental as we chart an exciting path forward for our company."
Deborah said: "I am really pleased to be joining Everything Genetic at such a busy and exciting time for the business. I look forward to working with James, the board, and my colleagues across the company, and playing my part in the future growth and success of the company."
::
Adept Civil and Structural Consulting Engineers is expanding its team with a raft of new appointments at its Manchester city centre office, and the company plans to create further jobs later this year.
Mark Walsh joins the firm as an associate, Saif Farjawi has been appointed as a civil and structural engineer and David Finch has become the office's first apprentice.
With more than eight years' experience at both national and regional engineering practices, Mark has worked on a wide range of projects across the leisure, retail, education, healthcare and commercial sectors. In his new role, he will be responsible for leading projects throughout the North West.
Saif completed a Master's degree in structural engineering at The University of Salford in 2018 before spending two years working at a national engineering firm as a graduate engineer. In addition, Bilal Ashraf joined Adept last year as a senior engineer.
Adept, which is headquartered in Leeds, has also been running a successful apprentice programme for more than 12 years which has resulted in numerous participants becoming fully qualified engineers and completing university degrees. David will now complete a BTEC apprenticeship course at Barnsley College, while working four days a week at Adept in Manchester.
Earlier this year Adept significantly expanded its Manchester operation after relocating to new city centre offices at Number 7 St James Square, which sits between John Dalton Street and South King Street.
Mark said: "Joining Adept is an opportunity to further my career at a growing company that is quickly establishing an enviable reputation across Manchester and beyond and works across an extremely varied portfolio of projects."
Neil Brown, a director at Adept, who heads up the company's Manchester office, said: "These appointments are a direct result of new contract wins throughout the North West across the rail, education, industrial and residential sectors.
"Mark brings a wealth of experience to the team and Saif is an ambitious structural engineer who has gained experience across an impressive portfolio of projects, so they will both further enhance the service that our clients enjoy.
"We're also delighted to welcome our first apprentice to the Manchester team. Apprenticeships are a proven way of introducing young people into the engineering and STEM sectors, which is vital to the industry. David is a very bright individual and, with our guidance and support, he can forge a successful career in the industry."
He added: "We now employ a team of six in Manchester and plan to recruit another engineer and Revit technician, to produce technical drawings and models, later this year, which all combines to make it an exciting time for Adept."
::
BOOST&Co is significantly expanding its Manchester office, which will triple in size to serve SMEs across the North and Scotland.
Ryan Sorby, who has led the alternative lender's North West base since its inception in late 2018, is taking on a new role as head of the North and Scotland, and is appointing three experienced principals to his team.
BOOST&Co said its presence in the city has demonstrated the lender's long term commitment to investing in the region, as well as helping Sorby to build strong relationships with local businesses and advisors.
He said: "We've enjoyed a lot of success through employing people who are local and visible, and who understand the cultural nuances within our city and region. Having people on the ground pays huge dividends in terms of the quality of the deals you can be involved with and the insight that you can get."
The company has offices in London, Manchester, Bristol and Cambridge and said that, although London often takes the limelight, the number of deals being done outside the South is continuing to increase. Sorby said Scotland offers numerous opportunities for investment in sectors already covered by BOOST&Co, such as gaming, software, and food and drink, while the lender's North West base enables him to fund companies not only in Manchester, but also in Liverpool, Newcastle, Sheffield and Leeds.
"We're investing more and more in the North and Scotland. These are areas where we've done high quality deals over the past 18 months, and the calibre of the advisory base in these regions is fantastic, too. The Northern Powerhouse is gaining a lot of traction in the media and also with the Government, which will lead to increased focus, funding and support."
Sorby is appointing three new principals to his team. One, based in Leeds, is due to start in April 2021, while two have already joined. Oliver Reece, who previously worked for Tosca Debt Capital, and Seth Vaughan, who has moved from Lloyds Bank. With more than 15 years' experience in financial services, across origination, execution and coverage roles, Reece and Vaughan have strong track records of doing high quality deals.
"Both were chosen based on the imperative to match the quality of the businesses in the North and Scotland with the quality of our people, and both come with real pedigree. It's a big statement for us to be able to say that our team in the North is trebling, not only in size, but also in quality," said Sorby.
::
Lesley Smythe, formerly of DWF, has joined DTM Legal as a partner to head up the family and matrimonial department.
Lesley has more than 20 years of experience providing non-contentious and contentious family law advice across the North West and Yorkshire. She specialises in divorce, separation agreements and financial settlements.
Jim Morris, head of litigation and construction, said: "We are delighted that Lesley has joined us. Family law is a great fit with DTM and Lesley will be a real asset with her legal expertise and drive.
"Our growth over the past few years has increased our service offering across more divisions of law. The firm is going from strength to strength and we are fortunate to be able to attract experienced talent, such as Lesley, as we grow."
Mainly based in the Chester office, Lesley and her team will look after clients across the Liverpool, North Wales and Cheshire region.
Lesley said: "I am really keen about tapping into the energy and vision that flows through DTM and growing a new department. With the current pandemic many families have suffered issues and I am on hand to support them going forward."